UFC Notebook: Ferguson in line to fight McGregor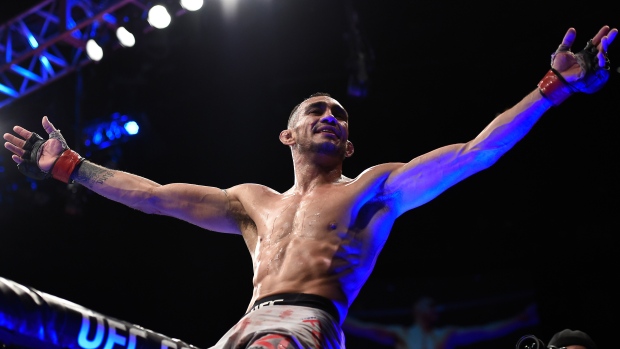 Ferguson seizes interim lightweight title, next in line to fight McGregor
After winning a division record nine straight victories, Tony Ferguson finally had the opportunity on Saturday night to seize gold for the first time in the UFC.
The Ultimate Fighter season 13 winner took full advantage of the task at hand, defeating fellow Michigander Kevin Lee with a triangle choke late in the third round to win the interim lightweight title.
Riding a 10-fight win streak and with an interim title around his waist, Ferguson has now likely punched his ticket to earn the biggest payday of his career by establishing his spot as the next contender to face Conor McGregor, who currently holds the official lightweight title.
"I would love to have them fight this year," White told TSN following Ferguson's win. "You've got the champion and the interim champion, that's the only fight to make."
UFC president Dana White denied that there had been any talks with Nate Diaz for a trilogy fight with McGregor.
"You need to come and defend or vacate, buddy and I don't think you're going to vacate," Ferguson told TSN when asked about a fight with McGregor.
"I don't see why not. I'm not hurt, I don't have any disciplinary actions where I need to take some time off," Ferguson told TSN in regards to fighting McGregor at UFC 219 on Dec. 30 at T-Mobile Arena in Las Vegas.
Johnson sets new record for consecutive title defences
Demetrious Johnson is still the only flyweight champion in UFC history after breaking the record that he shared with Anderson Silva with his 11th title defence Saturday night.
Johnson did so in spectacular fashion, out-striking his opponent Ray Borg 64-13 and scoring eight takedowns before finishing him in spectacular fashion with a belly-to-back suplex into an armbar, which needs to be seen to be believed.
"It's a goal that me and my coaches had for a very long time and I'm happy I was able to do it by staying healthy and getting to this point and putting on a great performance," Johnson told TSN.
Johnson wants to take the remainder of 2017 off before deciding what his next challenge will be.
"I'm only 31 years old, I feel good, I'm staying healthy, so if I can get to 14 or 15, why not?" Johnson told TSN in terms of his aspirations for how many consecutive title defences he hopes to achieve.
Bonuses and Attendance
UFC 216 took place at T-Mobile Arena in Las Vegas following what has been a difficult week after the tragic attack in the city.
The event played host to roughly 1,500 first responders and some of those wounded in the attack.
It drew 10,638 attendees for a gate of $677,999.50. The event had the lowest attendance of any pay-per-view event this year by more than 2,000.
The UFC awarded the Fight of the Night bonus to Bobby Green and Lando Vannata for their incredible three round fight that resulted in a draw and Performance of the Night bonuses to Johnson and John Moraga, both flyweights who secured spectacular finishes against Borg and Magomed Bibulatov respectively.
Dillashaw breaks silence on Garbrandt's accusations
Last month on The Joe Rogan Experience, UFC bantamweight champion Cody Garbrandt accused his upcoming UFC 217 opponent and former Team Alpha Male teammate T.J. Dillashaw of playing a role in ending the career of the team's jiu-jitsu coach and Ultimate Fighter 18 winner Chris Holdsworth.
Dillashaw addressed the accusations on Friday in an interview with TSN.
"Never have I ever blatantly kneed someone in the back of the head after being submitted by them," said Dillashaw. "How would they continue to let me train at the gym? That's a little ridiculous if you ask me."
"Holdsworth has some problems with his head," said Dillashaw. "He cut weight wrong, he's six feet tall fighting at 135 pounds, always malnourishing himself."
Dillashaw added that he hopes to train with boxer Vasyl Lomachenko leading up to his fight with Garbrandt at Madison Square Garden in November.
Cyborg vs. Holm close to being finalized for UFC 219
A fight many consider to be the best that could be made in women's MMA is close to coming to fruition.
"We're very close," White told TSN when asked about whether Cris Cyborg would defend her women's featherweight title against Holly Holm at UFC 219 on December 30.
Holm, who is best known for ending Ronda Rousey's women's bantamweight title reign, would be fighting for the second time at featherweight in the UFC.
Holm fought for the women's featherweight title at UFC 208 earlier this year and was narrowly defeated by Germaine de Randamie, who has since vacated the belt.
Cyborg, who won the title in July against Tonya Evinger, has not lost a fight since her professional debut in May of 2005.
While Holm is 1-3 since defeating Rousey, she was a championship boxer with 16 title defences in three different weight classes.