UFC Notebook: GSP return fight made official
Canadian star returns to the octagon to face Michael Bisping in Madison Square Garden at UFC 217.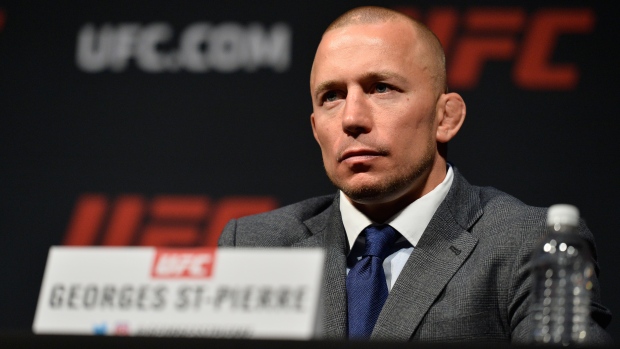 St-Pierre vs Bisping confirmed for November 4 at Madison Square Garden
It appeared the ship had sailed on the on-and-off fight between former welterweight champion Georges St-Pierre and middleweight champion Michael Bisping, but said ship has apparently returned to harbour after welterweight champion Tyron Woodley's unexciting win over Demian Maia at UFC 214.
UFC president Dana White stated after the event that St-Pierre would indeed be taking on Bisping at UFC 217 at Madison Square Garden in New York on Nov. 4.
Despite the two competitors taking part in a press conference to originally announce the fight back in March, White stated in May that the fight was off. He has now reconsidered after Woodley's performance and both Bisping and St-Pierre lobbying for the fight.
Bisping has already started taking shots at St-Pierre on social media and it will be interesting to see if the two competitors go on a media tour to promote the fight as White had hinted at back in March.
Jones earns back light heavyweight crown
After being without the light heavyweight championship for over two years, Jon Jones regained the belt that he never lost inside the octagon when he defeated his rival Daniel Cormier with an incredible head kick in the third round on Saturday night.
Cormier's record fell to 19-2 with both of those losses at the hands of the new champion Jones.
Jones' previous reign lasted more than four years and he is considered by many to be the greatest mixed martial artist in history. If there were any doubts, Jones silenced them with perhaps his best performance to date against Cormier, also considered one of the sport's greats.
Following the win, Jones thanked Cormier for being such a worthy rival and also used the moment to call out former heavyweight champion and current WWE universal champion Brock Lesnar, who has been rumoured to be considering a return to the promotion.
Cormier posted on Instagram late Sunday congratulating Jones on the win and thanking his coaches and the UFC.
Woodley retains in conservative fashion
Woodley successfully defended his title for the third time Saturday night with a win over Maia.
The fight drew a chorus of boos from the crowd as the champion successfully defended more than 20 takedown attempts from his opponent, who is one of the greatest submission specialists in the history of the sport.
After the win, Woodley stated that he wanted to fight St-Pierre and UFC president White said earlier in the week that he had hoped to have St-Pierre face the fight's winner.
However, given the manner in which Woodley defeated Maia, White had a change of heart and said that former champion Robbie Lawler, who defeated Donald Cerrone at UFC 214, could be the next challenger.
Cyborg finally earns UFC gold
After years of being considered by many to be the best female mixed martial artist in the world, Cristiane 'Cyborg' Justino finally earned UFC gold when she defeated Tonya Evinger.
The heavily favoured Cyborg dominated Evinger with her striking. It certainly took her longer than anticipated to defeat her pesky opponent, who hung tough until Cyborg earned the TKO finish in the third round.
It will be interesting to see who Cyborg's next challenge is. Some names that have been mentioned in the past are Megan Anderson, Cat Zingano and former women's bantamweight champion Holly Holm.
Bonuses and Attendance
A thrilling featherweight fight between Brian Ortega and Renato Moicano earned each fighter a $50,000 Fight of the Night bonus, while Jones and fellow light heavyweight Volkan Oezdemir earned Performance of the Night bonuses.
UFC 214 drew 16,610 to the Honda Center in Anaheim, with a gate of $2,448,870 ­­– the company's second highest gate of the year behind UFC 211 in Dallas.
The UFC's next event takes place on Saturday, Aug. 5 at the Arena Ciudad de Mexico in Mexico City, Mexico and is headlined by two of the top flyweight contenders Sergio Pettis and Brandon Moreno.
The card also features Canadian women's strawweight Randa Markos in the co-main event. The main card airs at 10 p.m. on TSN5.
UFC announce first event in mainland China
The UFC announced during their UFC 214 broadcast that they would be hosting their first event in mainland China with UFC Fight Night Shanghai in November.
The organization has been working for years to host an event in mainland China.
Leading up to the event, major fighters will be heading to China for promotional events.
Previously, the UFC had hosted events in the semi-autonomous of Macau, but had never broken into mainland China, which is considered the more lucrative proposition.
The event on Nov. 25 will air exclusively on UFC Fight Pass.