UFC Notebook: McGregor's future, Ferguson/Werdum and more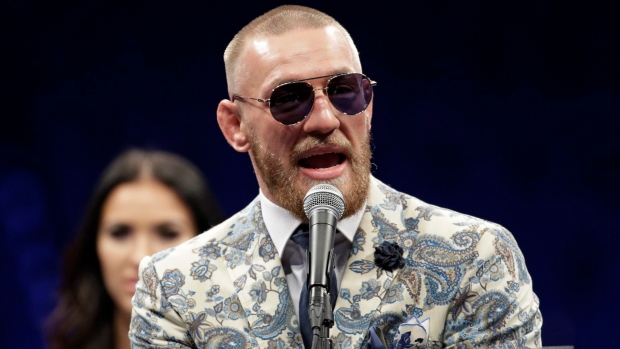 McGregor weighing his options for next fight
Last week, Conor McGregor spoke for the first time since his loss to Floyd Mayweather in his professional boxing debut during his "An Evening with Conor McGregor" event in Glasgow, Scotland.
At the event, McGregor said that he hopes to defend his lightweight title and if Nate Diaz demanded too much money for their potential trilogy fight, he would set his sights on the winner of this weekend's main event at UFC 216 for the interim lightweight title between Kevin Lee and Tony Ferguson.
Another name that McGregor mentioned was the undefeated Khabib Nurmagomedov.
McGregor also mentioned that UFC 219 in December could be an option, but only on the condition that he did not need to do any media in the weeks leading up to the fight.
While nothing is concrete, his comments do provide a glimpse into his thought process going forward and definitely raise the stakes for this weekend's main event at UFC 216 in Las Vegas.
--
Ferguson and Werdum get into altercation at media day
During a media event promoting UFC 216, tensions unexpectedly rose between lightweight title contender Tony Ferguson and heavyweight Fabricio Werdum.
Ferguson and Werdum were simultaneously answering questions from the media when Ferguson asked Werdum to refrain from talking while he was speaking with the media.
The two fighters, who are divided by several weight classes, hurled insults at one another - including homophobic slurs - until the UFC's public relations director Chris Costello stepped between them to settle things down.
Werdum's manager Ali Abdelaziz had previously gone back and forth with Ferguson on Twitter, which may have been the cause of the conflict.
Since the incident, Werdum has issued an apology for using homophobic slurs and per a UFC press release, will perform community outreach in the Las Vegas area.
--
Major fight announcements for UFC 218 and 219
The UFC has announced a slew of fights for their upcoming cards.
The most notable fights include two potential title eliminator matchups between Sergio Pettis and Henry Cejudo in the flyweight division and Francis Ngannou and Alistair Overeem in the heavyweight division, both of which will take place at UFC 218 in Detroit on December 2,
Meanwhile, UFC 219 will host another likely title eliminator between bantamweights Dominick Cruz and Jimmie Rivera on December 30 in Las Vegas.
Some other notable fights include Cub Swanson and Brian Ortega headlining UFC Fight Night in Fresno, California on December 9 and Carla Esparza taking on Cynthia Calvillo at UFC 219.
--
Hendricks training at Jackson-Winkeljohn
Having lost four of his last fights, former welterweight champion Johny Hendricks, who is now competing at middleweight has moved to Albuquerque, New Mexico for the remainder of his camp to train at the well-known Jackson-Winkeljohn MMA Academy.
Hendricks was previously training at War Room MMA, a considerably smaller gym in Fort Worth, Texas.
Hendricks looks to go back to his winning ways when he faces up and coming, undefeated Brazilian prospect Paulo Borrinchinha at UFC 217 in New York on November 4.
--
Andrea Lee signs with UFC, removed from UFC 216
Legacy Fighting Alliance women's flyweight champion Andrea Lee had a bittersweet week when it came to her signing with the UFC.
It was announced last week that Lee had been signed by the UFC and accepted a short notice fight on this weekend's UFC 216 card against Kalindra Faria.
However, the prospects of the fight were short-lived when USADA determined that Lee was unable to participate in the fight due to a previous infraction with the Nevada State Athletic Commission dating back to March of 2016, when she tested positive for using a banned substance.
Per the USADA guidelines, any new fighter with a previous infraction is required to undergo a minimum of six months of testing before being able to participate in a UFC fight.
Lee posted on Instagram that she will still be signing a contract with the UFC, but will not be able to fight until late March or early April of 2018.
According to Fight Matrix, Lee is the 8th best fighter in the women's flyweight category.