UFC Notebook: Ngannou bounces back with win
After losing two fights this year, including a heavyweight title shot at UFC 220 in January, Francis Ngannou needed a big win to put himself back on the map in the heavyweight division. TSN's Aaron Bronsteter has more.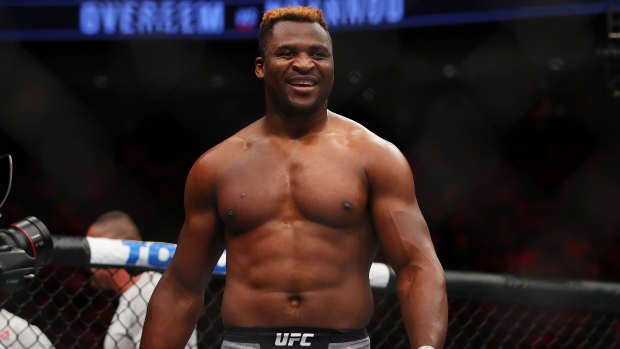 After losing two fights this year, including a heavyweight title shot at UFC 220 in January, Francis Ngannou needed a big win to put himself back on the map in the heavyweight division.
In the main event of UFC Fight Night in Beijing, Ngannou did just that, earning a technical knockout victory over third-ranked Curtis Blaydes in less than a minute.
Earlier in the year, UFC President Dana White said that he felt Ngannou's ego had gotten in the way of his success, a notion that his coach Fernand Lopez agreed with.
Ngannou had defeated Blaydes in 2016 when Blaydes made his UFC debut. Since that fight, Blaydes had gone undefeated and he is now handed his second career loss, both of which have come at the hands of the Cameroon native.
Overeem hands Pavlovich his first loss
Alistair Overeem trained with Blaydes and his camp to prepare for his co-main event matchup against undefeated prospect Sergei Pavlovich.
Overeem was coming off back to back losses to the card's two headliners Ngannou and Blaydes and looked to earn his first win this year.
It was a back and forth affair until Overeem was able to utilize his grappling, getting Pavlovich to the canvas and defeating him with strikes from top control in the first round.
It was the first time Overeem had scored a first round finish since December of 2014.
Chinese fighters shine
It has taken considerable time for the UFC to build a base of successful fighters from China, a market that they have looked to grow for many years.
With their second-ever event in mainland China, a base of those fighters has emerged.
Six of the nine Chinese fighters competing on the card scored a win.
At age 20, bantamweight prospect Song Yadong scored his third straight win in the UFC defeating Vince Morales by unanimous decision.
Li Jingliang continued to grow his resume as the winningest Chinese fighter in the UFC with a third round TKO win over David Zawada, improving his UFC record to 8-3.
All three female Chinese fighters on the card had statement wins. Yanan Wu and Weili Zhang earned first round submission wins against Lauren Mueller and Jessica Aguilar respectively and Yan Xiaonan scored a lopsided unanimous decision victory against Syuri Kondo.
The UFC recently announced that they are building a state of the art UFC Performance Institute in Shanghai at the cost of $13 million and are hoping to grow their roster of Chinese fighters from 11 to 30 before it opens in mid-2019.
Attendance and bonuses
Reports indicate that the attendance for the event was 10,302 with an undisclosed gate.
Performance bonuses were awarded to Francis Ngannou and Li Jingliang for their TKO victories and the Fight of the Night bonus went to Alex Morono and Song Kenan for their three round back and forth matchup. All four fighters earned an additional $50,000 (USD) each.
White wants Cormier to fight three more times
UFC light heavyweight and heavyweight champion Daniel Cormier has set his 40th birthday as the marker for when he wants to retire from mixed martial arts competition, but UFC President Dana White is hoping he reconsiders.
White told TMZ that while Cormier's team want him to retire, he hopes to have him face arch rival Jon Jones once again, this time in a heavyweight title defence.
Jones has expressed disinterest in facing Cormier again having beaten him twice, one of which was overturned due to being flagged by USADA for a banned substance.
Cormier has been vocal about wanting to face WWE Universal Champion and former UFC heavyweight champion Brock Lesnar in his final bout, but with Lesnar recently being more involved in WWE storylines, it is becoming more unlikely that he competes in the UFC any time soon.
UFC reportedly making Czech Republic debut
According to multiple reports, the UFC will be doing a show in the Czech Republic for the first time in February.
The event would take place at the O2 Arena in Prague on February 23rd and would be the third card to air on ESPN+.
Lucie Pudilova is the only Czech fighter on the UFC roster and will likely appear on the card and another rumour has the UFC pursuing Jiri Prochazka, who has mostly been fighting in RIZIN and has wins over Vadim Nemkov and UFC fighter Darko Stosic.
The UFC has held events in 25 different countries to date.