UFC Notebook: Volkov emerges as a contender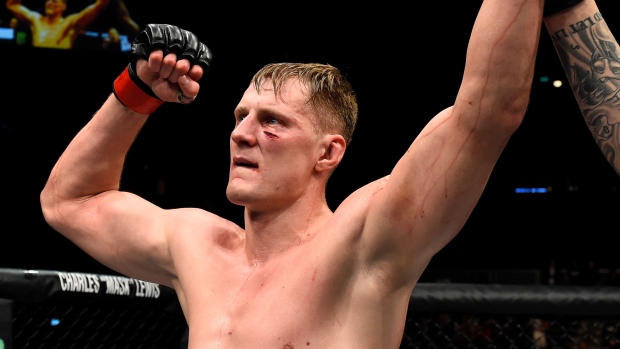 In the main event of UFC Fight Night in Rotterdam, Netherlands, the first of 16 UFC cards in 18 weeks to end 2017, a new heavyweight contender emerged.
Former Bellator heavyweight champion Alexander Volkov, who at 28 years of age is one of only four fighters under the age of 30 in the UFC's heavyweight division, looked sharp in his third round TKO victory over Stefan Struve on Struve's home soil.
It was Volkov's third straight UFC win, part of his current five-fight win streak, which could move him into the top-5 once the new rankings are released on Wednesday.
In a division that is populated with mostly older fighters at the top, Volkov is a breath of fresh air and with the UFC looking to book their first event in Russia in 2018, it could not have come at a better time.
Currently, the heavyweight division is at a standstill as champion Stipe Miocic continues contract negotiations.
The top contender, Alistair Overeem, was a guest fighter at this weekend's card and said that he would be interested in fighting again in November or December, potentially against heavyweight phenom Francis Ngannou.
Johnson looks to break consecutive title defence record
UFC 215 takes place this weekend in Edmonton and it could be a very special night for the UFC's top pound-for-pound fighter Demetrious Johnson.
With a win over opponent Ray Borg, Johnson would become the record-holder for the most consecutive title defenses in UFC history with 11, breaking the record currently held by himself and Anderson Silva.
Johnson, who is an overwhelming favourite to win the fight, has not lost in nearly six years and has won 12 straight fights.
Johnson is the only flyweight champion that the UFC has ever had and has never lost a fight in that division.
Lewis aids fellow Houstonians during crisis
Heavyweight Derrick Lewis had been preparing for his upcoming fight against Fabricio Werdum that takes place on October 7th in the co-main event of UFC 216 in Las Vegas in his home city of Houston, Texas until something far more pressing occurred.
Floods brought on by Hurricane Harvey have caused devastation in Houston and surrounding cities and Lewis sprang into action.
On top of partnering with the UFC to donate $10,000 to hurricane relief, Lewis himself has been driving around the city in his four-wheel drive truck to assist those who have been affected.
Lewis spent days driving around searching for those in need to help his fellow Houstonians during their time of need.
Woodley would move to middleweight for St-Pierre fight
In an interview with Sports Illustrated's Mike Dyce, welterweight champion Tyron Woodley says if Georges St-Pierre successfully captures the middleweight championship against Michael Bisping at UFC 217, he hopes to move up to middleweight to try and dethrone St-Pierre.
Woodley said that he felt St-Pierre has been running from a fight with him and that's the reason why he is willing to move up to middleweight.
Woodley has often felt that he is the greatest welterweight of all-time and a win over St-Pierre could certainly cement that as his legacy, especially given his title defenses and recent activity.
While that idea is good in principle, it is a near certainty that interim middleweight champion will be next in line to fight the winner of Bisping and St-Pierre.
Bhullar to become the first South Asian to compete in the UFC
Canadian Arjan Bhullar fights this weekend at UFC 215 against Luis Henrique and in doing so, will become the first South Asian fighter to compete in the UFC
"Whenever you can be the first for something, it's always special and it makes it that much easier for the next group of people to punch their ticket," said Bhullar on The TSN MMA Show. "We (Sikhs) are a warrior people."
"If you look at Sikhs worldwide, we are a successful people and we have that hot blood," said Bhullar.
The full interview is available on The TSN MMA Show podcast, which you can subscribe to here.