UFC's Rousey signs deal with WWE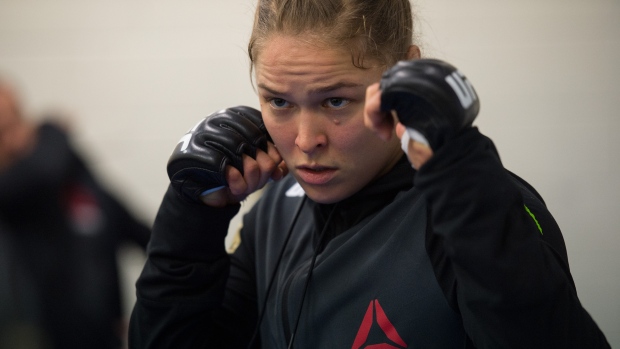 World Wrestling Entertainment's Royal Rumble event is known for producing surprises, usually in the form of an unexpected entrant into the 30-person over-the-top battle royal.
This year, the first-ever women's Royal Rumble match had its share, with returning Superstars including World Wrestling Entertainment Hall of Famers Lita, Beth Phoenix and Canadian Trish Stratus.
But the biggest shock on Sunday night came just after the undefeated Asuka eliminated Nikki Bella to earn the right to face either Raw champion Alexa Bliss or Smackdown's title holder Charlotte Flair at WWE's signature event, WrestleMania, in April.
With all three women standing in the ring, former UFC bantamweight champion Ronda Rousey, sporting a leather jacket over a 'Hot Rowdy' t-shirt - a reference to the nickname she adopted as a tribute to wrestling legend 'Rowdy' Roddy Piper – made her way down the ramp at Philadelphia's Wells Fargo Center.
There was no physical confrontation, as was the case with Rousey's first in-ring appearance for WWE in 2015 when she took down real-life executives Triple H and Stephanie McMahon at WrestleMania 31.

This time, the woman who was named the world's most dominant athlete by Sports Illustrated less than three years ago, merely pointed to the WrestleMania 34 sign hanging from the rafters, and then shook McMahon's hand, seemingly signifying her official entry into the world of professional wrestling.

Rousey confirmed to ESPN's Ramona Shelburne that she agreed to a long-term deal with WWE. "They have first priority over my time for the next several years," she explained after the pay per view. "This is not a 'smash-and-grab.' This is not a publicity stunt."

While talk of Rousey's involvement with WWE heated up after she was spotted three weeks ago having dinner at a Los Angeles-area restaurant with executive vice-president of talent, live events and creative Triple H, Rousey herself tried to throw cold water on rumours of a Royal Rumble appearance by announcing she'd be out of the country this weekend to shoot a movie.
Rousey, with the help of her new promotion, managed to keep her arrival a secret.
"I had to fly in from Colombia, where I was shooting Mile 22, into Florida without being seen," the former mixed martial artist told ESPN. "And then I jumped onto a private jet that flew me from Florida to Jersey.. and then I got in a car, went to a hotel and into a back elevator.
"I've just been Rapunzel in a tower for the last 24 hours so we could make this a surprise."
ESPN's Darren Rovell reports three trademarks have been filed with the name "Rowdy" Ronda Rousey.
A longtime wrestling fan, Rousey asked Piper several years ago if she could use his nickname. Piper passed away in 2015.
It appears Rousey will continue to pay tribute to Piper with the family's blessing. The leather jacket Rousey had on when she marched to the ring Sunday night belonged to her late friend.

"This is Rowdy Roddy Piper's jacket, that his son Colton brought for me to wear tonight," she said. "I promised him that every single day that I'm out here, the whole world's going to be reminded of his achievements, what he's done for all of us, me included."
As for when she'll make her wrestling debut, Rousey didn't want to tip her hand, saying she's beginning to "appreciate the surprises."

And what about everyone who saw her pointing to that WrestleMania 34 sign? Rousey just smiled.
"That was kind of a hint, yeah."
Steve Argintaru is the Senior Producer of News for TSN and a professional photographer whose work has appeared in wrestling publications around the world.