VanVleet's career night leads Raptors to rout of Cavs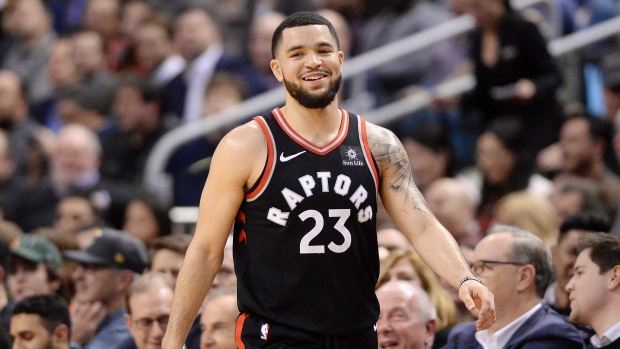 TORONTO — As Fred VanVleet spoke to the scrum of media surrounding him, Jonas Valanciunas slipped behind the crowd and held up a paper sign he'd made. Valanciunas had crossed out the "52" he'd written for DeMar DeRozan's franchise-best performance from earlier in the season and replaced it with "22" for VanVleet's night.
"Oh man, oh man, thanks JV," said VanVleet with a laugh, taking the sign from Valanciunas. "I'm going to throw this away."
VanVleet came off the bench for a career-high 22 points, including 6 of 8 from three-point range, as the Raptors dropped the Cleveland Cavaliers 133-99 on Thursday night. Missing starters Kyle Lowry and Serge Ibaka, Toronto head coach Dwane Casey told his reserves that they'd have to step up and focus on three-point shooting and keeping a fast tempo.
"I think that was one of our advantages tonight, especially the second unit, was playing it fast when we were able to get stops," said VanVleet, who had forward Jakob Poeltl calling him the "GOAT," in the locker-room while guard Lorenzo Brown put the scrum on his Instagram story. "Some of those threes go down and the lead gets bigger and bigger.
"One of our advantages is our youth and our speed and our fresh legs. We've got to take advantage of that."
C.J. Miles scored 16, going 4 of 7 from beyond the arc, as the Raptors (29-11) set a season-high with 18 three-pointers. Toronto's big men benefited from the Raptors' shooting spreading the floor, with Valanciunas scoring 15 and pulling down 18 rebounds and Poeltl getting 12 and 12.
"My job is down low, grab those rebounds, I always say that. You're probably bored of hearing that," said Valanciunas, to laughs from reporters. "O.K. My job is to shoot threes."
Lowry was out for a second game with a bruised tailbone. He was hurt after a nasty fall in Toronto's 114-113 overtime win in Brooklyn on Monday night and also missed the Raptors' 90-89 loss to the Miami Heat on Tuesday. Ibaka sat as he served a one-game suspension after throwing punches with Miami's James Johnson on Tuesday.
LeBron James had 26 points for Cleveland (26-15) and led all scorers in the game. But the Cavaliers could not keep up with the play of Toronto's bench. In particular, starters J.R. Smith and Isaiah Thomas were ineffective. The pair were a combined 2-of-20 shooting with Smith being held scoreless.
James was visibly upset with his teammates' effort, tearing into the Cavaliers during one of their timeouts in the second quarter, angrily clapping as he shouted at them. Cleveland allowed a season-high in points and three-pointers in the loss.
"We all have to be accountable for our actions, accountable for how well we play, how we play, how hard we play, and what we are doing for one another," said James about his outburst. "Just some plays that we should come up with, that you should make."
It was the second of a tough three-game stretch for the Raptors where they played the Southeast Division-leading Heat, the Eastern Conference champion Cavaliers, and then the NBA champion Golden State Warriors on Saturday.
Although the win helped Toronto stay ahead of Cleveland in the standings, both Casey and all-star guard DeMar DeRozan said they didn't think the game was make-or-break for the Raptors' season.
"I'm sure the next time we play them they are going to remember this game," said DeRozan. "It's going to be a whole different type of game and we have to be ready for that."
Without fellow all-star Lowry in the backcourt with him, DeRozan drew double and sometimes triple teams all night. Part of the Raptors success was DeRozan's ability to read Cleveland's defence and find passing lanes. He finished with 13 points but led the team with eight assists.
"That's one of the best jobs," said Casey. "DeMar was just taking what the game gave him. He let the game come to him, they would come on, he was inviting, and he was embracing double teams, and then picks them apart."
___
Follow @jchidleyhill on Twitter