Vegas D Schmidt opens up on arbitration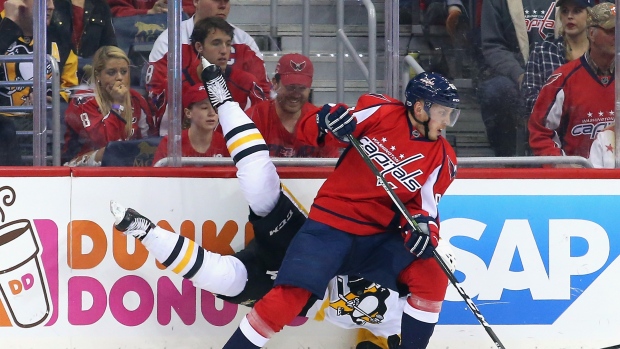 Nate Schmidt was the only player to go through the arbitration process this summer, doing so just over a month after the Vegas Golden Knights selected him in the expansion draft.
Schmidt was qualified as a restricted free agent by the Washington Capitals and elected to file for arbitration after being picked in late June.
He scored three goals and added 14 assists in 60 games with the Capitals last season, but slipped out of the lineup for most games after Kevin Shattenkirk was acquired in February.
Schmidt made his way back into the lineup for the playoffs after an injury to Karl Alzner and went on to play 11 straight games before the team was eliminated in the second round. He scored one goal and added three assists in the playoffs, with his average ice time rising from 15:29 in the regular season to 16:39.
He described the arbitration process as a rollercoaster ride as the sides argued for and against Schmidt's value.
"It's tough sometimes sitting in those meetings," Schmidt told KSHP 1400 in Las Vegas, per SinBin Vegas. "Fifty per cent of it was awesome. You are sitting there and they are pumping your tires and talking about how great you are and I was thinking 'man, I feel like a stud out here.' Then the next part comes and I'm thinking 'oh man, what am I doing, I should hang the skates up.'
"I had a note pad and truth be told I kept writing down, 'this is just a business this is not personal they don't really feel this way.' I had to repeat that a couple times and I was getting a little frustrated."
In the end, Schmidt was awarded a two-year, $4.45 million. He went into the hearing requesting a one-year deal but said he is happy with the longer term.
The 26-year-old said he's holding no ill-will towards the Golden Knights for taking him through the process.
"Hey, that's just the way it goes," Schmidt said. "I tried to have a good attitude about it, it's something they had never been through before some people maybe wanted to have some experience as well. I think it's a great process because it brings the sides together because no one really wants to do it, but you know what I think it was good the way everything played out."
Undrafted, Schmidt has appeared in 200 career NHL games and owns eight goals and 35 assists with a plus-36 rating.