Vesey saga keeps coming back to Toronto, Boston
While the Nashville Predators say they'll do everything they can to make Jimmy Vesey change his mind and sign with the team, TSN Hockey Insider Bob McKenzie says the storyline will keep coming back to the Toronto Maple Leafs and Boston Bruins.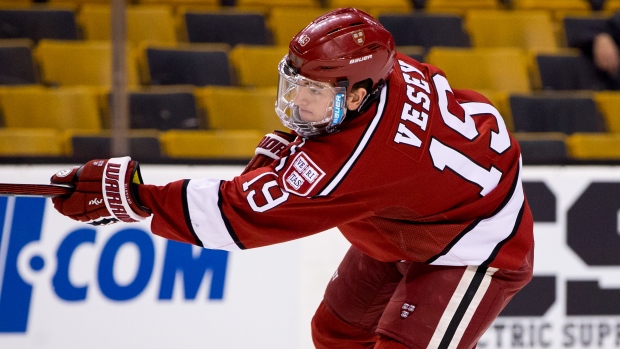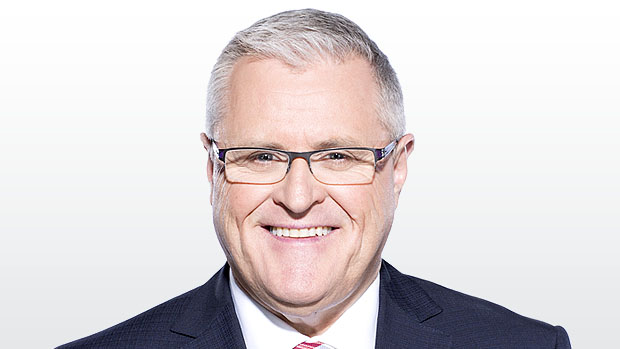 The moment Jimmy Vesey Jr. told the Nashville Predators he was going to exercise his right to unrestricted free agency come Aug. 15 -- rather than sign with the club and play the rest of this regular season and 2016 Stanley Cup playoffs in Music City -- you knew where this was likely headed.
To Toronto or Boston, of course.
Even before Vesey informed the Predators on Monday he was setting himself free, there's been constant speculation this season amongst many NHL club personnel that the 22-year-old graduating Harvard scoring winger was headed for the Toronto Maple Leafs.
As soon as the Leafs hired the player's father, Jimmy Vesey Sr., last August to the role of Boston-area college scout, eyebrows were raised and knowing nods were exchanged by executives from other clubs. By the way, Vesey's brother Nolan was a sixth-round pick of the Leafs in 2014. He just finished his sophomore season at the University of Maine.
But then today, the Boston Herald reported the following: "According to an extremely well-placed source within the Boston-area college hockey community, the forward will opt for free agency and sign with the B's."
So, now what?
If he's going to Toronto, he can't very well go to Boston, can he?
If he's putting on the spoked B in front of friends and family, he can't very well be a Leaf, can he?
One of these things is not like the other. And it has to be one or the other, right?
The thought did occur to me that maybe, just maybe, Vesey might use his total freedom to explore any and all options available to him.
There's a novel concept. I mean, I would have to think elite Cup-contending teams such as Chicago and Los Angeles, amongst others, would walk over broken glass to make Vesey an offer. Might that be an attractive option? Might considering 29 teams (or make it 30 if you think Nashville is still in the mix) be preferable to limiting it to two, even if one would be predisposed to put those two at or near the top of the list to commence the exercise?
I can't find many NHL talent evaluators who don't think this kid is an NHL-ready top-nine forward, and perhaps ready to score 20 goals, as a starting point anyway, with the potential for maybe more. Better still, for a UFA, he's highly cost efficient. He's going to get the same standard NHL entry level deal from the team that signs him as he was from Nashville. There's no financial bidding war here.
In terms of financial implications for the clubs, and these are a big factor for cap-challenged contenders such as L.A and Chicago, putting Vesey is your lineup is not very disruptive at all. Which is to suggest the potential rate of return for signing him is extremely high. He could conceivably replace a player in the lineup who's making millions of dollars more, thereby freeing up cap room, or he could simply be added to a roster without smashing through the cap.
But it is admittedly difficult to not keep coming back to Toronto or Boston.
The Leafs' hiring of his father notwithstanding, one can easily see why, from a purely family and heart-strings connection, Boston makes the most sense. The Veseys are as 'Bah-stan' as 'Bah-stan' can be. Jimmy Sr. may scout for the Leafs, but he lives and works in Boston and having once been a Hockey Dad myself, the geography makes a lot of sense, as does the sheer emotional attachment the kid and his family have with the hometown Bruins.
That would be the feel good story, for sure. I mean, who could blame him, really, if that is where his heart is?
"(Signing in Boston) would be great," one NHL club executive said to me, "because it would make me feel less cynical about the process and where a lot of us think it's headed."
Which, of course, would be to Toronto.
Another executive echoed those sentiments and harkened back to last year, when Columbus draft pick Mike Reilly left the University of Minnesota and spurned the Blue Jackets to be a free agent and ultimately ended up signing with Minnesota, where his father is a minority owner.
"We all assumed that Reilly wasn't going to sign in Columbus and that he was going to go to Minnesota, for the obvious reasons," the exec said. "But then, after telling Columbus he wouldn't sign there, he said he was opening it up to a lot of teams. He visited teams, it looked like he had an open mind, we all started to think, 'Hey, maybe he's not going to Minnesota after all.' Then he made his decision. Minnesota."
So there's no shortage of cynicism this time around.
Also, Toronto Maple Leaf director of player personnel Mark Hunter is well known as someone who quite often gets his man.
Hunter, of course, co-owns and, prior to joining the Leafs, operated the highly-successful London Knights of the Ontario Hockey League. A keen evaluator of talent - the reason he was hired by the Leafs - Hunter is also masterful at acquiring talent using all the resources available to one of the richest organizations in junior hockey. The Knights play in a beautiful building and they have an ability to operate in a stratosphere not all other organizations can match. Hunter is a master at building relationships and establishing connections in order to enhance player acquisition.
Sound familiar? The Leafs have deep pockets and an ability to do some things other teams couldn't contemplate. Like hire the father of a potential UFA although, for the record, Hunter maintains they needed a Boston area college scout and Vesey was recommended by Brendan Shanahan, who knew of Vesey through former teammate and friend Kelly Chase.
"We've seen this play before, haven't we?" one club exec said.
The exec was referring to Sam Gagner initially committing to play at the University of Wisconsin. But he ultimately ended up as a member of the Knights, as did his father, Dave, who became an assistant coach with the OHL team at the time.
"You have to hand it to (Hunter)," another exec said. "He identifies the talent and then he goes out and gets it."
Hunter also spearheaded Toronto's acquisition of Russian forward Nikita Soshnikov, who looks like a keeper, through free agency. And the Leafs are also expected to be at the front of line for the services of Russian free agent defenceman Nikita Zaitsev. It's appeared to be almost a foregone conclusion all season long that Zaitsev is going to commit to the Leafs.
And if - by chance - Vesey also chooses the Maple Leafs?
Well, there are those suggesting Nashville may eventually ask the league to investigate whether there has been any tampering. Perhaps we will see. Is it tampering or crafty management? There's obvious a fine line and ultimately it's an answer only the league could provide, if it ever gets to that point.
For now, though, Nashville's only stated position is they're going to do everything possible to make Vesey change his mind and sign with the Predators.
If that doesn't happen -- I'd be hard pressed to think it could -- one supposes there's a chance Nashville might get a little something by trading Vesey's negotiating rights to a team that wants to get an early start sans competition from anyone else.
Even in that projected scenario, we're going to keep coming back to, yup, you guessed it, Toronto and Boston. Failing that, we're back to waiting until Aug. 15 and endless speculation. More T and B, no doubt.
Meanwhile, Vesey's Boston-based advisors Peter Fish and Pete Donatelli did make some news today, issuing a statement on behalf of their client, disputing Nashville's contention that the player indicated he would be signing with the Predators: "The Nashville Predators were informed prior to the Trade Deadline that they should conduct their business as they saw fit and that the potential of signing or not signing Jimmy Vesey should not be a factor in their decision."
A full text of the release can be found here.
A word about the email revelations
By now, you may be knee deep in court-ordered revelations of NHL emails that are part of the ongoing class-action concussion lawsuit from former players against the league.
If not, you can read TSN.ca's account of them here.
You may also be aware that some of those emails to and/or from league executives were involving me. And that some of those emails contain some less-than-flattering remarks and inappropriate language from myself about players and their on-ice actions.
I most certainly prefer reporting news than, in a manner of speaking, making it, but there's no avoiding it here and I do feel obliged to make the following comments:
"I have known for some time that it's possible a number of my emails could be made public. That has caused me many sleepless nights as well as a great deal of discomfort, embarrassment and regret.
"I obviously did not anticipate at the time that what I believed to be private correspondence would end up in the public domain. Yet I also have, for some time since then, fully recognized the perils of using company email as it pertains to privacy, or lack thereof.
"I obviously have to take full responsibility for the emails I've written. That said, I don't feel the need to publicly address or comment on any of the specifics within those emails, other than to say I've taken the necessary step in the past months to make amends, so to speak, with anyone who I feel was impacted negatively by these emails and I will continue to do so, as required.
"Beyond that, I will have no further comment."
TSN family in mourning…again
It pains me to say this more than you can possibly know, but the TSN family is awash in sorrow and grief.
Again.
As you may have seen from some on-air tributes over the last couple of days, we are mourning the loss of TSN archivist Doug Johnson, a 34-year-old father of two who leaves behind his wife Sheryl and young children Carter and Taylor.
Dougie had battled cancer for several years and it appeared he had beat it, too, only to have it come back. He didn't want anyone to know his cancer had returned. He worked right through until last week, was admitted to hospital on Sunday and died Tuesday morning.
The loss of any life is devastating. The loss of a 34-year-old father of two is incredibly sad.
Words fail me, though, to describe what it is like to lose three cherished and valued thirtysomething members of the TSN family in such an incredibly short period of time.
Less than two weeks ago, on March 18, 32-year-old George Paquette, who was part of TSN/CTV News operation crew and such a valued member of our team, died suddenly.
On Nov. 27, 2015, Richard Hodgson died suddenly at age 36, leaving behind his lovely wife Jennie and young son Rickey.
Thirty two. Thirty four. Thirty six. Three bright, energetic and beloved members of our TSN family, all gone far too soon.
How do you reconcile that?
All of us at TSN are living with a pall and sadness that is difficult to shake, but each of our departed friends had a spirit and sense of camaraderie that made them special. So we'll draw on that as best we can in these most difficult of times for our network.
To each and every one of their families, the thoughts of the entire TSN family are with you, now and forever.
Bob McKenzie is the 2015 recipient of the Elmer Ferguson Memorial Award for excellence in hockey writing.