VGK responds to Army in trademark dispute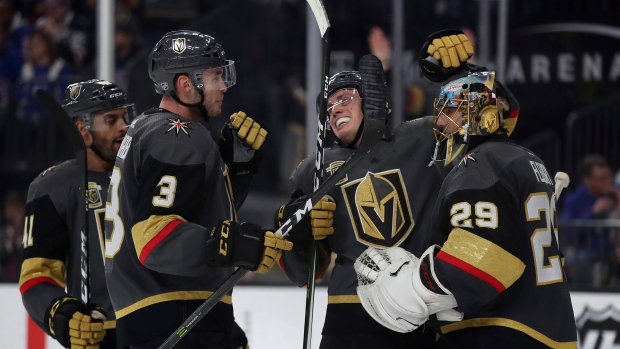 The Vegas Golden Knights said in a statement on Thursday that they will address the U.S. Army's opposition to the 'Golden Knights' team name trademark in court.
Chris Creamer of SportsLogos.net reported on Wednesday that the Army filed a notice with the U.S. Trademark and Patent Office over the use of the name against Black Knight Sports and Entertainment, the parent company of the Golden Knights.
"In the Patent and Trademark Office, the U.S. Army filed its opposition to the Vegas Golden Knights' applications to register the trademark VEGAS GOLDEN KNIGHTS used in connection with the sport of hockey," the Golden Knights' statement read.
"We strongly dispute the Army's allegations that confusion is likely between the Army Golden Knights parachute team and the Vegas Golden Knights major-league hockey team. Indeed, the two entities have been coexisting without any issues for over a year (along with several other Golden Knights trademark owners) and we are not aware of a single complaint from anyone attending our games that they were expecting to see the parachute team and not a professional hockey game. That said, in light of the pending trademark opposition proceedings, we will have no further comment at this time and will address the Army's opposition in the relevant legal forums."
With its parachute team called the Golden Knights, Army contends that its brand "will be damaged" by the Vegas trademark, noting that their use of the name dates back to "at least" 1969 and it has been used in both public relations and recruiting efforts.
Also in the notice of opposition is the Army's claim that it owns the "common rights" to the "black+gold/yellow+white" colour scheme that is similar to the one employed by Vegas.
An attorney who wished to remain anonymous told Creamer that Army's case is legitimate.
"They make at very least a prima facie case that the marks and colours were intended to conjure imagery of the USMA which may be enough to get a trial court to side with the Army," he said. "This is by no means a frivolous case."