Vigneault, Hartley, Laviolette up for Jack Adams
The New York Rangers' Alain Vigneault, Calgary's Bob Hartley and Nashville's Peter Laviolette are the finalists for the Jack Adams Award as NHL's coach of the year. The winner will be announced June 24 at the NHL awards ceremony in Las Vegas.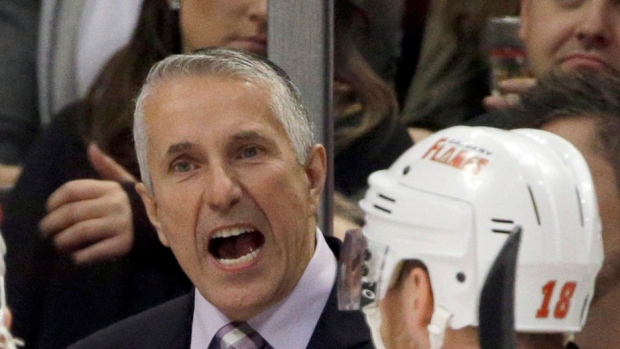 NEW YORK, N.Y. - Bob Hartley isn't taking any credit for his Jack Adams nomination.
The Calgary Flames coach, Nashville's Peter Laviolette and Alain Vigneault of the New York Rangers were named finalists on Wednesday for the award given to the NHL head coach who has "contributed the most to his team's success."
Hartley led the Flames to a 20-point gain in standings points over 2013-14 — the highest jump among Western Conference teams and third-highest in the League overall — in capturing their first playoff berth since 2009.
"I'm working with a great bunch of partners — I'm working for great owners, great managers. I have a great team," said Hartley. "I'm having fun. I love this city. I've said it before, I really hope this is my last stop. It's not a trophy that's going to change my mindset or change my personality or my approach to the game."
Calgary was among the NHL's best late-game teams, tying for first place in overtime wins (nine), ranking second in third-period goal differential (+31), third in wins when trailing after two periods (10) and fifth in points percentage when leading after 40 minutes (.923, 24-1-1). The Flames also topped the league in blocked shots with 1,557.
Hartley is a first-time Jack Adams Award finalist.
"Coach of the year, or just being a nominee, it's a true reflection of our team," Hartley said. "A coach, you can stand on the ice with your whistle or you can stand behind the bench and you can have the nicest suit, but if you don't have any players, you're not going to get anything accomplished.
"Everything that we've done as a team this year, the credit goes to our players."
The three finalists were chosen by members of the NHL Broadcasters' Association. The winner will be revealed June 24 during the league's award ceremony in Las Vegas.
Laviolette is a Jack Adams Award finalist for the second time. He led the Predators to 47 wins, nine more than last season, and a playoff berth for the first time since 2012.
Vigneault guided the Rangers to the Presidents' Trophy as the NHL's top regular-season club, establishing franchise records for wins and points. The Rangers also led the NHL and set club records for road wins (28) and points (58) — only the 2005-06 Red Wings have won more games as visitors in a season.
Vigneault is a Jack Adams Award finalist for the fourth time, tying St. Louis' Ken Hitchcock for the most among active head coaches. He won the trophy in 2006-07 with Vancouver and finished runner-up with Montreal in 1999-2000 and Vancouver in 2010-11.