Walker pleased with Osuna's preparation for camp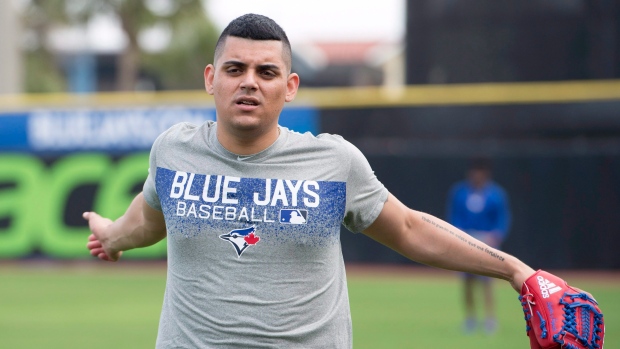 Toronto Blue Jays closer Roberto Osuna appears primed for a bounceback, according to the team's pitching coach, Pete Walker.
The 23-year-old has come into spring training in good shape and is ready to move on from a late-season swoon in which he led the league in blown saves with 10.
"There were a few things; a couple of things mechanically and I think physically, he was down a little bit in weight," Walker said of Osuna's struggles last season. "Obviously, there were some things shared publicly. But still, his stuff was still good."
In late June, Osuna disclosed that he was dealing with anxiety issues that briefly kept him off the field.
"This has nothing to do with me being on the field, I feel great out there," Osuna said at the time, following a loss to the Kansas City Royals in which he was unavilable. "It's just when I'm out of baseball, when I'm not on the field, that I feel weird and a little bit lost."
Though, he was named an All-Star for the first time in his career, Walker believes that Osuna got into trouble when he became too dependent on his cutter. Used only 4.1 per cent of the time in 2016, Osuna's usage of the cutter ballooned to 25.5 per cent last year, which in turn saw his fastball usage go from 66.5 per cent to 48 per cent. Walker says Osuna intends to once again focus on his better pitch.
"He's actually put on some size and it's about command of the fastball," Walker said. "He looks outstanding so far. So I'm very pleased again with what he did this winter, his frame of mind coming into camp. He's excited to be here and he's anxious to get on the mound."
In his three years of major league experience, Osuna has worked a combined 207.2 innings pitched over 206 appearances. While that is on the higher end of usage among closers, Walker believes that Osuna's workload isn't a concern at this point, but it will be monitored.
"He's our major league closer right now," Walker said. "We know his workload and what he can handle. Certainly, we want to watch him. He's still early in his career, so to speak. He's got some valuable experience already, but we have a good feel for what he needs to do and to keep him on the field at this point."
The Blue Jays first action of the Grapefruit League comes on Friday when they play host to the Philadelphia Phillies in Dunedin.