WCT/CCT Recap: Gushue, Homan just keep on winning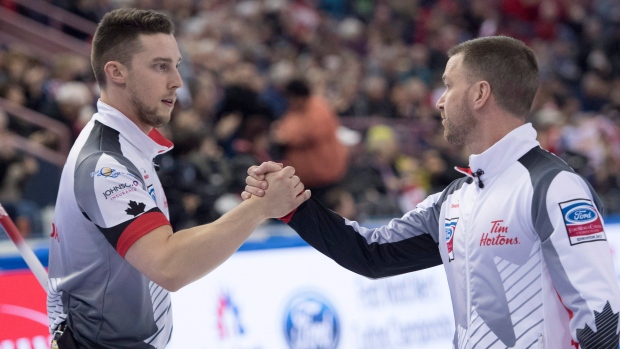 World Curling Tour
There has been no world championship hangover for St. John's Team Brad Gushue or Team Rachel Homan of Ottawa as both won events on the WCT for the second consecutive weekend.
Skip Gushue, third Mark Nichols, second Brett Gallant and lead Geoff Walker defended their title at the StuSells Toronto Tankard by defeating London's Codey Maus in the final 4-2. Team Gushue went 6-0 over the five-day event and took home $12,000 in winnings.
This was already the third event victory of this season for the Canadian and world champions from Newfoundland and Labrador.
On the women's side of things at the StuSells in Toronto, Woodstock's Julie Tippin beat Chrissy Cadorin of Thornhill in the final, 5-2. Tipping also beat Krista McCarville in the semis. This was their second event win of the 2017-18 campaign.
As for Homan and her rink of third Emma Miskew, second Joanne Courtney and lead Lisa Weagle, they won the Curlers Corner Autumn Gold Curling Classic in Calgary. The three-time Scotties Tournament of Hearts champion beat Nina Roth of the United States in the final, 6-4, after downing Chelsea Carey in the semi-final and Jennifer Jones in the quarter-final.
Team Homan won $14,000 for their second event win of the season.
Other notable names include Kelsey Rocque (lost to Darcy Robertson in quarters), Jamie Sinclair (lost to Carey in quarters) and Casey Scheidegger (lost to Roth in quarters). Kerri Einarson, Val Sweeting, Allison Flaxey, Stefanie Lawton, Nadine Scotland and Michelle Englot all failed to make the playoffs.
In Edmonton, Team Rui Liu of China were the surprise winners at the Direct Horizontal Drilling Fall Classic by defeating Reid Carruthers in the quarters, Adam Casey in the semis and 2016 Brier/world champion Kevin Koe in the final, 6-2.
The victory earned them $12,000.
Other notable rinks included Team Pat Simmons (lost to Koe in semis), Team Laycock (lost to Simmons in quarters), Team John Morris (lost to Koe in quarters), Team Colton Flasch (lost to Casey in quarters) and Team Brandan Bottcher (failed to make playoffs).
Other women events on the WCT included Jessica Schultz winning the St. Paul Cash Spiel, Joelle Brown winning the Man Curl Tour Classic in Winnipeg and Kaitlyn Jones winning the New Scotland Clothing Ladies Cashspiel.
In men's curling, Robert Mayhew grabbed the Bud Light Men's Cashspiel, David Bohn won for a second straight week at the Man Curl Tour Classic and Heath McCormick took the St. Paul Cash Spiel in St. Paul, Minnesota.
Curling Champions Tour
In action on the Curling Champions Tour, Team Bingyu Wang of China looked impressive at the Womens Masters Basel in Switzerland, posting a perfect 6-0 to win the event. The foursome beat Japan's Satsuki Fujisawa in the semi-final and Binia Feltscher in the championship game. Scotland's Eve Muirhead fell in the quarters.
Team Wang won $12,812 at the event.