WCT Recap: Scott Howard tops Gushue in Halifax
Take a look at all the results from this past weekend in the curling world with TSN.ca's WCT Recap.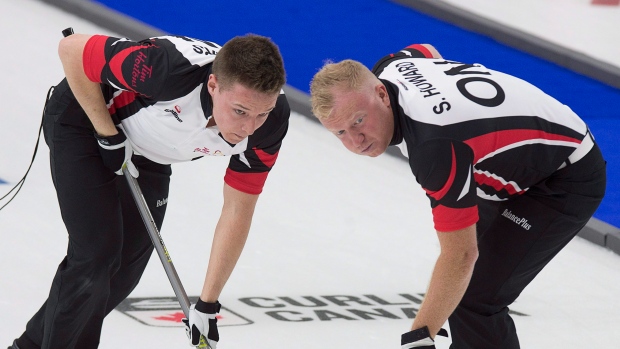 Take a look at all the results from this past weekend in the curling world with TSN.ca's WCT Recap.
---
Stu Sells 1824 Halifax Classic (Halifax, Nova Scotia)
Men's Purse: $25,000
Glenn Howard is in Tallinn, Estonia this week coaching Scotland's Team Eve Muirhead at the European Curling Championships.
As a result, Howard's son Scott, who regularly throws third rocks, stepped up as the skip at the Stu Sells 1824 Halifax Classic in Nova Scotia this past weekend.
Howard, alongside third Adam Spencer, second David Mathers and lead Tim March, went 3-0 in the preliminary round before beating Nova Scotia's Jamie Murphy in the quarter-final and Quebec's Michael Fournier in the semi-final, two skips who played in last year's Brier in Regina.
In the final they would square off against two-time defending Canadian champion Brad Gushue, who was also a perfect 5-0 heading into the match.
The odds may of been stacked against them, but Team Howard surprised everybody with a very rare six spot in the third end, paving the way to an easy 8-4 victory over seven ends.
It was 28-year-old's first win event win as a skip in his career.
---
Red Deer Curling Classic (Red Deer, Alberta)
Men's Purse: $35,000
Women's Purse: $35,000
Saskatoon's Kody Hartung lost their first game of the week to 2018 Brier finalist Brendan Bottcher, but would reel off eight straight, including getting their revenge over Team Bottcher in the final, 7-6, to capture the Red Deer Curling Classic.
Heading into the final, Bottcher's Edmonton crew had a perfect 6-0 record. Last week, Bottcher fell in the Tour Challenge final to Team Brad Jacobs on the Grand Slam circuit. This was the first win of the season for skip Hartung, third Tyler Hartung, second Jayden Shwaga and lead Mark Larsen.
On the women's side of the draw, Robyn Silvernagle won her second event with skip turned third Stefanie Lawton by beating China's Jie Mei, 8-5. Team Silvernagle lost just once all week.
Other notable names included Lethbridge's Casey Scheidegger, who will play in the Canada Cup in two weeks' time, Kerry Galusha of Yellowknife and Edmonton's Kelsey Rocque. Scheidegger and Galusha missed the playoffs while Rocque lost in the quarters to Silvernagle.
Note - On Sunday afternoon, the team of Jamie Koe, Ryan Fry, Chris Schille and DJ Kidby were ejected from the Red Deer Classic due to "unsportsmanlike behaviour." The rink finished 1-3 and were forced to forfeit their remaining games. Fry, a 2014 Olympic gold medalist, regularly curls with Team Jacobs on the World Curling Tour, but was sparing with this squad on the weekend. For more information on the story click, HERE.
---
Canad Inns Mixed Doubles Championship (Portage La Prairie, Manitoba)
Purse: $26,000
Olympic champions Kaitlyn Lawes and John Morris continued their dominance in mixed doubles this weekend by capturing the Canad Inns Mixed Doubles Championship.
The pair, who won the first mixed doubles Olympic gold medal earlier this year in Pyeongchang, went a perfect 6-0 over the four-day event, capping it off with a 9-4 victory over Kadriana Sahaidak and Colton Lott in Monday's final.
---
King Spud Classic Berth Spiel (Carberry, Manitoba)
Men's Purse: $6,500
Corey Chambers edged Graham, 5-3, in the final to capture the event in Carberry, Manitoba.
---