Weber expects to be ready for training camp
Recovering from surgery on his left foot, Shea Weber believes his off-season training won't be too disrupted and expects to be ready when the Montreal Canadiens open training camp in September.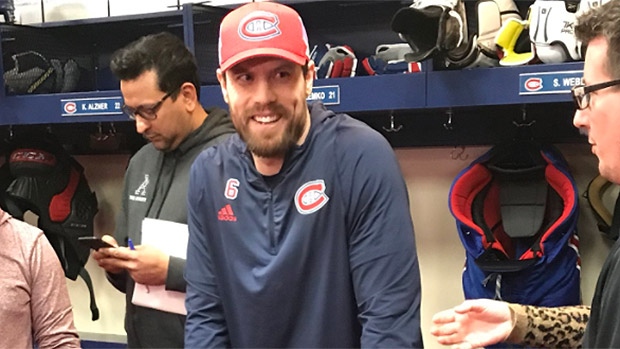 BROSSARD, Que. — Canadiens defenceman Shea Weber says he played over two months with a torn tendon in his left foot after being injured in Montreal's season opener against the Buffalo Sabres.
The hulking defenceman met with reporters for nearly 15 minutes Tuesday at the team's practice facility in Brossard, Que. He had his left knee on a cushioned cart and his left foot in a walking boot that will remain for another six weeks.
In good spirits under the circumstances, Weber said he suffered the tear that would prematurely end his season during the Oct. 5 opener, but it wasn't immediately detected.
"It's been hard for everyone, for the whole team. It's been a battle, Weber said. "Obviously I'm trying to get through it but at the end of the day, the situation was to take care of it and get ready for next year.
"It's tough ... I never really dealt with it. Hopefully I'll be able to come back stronger and better because of it."
Despite the apparent pain, the veteran defenceman continued to play until a Dec. 16 outdoor game in Ottawa, when he realized the situation wasn't improving.
"I don't know if (playing outdoors) made it worse," Weber said. "I think constantly playing on it made it worse. I don't think that was just that game that made it go over the edge, that finally made me get to a point where I was like I don't even know if I can keep going here.
"We had a couple of days before the (following) game in Vancouver and I was still planning on playing, gave it a couple days of rest and it didn't really improve at all. It was ongoing and I don't think there was one particular point, but definitely there wasn't much of the tendon left."
Weber went to Toronto in January for a second opinion, and that's where the tear was discovered.
The team announced in late February that the 32-year-old would be shut down for the rest of the season and would have surgery to repair the torn tendon in Green Bay, Wis.
The surgery took place in mid-March and the healing period is expected to be six months, which would coincide with the start of training camp.
"I've played with fractures before, and if they had told me I had a fracture at the start of the year, I don't think I would have done anything different," Weber said. "I probably would have played through it as long as I could. It's unfortunate that it ended up making it worse."
In his second season with Montreal, Weber managed to play in just 26 games, the lowest total of his career.
The Sicamous, B.C., native managed six goals and 10 assists.