Weight to remain coach of Islanders
Doug Weight said he hadn't thought about whether he wanted to return as coach of the New York Islanders while the season was winding down, but hoped to make a quick decision. It took him just two days.
The Canadian Press with TSN.ca Files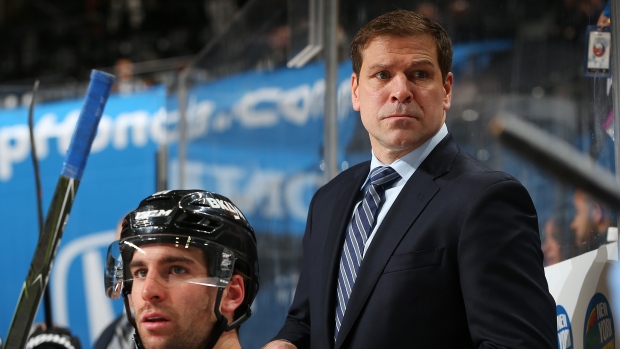 NEW YORK — Doug Weight said he hadn't thought about whether he wanted to return as coach of the New York Islanders while the season was winding down, but hoped to make a quick decision.
It took him just two days.
The Islanders announced Wednesday that Weight, promoted from assistant coach to interim head coach in January, was a permanent hire.
"I talked about it a lot with friends and obviously my family, people within the organization," Weight said on a conference call with the Islanders' beat writers. "It was important to me to meet with all of my bosses face to face, talk about things I believe in."
New York went 24-12-4 under Weight after he replaced the fired Jack Capuano on Jan. 17 when the Islanders were last in the Eastern Conference at 17-17-8. They responded to Weight, moving into the second wild-card spot in the closing weeks before a three-game losing streak knocked them out of the position. The Islanders won six straight to close the season, but finished one point behind Toronto for the East's last wild card.
"By the time we went to our wrap-up dinner last night, I was feeling really good about it," Weight said. "As were they, and that was really exciting to me."
Asked if Weight was his first choice, General Manager Garth Snow said, "Absolutely."
"It was something that personally I was thinking the last month of the season. I was just hoping and I had my fingers crossed," Snow said. "It's a big commitment. Doug has obviously a family and a lot of moving parts going on in his life away from hockey, so I know that the stars had to align for him personally to accept this responsibility."
Weight's players said they wanted him to return when asked after the season finale Sunday and while cleaning out their lockers Monday at their practice facility.
The 46-year-old Weight spent the last three seasons of his 19-year playing career with the Islanders before retiring in 2011 and joining the team as an executive and coach.
When Weight took over in January, he said there wasn't time to make sweeping changes to the team's system, but expected his approach will be different next season.
"With the situation we were in — 40 games left and probably 70-some days — it's awful tough to change pretty much," he said. "There will be things I want to do differently from little things when they show up to the rink, timing and things, things on the ice and the way we practice, training camp. I have some time to figure those things out."
The coaching staff remained the same when he was promoted — with assistants Bob Corkum, Greg Cronin, Matt Bertani and goaltending coach Mike Dunham. Weight expects some changes going forward.
"Whether or not its two or three guys or one guy, five guys, I've got to think about how I was detailing each game and what we need to work on as a team," Weight said. "No matter who comes in, it's going to be people I know that have passion, that work and have a track record of success."
Snow said Weight will prepare for the league's expansion draft June 18-20 to stock the Vegas Golden Knights, the NHL draft on June 23-24 and the start of free agency on July 1.
"We're very confident in the group that we have," Snow said. "That being said, there's always changes to a team. ... There's a lot of work that needs to be done between now and July."
The July 1 date is when the Islanders can begin discussing a new contract with captain John Tavares, who will be entering the final season of a six-year, $33 million deal. The star centre, who will turn 27 in September, has been the face of the franchise since he was drafted No. 1 overall in 2009.
Tavares led the team in scoring again with 66 points in 77 games — missing the last five with an injured left hamstring.
"He knows how we feel about him and how much respect we have for him and as a player and as a person," Snow said. "We can't say enough good things about with John brings to the organization. We're going to give our best shot in getting him signed."
In other news, TSN Hockey Insider Bob McKenzie reports there could be some clarity soon when it comes to New York's arena issue. The Islanders have played at Barclays Center in Brooklyn for the past two seasons, but it appears they could be on the move to another home arena after the 2018-19 season. McKenzie says Belmont Park in Elmont, New York could be the front-runner, but nothing is official as of yet.