What can Leafs expect with Babcock?
It's pretty difficult to steal the thunder of the Stanley Cup Playoffs, but the Toronto Maple Leafs did just that on Wednesday afternoon, signing Mike Babcock to be their new head coach. Travis Yost looks at what the Maple Leafs might be able to expect from their new bench boss.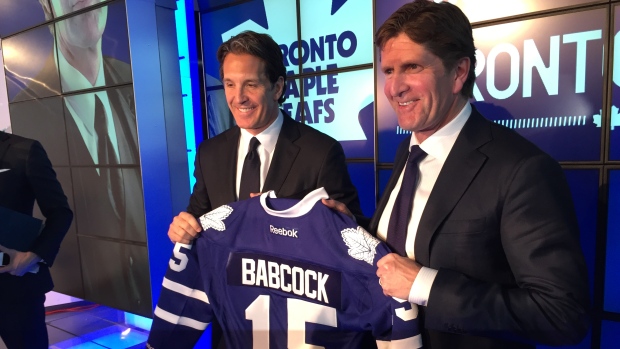 It's pretty difficult to steal the thunder of the Stanley Cup Playoffs, but the Toronto Maple Leafs did just that on Wednesday afternoon. Their inking of Mike Babcock to an 8-year, $50-million deal to take over coaching operations in Toronto sent shockwaves through the hockey universe, and for good reason – historically speaking, only a few coaches have really had the kind of success Mike Babcock has had during his tenure in Detroit.
There's no other way to look at this deal for Toronto other than a major win. Like front office executives, head coaches aren't filtered through the NHL's salary cap, and the teams who can exert financial might in these departments should at every passing opportunity. Babcock has a legitimate talent and edge over his peers, and truthfully, the money doled out by MLSE is little more than a drop in the proverbial bucket.
One of the things I'm most curious about as it pertains to Mike Babcock and the Toronto Maple Leafs is how fast he can turn that ship around. The list of issues with the Maple Leafs are, to be frank, endless – the team was poorly constructed under old management, the roster doesn't have the top-end talent you see in other cities, and they're still recovering from a head coach whose systems ran adverse to the goal of puck possession at 5-on-5.
Mike Babcock, of course, is known for deploying some of the league's most dominant even-strength teams in the past decade. Part of that without question is the talent he was provided – players like Nicklas Lidstrom and Pavel Datsyuk and Henrik Zetterberg (to name but a few) simply don't grow on trees. But, to me, the mark of a great coach is the one who can create a mutually beneficial relationship, where great players are put in equitably strong systems where they can excel. After all, it's not as if we haven't seen coaches in the past given the keys to a Ferrari and immediately drive said Ferrari off of a cliff. With Babcock, the proof is in the pudding.
Babcock has his work cut out for himself, especially in year one. Babcock's teams are notorious for controlling the run of play – the Leafs have, at least in recent history, been the total opposite of that.
POSSESSION RANKINGS
| Year | Detroit Corsi% | Toronto Corsi% |
| --- | --- | --- |
| 2011-2012 | 54.9% (1st) | 48.9% (18th) |
| 2012-2013 | 53.6% (6th) | 44.1% (30th) |
| 2013-2014 | 51.4% (9th) | 42.9% (30th) |
| 2014-2015 | 53.5% (3rd) | 46.4% (27th) |
If you run a quick four-year average, Detroit's Corsi% sits only behind Los Angeles and Chicago. Toronto's sits only ahead of Buffalo.
The good news is that Toronto's Corsi%, as noted earlier, was at least in part due to coaching and systemic effects that dragged down team performance. Simply going from the likes of Randy Carlyle to Mike Babcock should be a mega-win over the course of Babcock's contract.
But, again – how fast can Babcock turn it around? Is there any hope for year one in Toronto?
I compiled the change in Corsi% for every team from 2007-2008 present to see if any teams had notably large improvements. What's our highwater mark in that timespan? What can we reasonably expect Babcock to do for a team based on historical data?
Here is the leaderboard:
BIGGEST POSSESSION IMPROVEMENT
| Team | Year | Improvement in Corsi% | Coaching Change? |
| --- | --- | --- | --- |
| Arizona | 2009 | 6.5% | Yes |
| Florida | 2010 | 5.8% | No |
| New Jersey | 2012 | 5.6% | No |
| Chicago | 2008 | 5.5% | Yes |
| Minnesota | 2012 | 5.4% | No |
| Los Angeles | 2008 | 5.0% | Yes |
| Montreal | 2012 | 4.8% | Yes |
| Montreal | 2010 | 4.4% | No |
| NY Rangers | 2012 | 4.3% | No |
| Nashville | 2014 | 4.2% | Yes |
So, a bit of good news, and a bit of bad news. Let's start with the bad news first. Only six teams over the last nine years have experienced a jump in possession at or above 5%, which is probably around what Toronto would need to really get into the playoff discussion in year one. And, if you want to isolate on 'very recent' teams, only Nashville (this season) and Pittsburgh (also this season, not tabled) made jumps at or above 4%.
Now, the good news. You'll notice I identified a bunch of teams in the far right column. Half of our top-ten saw jumps in possession correlating with the hiring of a new head coach. The most prominent change was the jump between Wayne Gretzky to Dave Tippett in Arizona. Other notables include Denis Savard to Joel Quenneville in Chicago and Marc Crawford to Terry Murray in Los Angeles. Sliding into the top-ten at the bottom – Nashville this season, who moved from Barry Trotz to Peter Laviolette. (One other notable improvement not tabled would include the jump from Michel Therrien to Dan Bylsma in Pittsburgh years back).
This, of course, doesn't make the argument that coaching effects are regularly pronounced – there are plenty of other examples not in the table above where a team made a coaching change and either stayed the same or worsened. It is curious, though, that half of the teams with radical possession changes in one year saw it coincide with a change behind the bench.
Ultimately, Mike Babcock's going to need talent at every level to turn this Maple Leafs organization into a Cup contender – and that's going to take considerable time. But a playoff berth next year isn't definitively out of the question, assuming the change from Carlyle/Horachek to Babcock is as pronounced as we are anticipating.