What you need to know for the men's curling season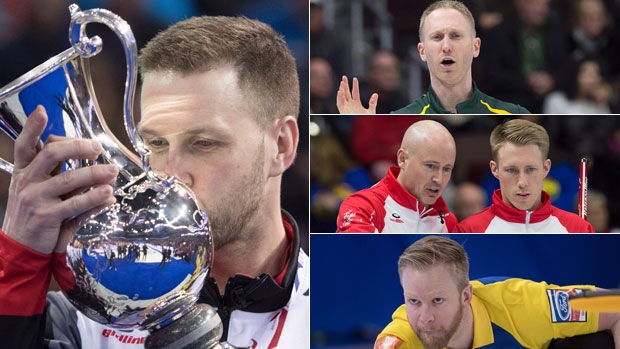 With a packed schedule that includes the Winter Olympic Games, the 2017-18 curling season should be a roller coaster ride. Take a look at major storylines and important questions for some of the elite rinks on the men's side with TSN.ca's curling preview.
Olympic Glory
This year, the biggest prize in curling won't be a Tim Hortons Brier, Scotties Tournament of Hearts or even a world championship.
Instead, curlers in Canada and around the world will set their sights on PyeongChang, South Korea, in February when the 2018 Olympic Winter Games get underway.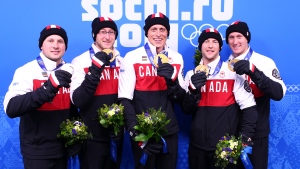 Brad Jacobs and his Sault Ste. Marie rink of third Ryan Fry, second E.J. Harnden and lead Ryan Harnden are the defending champs after winning it all in 2014 in Sochi, Russia. They'll be the favourites to once again capture Olympic gold – if they can get to South Korea.
Jacobs' crew will have to compete against eight other elite rinks at the Canadian Olympic Trials, dubbed the Tim Hortons Roar of the Rings, slated to run Dec 2-10 in Ottawa. There will be no easy matchups in the nation's capital with teams led by Kevin Koe, Brad Gushue, Reid Carruthers, Mike McEwen, John Epping and Steve Laycock already qualified.
The final two spots will be determined at the Road to the Roar Pre-Trials Nov. 6-12 in Summerside, P.E.I. Notable names, including four-time world champion Glenn Howard, 2010 Olympic gold medallist John Morris, 2006 Canadian champion Jean-Michel Menard, two-time Brier champ Pat Simmons and Brendan Bottcher, will all compete at the event and should be among the favourites to advance to the Canadian Trials.
With so many top-tier teams in the mix, winning the Canadian Trials might be the hardest part of capturing gold at the Olympics. When it comes to curling, if you can win in Canada, you can win anywhere.
And it could be even more lucrative for Canada at these Winter Games as mixed doubles will make its Olympic debut in South Korea. The Canadian duo of Carruthers and Joanne Courtney fell to Martin Rios and Jenny Perret of Switzerland at the world championships last season. Canada will determine its representatives at the Olympic Mixed Doubles Curling Trials Jan. 3-7 in Portage la Prairie, Man.
With three curling medals – men's and women's tournaments and the new mixed doubles event - up for grabs Feb 9-25 in PyeongChang, three gold medals should be the expectation for Canada.
A Wild Year
The last two Briers have had some of the most talented, competitive fields the sport has ever seen.
The 2018 Canadian championship March 3-11 in Regina might even be better.
Thanks to new rules implemented by Curling Canada this summer, the two highest-ranked teams on the Canadian Team Ranking System who don't win their province or territory will play in a wild-card game before the Brier to earn the 16th and final spot.
The new format was created after four years of the highly criticized pre-qualifying tournament which saw four rinks battling it out for just one Brier spot.
The 2018 Brier will expand to 16 teams from 13, with the 10 provinces and three territories all getting spots as well as Team Canada, Northern Ontario and the wild-card team. The 16 rinks will be divided into two pools of eight, with the top four teams in each pool advancing to the championship round. From there, they'll determine the final four playoff teams.
The most recent Brier in St. John's, N.L., did not include such names as Winnipeg's Carruthers, Toronto's Epping and Saskatoon's Laycock. With the news rules, it's very likely one elite-level rink will be added to the 2018 field. It also adds more importance to tour events, as this is where you gain points to help your ranking on the CTRS.
The Friday night wild-card game could be one of the major highlights of the week in Regina.
Faces in New Places
There weren't many roster changes this summer as most of the top rinks have their foursomes set for the Olympic year.
However, there were a few notable names who will play for new teams this season.
Two-time Canadian champion Simmons, who had a brief stint with Team Bottcher last year before parting ways, will skip the young Winnipeg squad of third Colton Lott, second Kyle Doering and lead Rob Gordon.
Another interesting move sees two-time Canadian junior champ Matt Dunstone leaving his Winnipeg rink to play for Team Laycock, a top contending team out of Saskatoon. The former skip will now play second as he replaces Colton Flasch. Laycock's foursome had appeared in the last three Briers before being upset by Adam Casey in the provincial final in 2017. It will be interesting to see how the 22-year-old meshes with his new teammates as the Canadian Olympic Trials are just a few months away.
Jason Gunnlaugson will take over as skip of Dunstone's old team of third Alex Forrest, second Ian McMillan and lead Connor Njegovan.
Expect to see 2017 Canadian junior champ Tyler Tardi on Tour more often this year as well.
Team Roundup
Team Brad Gushue (St. John's, Newfoundland and Labrador)
Gushue and his squad had a surreal 2016-17 campaign, winning their first Brier title in front of a loud and proud home crowd in St. John's before posting a perfect 13-0 record at the world championships. It was a year Team Gushue will never forget, but will they have anything left to make a run for Olympic gold in 2017-18? Who knows if the "championship hangover" actually exists, but Gushue's crew best not take their time getting up to full speed, with the Canadian Trials on tap in December. Gushue and third Mark Nichols won gold together at the 2006 Olympics in Turin, Italy. They're slated to represent Team Canada when the Brier rolls into Regina in early March.
Team Brad Jacobs (Sault Ste. Marie, Ontario)
Since winning their first Brier title in 2013, followed by Olympic gold in 2014, Team Jacobs have remained one of the best rinks in the game. However, they haven't been able to reach the same level of play that got them to the top of the podium in Russia. Three event wins, including two Grand Slams, propelled the foursome to second on the World Curling Tour money list last year, but they were once again unable to bring it all together in the playoff round at the Canadian championship. So, will the allure of more Olympic gold bring out the Team Jacobs of old?
Team Mike McEwen (Winnipeg, Manitoba)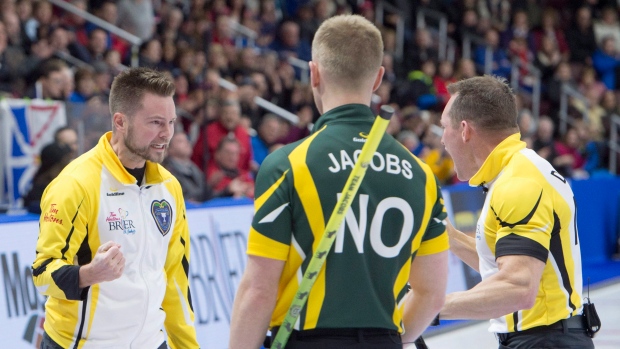 After qualifying for their first Brier in 2016, Winnipeg's Team McEwen won their first Brier medal in St. John's last year with a bronze win over Team Jacobs. The foursome, who are entering their 11th season together, are the longest tenured team in men's curling and will set their sights on the Canadian Trials. They finished fourth, just outside of the playoffs, at the 2013 Olympic Trials. Will 2017-18 be a defining year for Team McEwen?
Team Reid Carruthers (Winnipeg, Manitoba)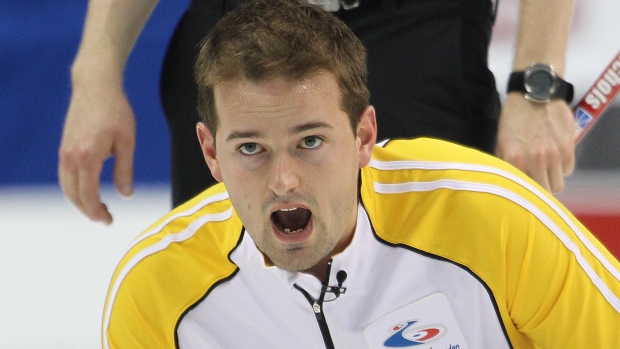 Team Carruthers had a solid 2016-17 campaign, winning two events, including the Canada Cup, which punched their ticket to Ottawa. Their biggest nemesis will once more be Team McEwen, who they will need to beat at the Manitoba provincials to qualify for the Brier for the first time since 2015. This will be Team Carruthers fourth year together. Do they have what it takes to assert themselves as the best in Manitoba?
Team Kevin Koe (Calgary, Alberta)
After dominating the 2015-16 season with a Canadian and world championship, Team Koe picked up just two victories on the WCT in addition to a silver medal at the Brier last year. Skip Koe, third Marc Kennedy, second Brent Laing and lead Ben Hebert make up one of the most decorated teams in the sport as they share a combined 12 Briers, nine world championships and two Olympic gold medals. They were assembled prior to the 2014-15 season with the sole intention of standing atop the podium in South Korea. Koe's squad was the first to qualify for the Roar of the Rings, thanks to their win at the 2015 Canada Cup. Is Team Koe primed to reach the top of the curling mountain this season?
Team John Epping (Toronto, Ontario)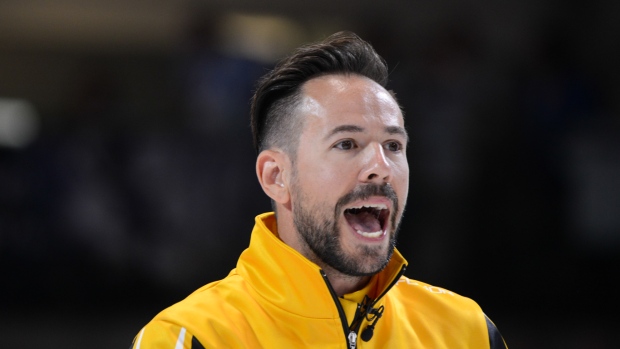 After McEwen finally qualified for the Brier a couple years ago, Epping took over the burden as the best male curler never to appear in the Canadian championship. Will the 34-year-old finally find his way through Howard and Ontario this season?
Team Brendan Bottcher (Edmonton, Alberta)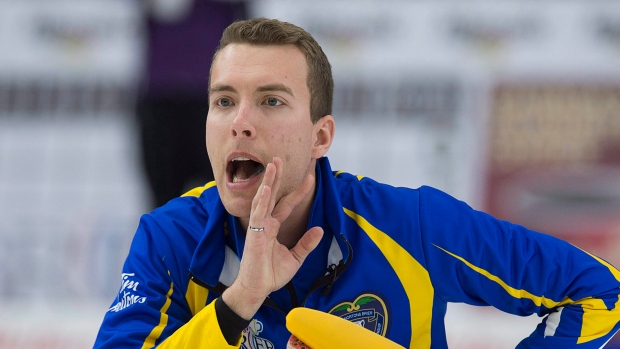 Twenty-five year-old skip Bottcher appeared in his first Brier last year, posting a 3-8 record. The Alberta squad will be in tough to make it back in 2018 as they'll need to get past Team Koe in provincials. The Edmonton rink will be in Summerside in November for the Road to the Roar Pre-Trials. Is this foursome ready to break out as an elite-level rink?
Team John Morris (Vernon, British Columbia)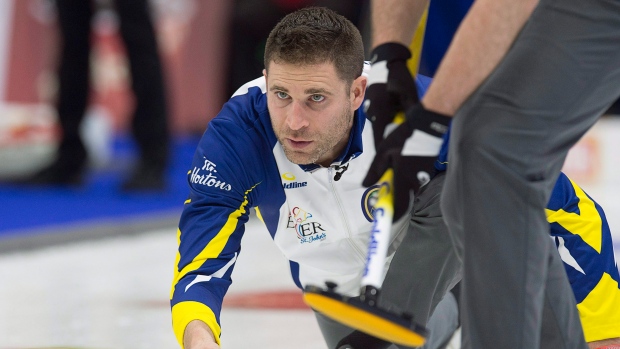 In 2013, Morris was a win away from representing Canada at the Olympic Games for a second straight time – until Jacobs got in his way. Now, four years later, after winning a national championship with Simmons in Alberta, Morris is back in B.C. playing with fourth Jim Cotter, second Tyler Griffith and lead Rick Sawatsky, the same crew that made an unexpected run to the 2013 Canadian Trials final and the 2014 Brier final. Team Morris finished with a 7-4 record at the Brier in Newfoundland last year, just missing the playoffs. Like they did in 2013, this Vernon foursome will need to finish in the top two of the Road to the Roar Pre-Trials in order to get an invite to the nation's capital for the big show. Can Morris and Cotter find their groove again in 2017-18?
Team Steve Laycock (Saskatoon, Saskatchewan)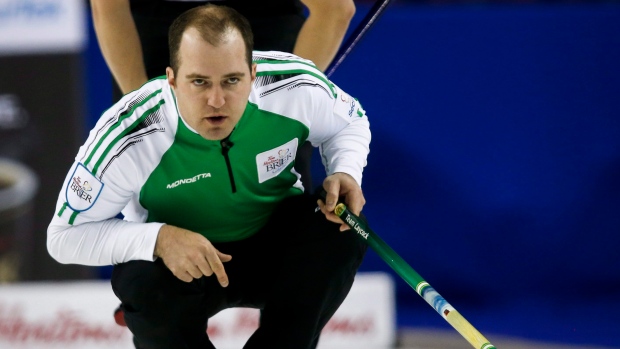 Saskatoon's Team Laycock added two-time time Canadian junior champ Dunstone to replace second Flasch this off-season. Dunstone is one of the best young curlers in the game, but can this foursome find their chemistry quickly enough to put up a challenge at the Canadian Olympic Trials?
Team Glenn Howard (Penetanguishene, Ontario)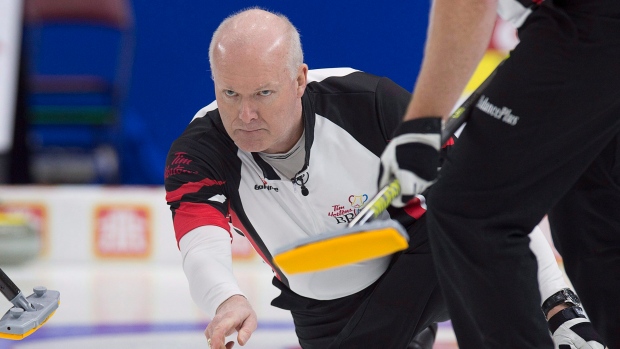 Curling legend Howard has one of the most impressive resumes in the sport. Four Brier titles (including 11 finals in 17 appearances), four world championships, 14 grand slam victories and a plethora of cash winnings over a 30-year career makes him one of the best ever to step on the ice. But, one prize has always eluded Howard – an appearance at the Olympic Games. The closest Howard got was in 2009 when he fell to eventual gold medallists Team Kevin Martin in the Canadian Trials final. He missed the playoffs with a 2-5 record in 2013. This will likely be the 55-year-old's last chance to cross this curling goal off his list. It won't be easy as Howard, third Richard Hart, second David Mathers and lead (as well as son) Scott Howard will need to get through a tough field at the Pre-Trials just to have the right to compete in Ottawa. It's a long shot, but can Howard create some magic in the twilight of his career?
Team Niklas Edin (Sweden)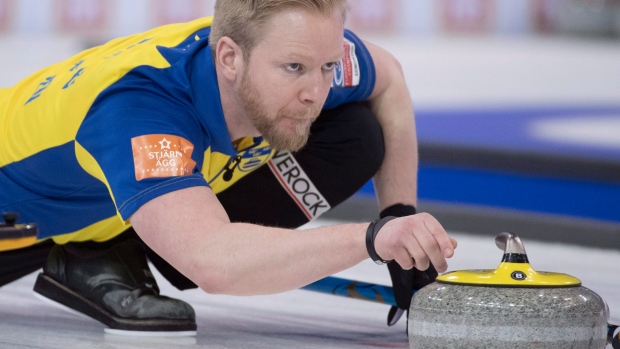 Sweden's Team Niklas Edin is widely considered the best team outside of Canada and you could argue that they're the top club in the world. The Karlstad squad may have lost to Canada's Team Gushue in the world championship final last year, but they still had an unbelievable season on the WCT. Team Edin won six events, including three Grand Slams, and finished first on the Money List with $191,469 in winnings. They'll represent Sweden at the Olympics and will be Canada's toughest competition. Can Team Edin stop Canada's streak of three straight Olympic gold medals in men's curling?