Whitecaps look to clinch top spot in the West and TFC chases history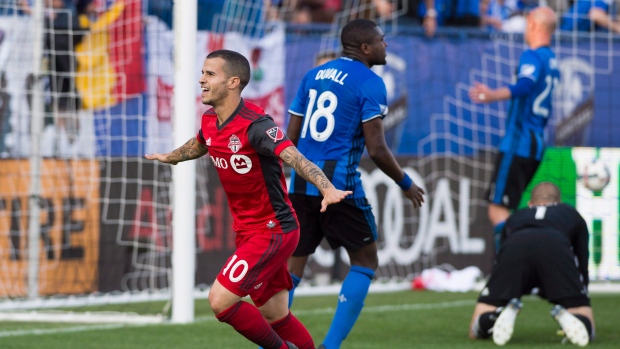 Toronto FC has a chance to become the all-time single season MLS points leader as TSN delivers live coverage of the culmination of the MLS regular season on Sunday, Oct. 22 at 4 p.m. ET. MLS DECISION DAY features Toronto FC, Vancouver Whitecaps FC, and the Montreal Impact as the teams battle in their final games of the regular season.
MLS Decision Day features every team in the league as they play one final matchup of the regular season as they jockey for their last chance at playoff positioning and set the stage for the upcoming Audi MLS Cup Playoffs.
In total, TSN delivers live coverage of three simultaneous matches, all kicking off at 4 p.m. ET. In the East, Toronto FC head to Atlanta to take on the league's new expansion club Atlanta United FC on TSN4, while the Montreal Impact close out their campaign as they host the New England Revolution live on TSN5. In the West, the Vancouver Whitecaps FC look to hold on to the top spot in the conference as they match up against the Portland Timbers on TSN1.
Calling all the action from the Toronto FC vs. Atlanta United FC game is MLS on TSN play-by-play commentator Luke Wileman alongside analyst Steven Caldwell. Play-by-play commentator Vic Rauter and analyst Greg Sutton call the Montreal Impact vs. New England Revolution game. Peter Schaad delivers the call for the Vancouver Whitecaps FC vs. Portland Timbers game with Nick Dasovic providing analysis.
Host Kelcey Brade and analysts Kristian Jack and Terry Dunfield are live from the TSN Studio to deliver news, highlights, and updates on key goals from across the league in this dramatic finish to the MLS regular season.
The network's live coverage of MLS Decision Day is also available live and on demand to TSN subscribers via the TSN GO app.
Following MLS Decision Day, TSN delivers exclusive English-language coverage of four marquee matchups from the MLS Cup Playoffs Knockout Round on Wednesday, Oct. 25 and Thursday, Oct. 26.