Whiteside helps Heat rally past 76ers
Hassan Whiteside had seven blocked shots, including a pivotal one late as the Miami Heat won their fifth in a row, beating the Philadelphia 76ers 103-98 on Sunday.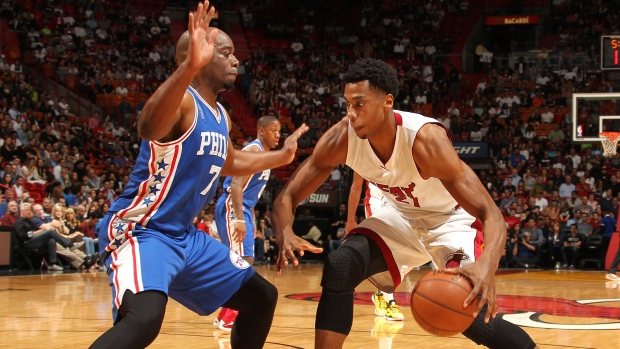 MIAMI - Dwyane Wade attempted an 18-footer and then sank to one knee, trying to coax the ball in the basket with body English.
No good.
The Miami Heat had trouble getting the ball to fall and were on the verge of a dismal defeat Sunday, but rallied from a six-point deficit in the fourth quarter to beat Philadelphia 103-98.
The short-handed Sixers, who have the NBA's worst record (8-55), endured their 12th consecutive loss. Hassan Whiteside had seven blocked shots, including a pivotal one late to help the Heat win their fifth game in a row.
"Everything we go through right now is good for us as we try to put ourselves in a position for the playoffs," Wade said. "This was a different kind of situation. We were down against a team we're supposed to beat, and how are we going to find a way to win the game?"
Wade shot 5 for 15 but still managed 23 points, while Goran Dragic had 23 points, eight rebounds and five assists. Whiteside shot 4 for 11 but had 14 points and 13 rebounds off the bench.
Ish Smith scored 21 points and Carl Landry added 18 for the Sixers, but they were outscored 30-19 in the final 9 1/2 minutes.
"It's kind of been the story of the year," Smith said. "We just have to close down these close games."
The Heat missed 10 consecutive shots in the second half and went nearly 8 minutes without a basket as the 76ers took a 72-69 lead, and the margin reached 79-73 before Miami rallied.
A frantic sequence that began with a block by Whiteside turned the game for the Heat. Dragic came up with the rebound to start a fast break that ended with a running dunk by Wade, before he and Dragic both went sprawling happily to the floor.
"It was bodies flying around," Dragic said. "Great play by D-Wade. He's still got the hops."
The crowd erupted, and Whiteside hollered too.
"That's kind of what I do — block shots and get the crowd going," Whiteside said. "D-Wade goes dunk, and I cheer for D-Wade."
The score put the Heat up 91-87 with 3:21 left, and the Sixers trailed the rest of the way.
"The only difference between good teams and bad teams," Landry said, "is how to close out quarters."
The Heat beat Philadelphia for the second time in three nights for their longest regular-season winning streak since an eight-game stretch from Feb. 11 to March 3, 2014.
"We played two games in a row against Philly, and that's how it's going to be in the playoffs," Dragic said. "You're going to know the opponent really well. They took some things away from us and we had to adjust. We did pretty OK."
The Heat (37-26) climbed a season-high 11 games over .500 and matched last season's win total with 19 games remaining. They improved to 8-2 since losing Chris Bosh to a blood clot in his calf.
Smith's buzzer-beating 3-pointer to end the first half put the 76ers ahead 49-47, but they fell to 5-14 when leading at halftime. Philadelphia dropped to 3-30 on the road.
INJURY LIST
Philadelphia was again without Jahlil Okafor (bruised shin), Nerlens Noel (bruised knee) and Nik Stauskas (illness). All are expected to return soon.
WINNING ADDITION
The Heat are 5-0 since signing Joe Johnson after the seven-time All-Star agreed to a buyout with the Brooklyn Nets. Johnson had 14 points and five rebounds.
"He's undefeated," Dragic said.
TIP-INS
Heat: Whiteside, who had made 28 of 30 free throws over the past six games, went 6 for 10.
76ers: Elton Brand, making his second appearance this season after coming out of retirement, played 6 minutes and didn't score.
UP NEXT
76ers: Host Houston on Wednesday.
Heat: Visit Milwaukee on Wednesday to start a three-game trip.