Wideman's suspension reduced to 10 games
Dennis Wideman's 20-game suspension was reduced to 10 games by an independent arbitrator Friday. Wideman has already served 19 games of the ban for hitting linesman Don Henderson, and returned to the lineup for Calgary's home game on Friday against the Arizona Coyotes.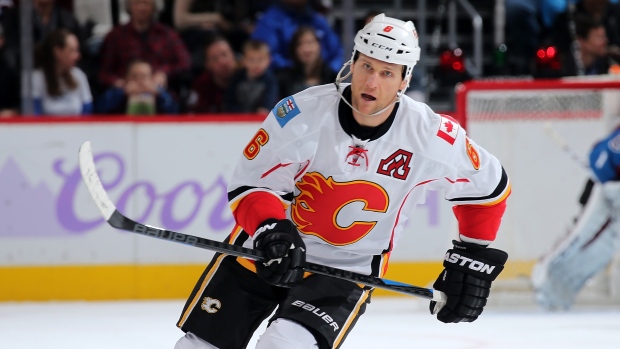 NEW YORK, N.Y. - An independent arbitrator cut Dennis Wideman's suspension from 20 games to 10 on Friday, saying he didn't believe the Calgary Flames defenceman intended to injure linesman Don Henderson when he knocked him to the ice.
In an 18-page ruling, James Oldham wrote that he agreed with the NHL's decision to suspend Wideman for abusing an official. But he disagreed with Commissioner Gary Bettman's conclusion that there was sufficient evidence to show Wideman deliberately wanted to injure Henderson when he hit him during a game against Nashville on Jan. 27.
Wideman has already served 19 games as the appeals process went to Bettman and then Oldham. He will get back $282,258 of the $564,516 he was going to forfeit as a result of the suspension.
Oldham wrote that Wideman's "exemplary" 11-year record without discipline throughout his career played into his decision. He wrote that Wideman suffering a concussion as the result of a hit seconds before striking Henderson made it possible he did not know what he was doing.
Oldham's decision was based on NHL guidelines for abuse of officials that sets 10- and 20-game marks. The 20-game suspension is predicated on intent to injure.
The NHL said in a statement it "strenuously" disagrees with Oldham's ruling.
ESPN.com's Scott Burnside received a statement from National Hockey League Officials Association president Dan O'Halloran.
"The NHLOA strongly disagrees with the arbitrator's decision to reduce Dennis Wideman's suspension to 10 games while linesman Don Henderson continues to recover from an injury inflicted by the player that will sideline him for the rest of the season. The message in reducing the suspension that is sent to NHL players, as well as athletes all over the world, including children, is that the code of conduct towards officials has changed.
The NHLOA intends to take all steps necessary so that its members are protected in the future and ensure that this type of conduct by a player against an official never happens again."
The NHL Players' Association said it believes there should have been no discipline for Wideman but that it was pleased Oldham reduced the suspension.
Wideman returned to action for Calgary on Friday night against the Arizona Coyotes.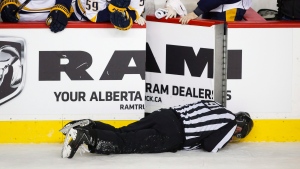 Jan. 27 – Wideman hit on linesman Don Henderson in Calgary.
Jan. 28 – Wideman suspended indefinitely by NHL pending hearing.
Feb. 2 – Wideman disciplinary hearing held in Toronto; suspended by NHL Hockey Ops that night for 20 games; appeal filed by NHLPA.
Feb. 10 – Appeal heard by commissioner Gary Bettman in New York, lasted approx. 6 hours.
Feb. 17 – Bettman announces 20-game suspension is upheld, releases 23-page decision. NHLPA immediately announces decision will be appealed to NHL/NHLPA neutral discipline arbitrator James C. Oldham.
Feb. 26 – Oldham hears appeal in New York, two sides are notified then to not expect a decision until week of March 7 because Oldham has another case on his plate. NHLPA asks because Oldham is busy to allow Wideman to keep playing until a decision is rendered.
March 4 – Final written arguments are due to Oldham. The final arguments were not made in-person in an effort to speed up the process.
March 11 – Bettman tells reporters at Sloan Sports Analytics Conference in Boston that he is "perfectly comfortable" with the appeals process. Two hours later, Oldham reduces Wideman suspension from 20 games to 10 games. With the reduction Wideman will forfeit $282,258 instead of $564,516. But he'll never get those 10 games back. He was due to serve the 20th and final game of the suspension Friday night against Arizona.