Caps' Wilson suspended four games
After four seasons of playing on the edge without incurring a suspension, Tom Wilson has now been disciplined twice in less than two weeks and is on notice.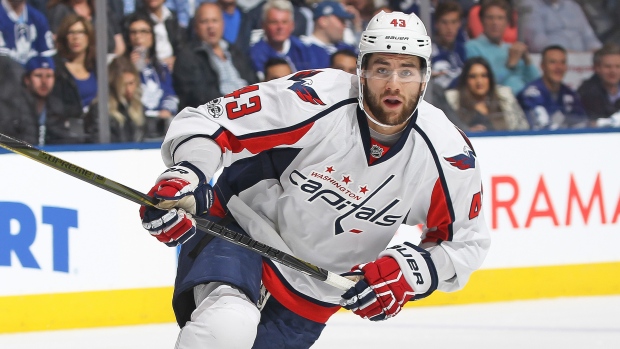 ARLINGTON, Va. — After four seasons of playing on the edge without incurring a suspension, Tom Wilson has now been disciplined twice in less than two weeks and is on notice.
The NHL suspended the Washington Capitals right winger for the first four games of the regular season for boarding St. Louis Blues forward Sammy Blais in each team's preseason finale Sunday. Wilson had just been suspended for two exhibition games Sept. 23 for a late hit on Blues rookie Robert Thomas.
"It's a hard-hitting sport. It's a fast sport," Wilson said Tuesday before his hearing with the league's department of player safety. "That's obviously part of my game and it always has been. It's an honest game, it's a hard-hitting game, it's a fast game and that's the way I try and play."
As a repeat offender, Wilson forfeits $97,561 in salary and will miss games against the Ottawa Senators, Montreal Canadiens, Tampa Bay Lightning and Pittsburgh Penguins. He's eligible to return Oct. 13 against the New Jersey Devils.
Wilson had a hearing for a hit on Philadelphia's Brayden Schenn in 2013 but was not fined or suspended, and he was docked $2,404 for kneeing Pittsburgh's Conor Sheary during the 2016 playoffs. The 23-year-old said he has done a good job of playing within the rules and finishing hard checks but thinks he's scrutinized more closely than other players because of his physical style.
"When a guy's out there making big hits, he's going to draw more attention to himself than a guy that doesn't finish the big hits," Wilson said. "Ever since I came into the league, there's been no secret that I finish hard, clean checks."
The Capitals drafted Wilson in the first round, 16th overall, in 2012 because of his size and physicality. General manager Brian MacLellan thinks the 6-foot-4, 218-pound Wilson works hard at playing on the edge and hitting clean.
"He knows the rules, how they're looking at the rules," MacLellan said. "I think you just have a player that's big and strong and skates well and sometimes collisions happen a little late or someone puts themselves in a bad position as he's hitting them and because of his strength it looks worse than someone else doing it."
Capitals coach Barry Trotz said that when he finally got a look at video of Wilson's boarding of Blais, it didn't look as bad as he originally thought. Blues coach Mike Yeo called it "predatory," and in a video announcing the suspension, the NHL took issue with Wilson's angle of approach and his decision to hit Blais despite seeing the numbers on the back of his jersey the entire time.
Wilson said he has had many conversations in the past few days about how the league is dealing with certain types of hits.
"You see instances where those hits happen, and that's what the league's there for," Wilson said. "They review it and they try and keep guys safe. Nothing really you can do about that now. You've just got to roll with the punches. The game's definitely changing a little bit and maybe you've got to kind of change with it."
Perhaps Wilson can follow the lead of captain Alex Ovechkin, who throws his body around more than any other star scorer and has a record but hasn't been suspended since 2012.
"It's hard for a player because you don't want to be suspended," Ovechkin said. "You don't want to hit someone (and) he's going to be hurt. I think for us as players, we respect each other. We respect each other's job. You play hard."
Wilson played hard for 313 regular-season and 41 playoff games before getting suspended, and he said he has always trusted the way he plays. Regardless, he's now on the radar of new vice-president of player safety George Parros.
"For four years, five years, you just go out there, you play your game," Wilson said. "And then this thing happens in the preseason — an interference call — and now you're playing with a bit of a record now and it's maybe a little bit tougher, but that's part of the sport."
Wilson's suspension hurts the Capitals at the start of the season because they have to keep him on the roster and his salary on the books during the suspension. He called it a "bummer" to miss time given that he's expected to have a more substantial role after Washington lost several players in the off-season.
"It's a bit unfortunate this stuff happens," Wilson said. "But it's a little adversity and hopefully once I'm back out there, whatever game I'm in, you just play and don't look back."
___
Follow Hockey Writer Stephen Whyno on Twitter at http://www.twitter.com/SWhyno
___
For more AP NHL coverage: https://apnews.com/tag/NHLhockey