Win for Andersen ends weeks of adversity
Two weeks of mostly adversity for new Leafs goalie Frederik Andersen came to an end on Thursday as the Maple Leafs held a third-period lead and beat the Florida Panthers 3-2. TSN's Kristen Shilton explains what the win will do for the team's morale.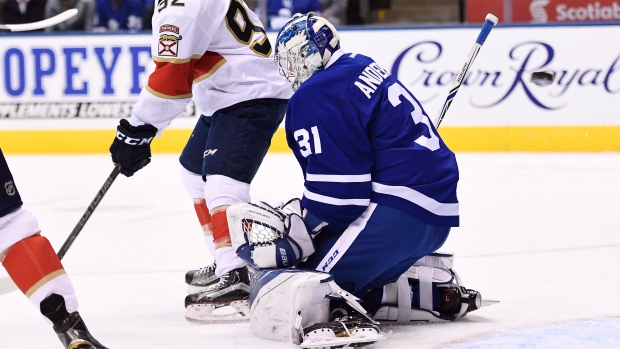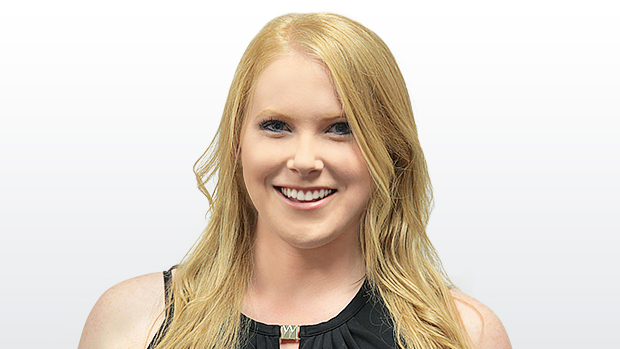 TORONTO – If there's one thing this young Toronto Maple Leafs season hasn't been short on for goaltender Frederik Andersen, it's adversity.
There was the blowout loss at home on Tuesday against Tampa. Then in the second period of Thursday's game against the Florida Panthers he was tripped awkwardly in his crease by Jaromir Jagr, which fortunately didn't do any damage. What did was the high-stick Andersen subsequently took from Colton Sceviour through his mask that split open his left eyebrow, after he had backstopped the Maple Leafs to a lead late in the third period.
The bloodied netminder stayed in though. He stopped 29 of 31 shots to give Toronto its second win of the year, downing the Panthers 3-2. The Leafs move to 2-2-3 on the season.
"It's a little different experience. I'm sure that probably won't happen the same way again," Andersen said of his eventful night. "I'm glad the eye is okay [because] you never want to leave the game. I was just happy we could patch it up so it wouldn't bleed too much and keep me out there."
The last 72 hours have been a near-constant stream of debate, criticism and questions about Andersen and his league-low stats after five starts. Before Thursday's game, many of the Maple Leafs defended their goaltender and lamented the quality of chances they have allowed up front that have hindered his success. Head coach Mike Babcock thought his team did even more of that against Florida.
"He was our best player by far, and that's as many good chances as we've given up all year probably," Babcock said. "And we turned the puck over as much as we have, period. But the goalie was good and that goes to show you how important goaltending is. I'm real happy for Freddie. Coming here, you've got to find yourself. I'm happy for him, and happy for the team."
The night didn't start well for anyone on the Maple Leafs, when an early turnover in the neutral zone led to a two-on-one resulting in Jonathan Marchessault's first goal of the game. There was little Andersen could do to stop the play, initiated by a Jagr feed. But the second goal (also by Marchessault) that gave Florida a 2-1 lead on the power play was an easy top-shelf snipe Andersen would have liked to have back. All in all though, his method for turning the tide on his early season woes worked pretty well.
"I think I tried to have a little more fun yesterday and this morning, get my mind off everything," he said. "That's when you're able to relax the most, when you're able to have fun and feel loose. That's probably the biggest difference."
While Toronto still has work to do at minimizing opportunities around the net, Andersen's teammates were eager to see their goalie get rewarded for all the good he's done so far, and glad to get the job done.
"[Andersen] held us in at the start - we didn't play very well and those goals he gave up were great goals by them," Bozak said. "Which it has been for the majority of the games now. So it was nice to be able to hold on at the end."

Takeaways
Babcock said earlier in the week he didn't think Tuesday was Mitch Marner's best game, but on Thursday the rookie was brilliant. He assisted on all three of the Maple Leafs' goals, with two of those set-ups coming off great individual efforts. He fed James van Riemsdyk in the second period after corralling the puck in his skates to settle it before putting it on van Riemsdyk's tape. On Tyler Bozak's go-ahead goal late in the period, Marner made an incredible backwards pass to Bozak who was waiting on Roberto Luongo's doorstep. That was Bozak's second score of the night; Marner had the second assist on his first period marker as well. The rookie's ability to backcheck so well and retrieve pucks continues to generate a ton of chances for his line. "He's got that special ability to hold the puck for an extra second and let those passes open up and find you in some good scoring areas," van Riemsdyk said. "He's been fun to play with."
van Riemsdyk continued his recent hot streak, tallying a goal for the third straight game. The score marked the longest goal streak of his eight-year NHL career. He and Bozak, long-time linemates, have gelled quickly with Marner. "I think it's just off the ice, on the ice...when we're at the hotel, just make sure we're talking and when I have questions just asking, not being afraid," Marner said of the trio's developing chemistry. "I think that's a big reason why we're working so well."
The Maple Leafs have two wins this season, and both have come when the team's highest scorers – Auston Matthews and William Nylander – have been held off the score sheet. The two rookies have 19 points combined this season.
Playing in his Maple Leafs debut on Thursday after being picked up on waivers on Oct. 11, Seth Griffith made an impression on the fourth line. His great speed was immediately on display, and he won his share of foot-races against the Panthers. Playing with Matt Martin and Ben Smith, who aren't known as skill players, Griffith still found the seams through traffic to set up a couple good scoring opportunities. He was one of the best forwards for the Leafs in the first period when they were on their heels, getting pucks back and putting them towards the net. He had a great chance to score his first as a Maple Leaf off a feed from Matthews late in the third, but couldn't quite connect with the shot. Griffith played a team-low 9:09, but made an impact on nearly every shift.
Zach Hyman continues to be a standout on the penalty kill. He earned a couple rounds of applause for his work on the first two kills the Maple Leafs faced, carrying the puck into the Panthers' zone and killing nearly 30 seconds by winning board battles and hemming Florida in their end. On second penalty kill he did the same thing, plus generated a great short-handed scoring chance. Hyman doesn't get a lot of credit because his linemates – Matthews and Nylander – have tallied a combined 19 points to Hyman's one, but the 24-year-old's contributions go beyond stats.
Back in the lineup to replace Matt Hunwick, who is battling a lower-body injury, Martin Marincin had a difficult night. He made poor decisions with the puck in his own zone that let the Panthers keep pressing and didn't seem to find a positive rhythm throughout the game, even after Babcock shuffled the pairings halfway through the first period that put him back playing with Morgan Rielly. In the third frame, right after the Leafs had killed a critical penalty, Marincin turned the puck over directly in front of Andersen, who was able to make the save. Babcock said after the game he wasn't happy with how the pairings started, and only credited Nikita Zaitsev with having had a good night. That unit may see more changes ahead of Saturday night's game against Montreal.