Wiz' Morris fined $25K for Game 3 altercation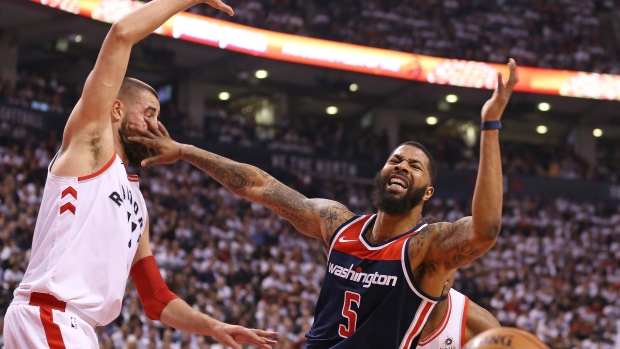 The NBA has announced that Washington Wizards forward Markieff Morris has been fined $25,000 for attempting to escalate an altercation and pushing a game official during Game 3 of Washington's first-round series with the Toronto Raptors on Friday.
Morris shoved official Ken Mauer aside when Morris and Toronto's OG Anunoby had to be separated after a near-fight that drew other players less than three minutes into the Wizards' 122-103 victory.
The Wizards trail the Raptors two games to one in the best-of-seven series.
Meanwhile, in a seperate incident, the league announced that Morris' twin brother, Marcus who plays for the Boston Celtics, was also fined $15,000 for criticizing officials after Boston's 116-92 loss to the Milwaukee Bucks on Friday. He was called for a technical foul in the third and was critical of the officiating after the game.
In October, the brothers were acquitted by a Phoenix jury in an aggravated assault trial. They were on trial on charges that they helped three other people beat a man in January 2015 outside a high school basketball game. The twins played for the Phoenix Suns at the time.