Yzerman: Still possible to add a big contract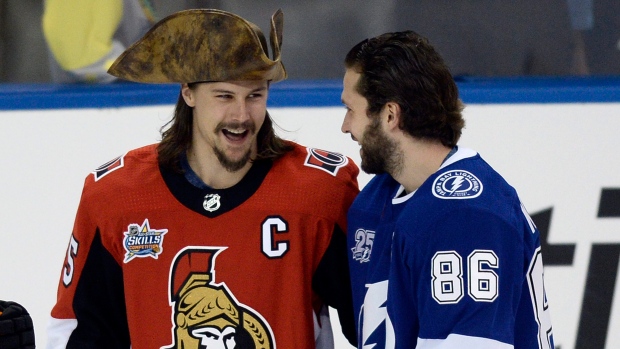 The Tampa Bay Lightning locked up another piece of their core long-term on Tuesday, but general manager Steve Yzerman said the team could still find a way to add a big name to their roster moving forward.
Yzerman signed winger Nikita Kucherov to an eight-year, $76 million contract extension on Tuesday, bringing their cap total for the 2019-20 season to $65.8 million, according to CapFriendly. Does that mean the Lightning are out of the Erik Karlsson sweepstakes? Not necessarily.
"I don't think it's impossible," Yzerman said of acquiring a big contract this summer. "But if you look at our commitments, if we were to bring on a significant contract we would have to make the money work, so to speak."
TSN Hockey Insider Darren Dreger reported last week the Lightning were looking to clear cap space to in order to make a deal for Karlsson. He pointed to forward Ryan Callahan, who carries a $5.8 million cap hit through 2019-20, as a player who could be moved out.
Yzerman said despite reports, though, the Lightning are not close to making any big trades and Joe Smith of The Athletic reported that, as of Tuesday, neither Callahan nor Tyler Johnson – another player linked to the Karlsson rumours – had been asked to waive their no-trade clause.
As Smith points out, All-Star centre Brayden Point will be a restricted free agent next season, while Vezina finalist Andrei Vasilevskiy will be up for a new contract in 2020 – and both players will be due for significant raises.
"I don't know if you're ever completely comfortable (with the cap situation)," Yzerman said. "The reality is with Steven Stamkos, Victor Hedman, Ryan McDonagh, Nikita Kucherov, these guys are really good players. You look around the comparables; they're going to get paid a certain amount.
"We want to keep as many good players as we can. But at some point, you can't keep everybody. At some point, we'll have to make some decisions that are strictly (cap related)."
The Lightning have 10 players with at least a limited no-trade clause on their roster, while Kucherov's full no-trade clause will kick in next July.