10 lists of 10 for the 2015 season
ESPN Fantasy expert Matthew Berry shares his 10 lists of 10 heading into the 2015 NFL season. The lists include, top players to avoid, top team names and top running backs to target late in your draft.
Matthew Berry, ESPN Fantasy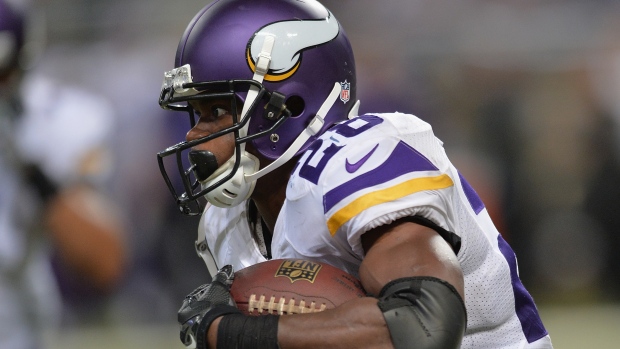 If there's one thing I've learned about the Internet, it's that people are unfailingly polite. Wait, that's not it. It's that they like lists. Pictures of animals, kids and Kardashians, sure ... but mostly, they like lists. Especially if they contain pictures and stolen content from somewhere else. Ha! Just kidding! Probably.
So, as we do every year, here are 10 lists ... of 10.
List 1: 10 additional facts I couldn't fit into "100 facts you need to know"
Shoutout to Kyle Soppe and the rest of the gang at ESPN Stats & Information for their help here.
1. Demaryius Thomas has 100 yards or a TD in 26 of his past 30 games (including playoffs). For the record, Antonio Brown is 20 of 30.
2. Tony Romo and Aaron Rodgers are the only two quarterbacks who averaged more yards per pass attempt and had a higher touchdown percentage than ... wait for it ... Ryan Fitzpatrick.
3. Last season, Jeremy Maclin's Philadelphia Eagles averaged 29.6 points per game. Maclin's new team, the Kansas City Chiefs, averaged 22.1 points per game in 2014. But in the four games last season that the Eagles did not get to 23 points, Maclin averaged seven catches on 12 targets for 14.5 standard fantasy points.
4. Among the categories Andrew Luck led the NFL in last year was dropped passes by his receivers and he had eight dropped passes by running backs. Andre Johnson's career drop percentage (3.9 percent) is more than 1 percent lower than the Colts' team average during Luck's career. And Frank Gore has a total of one drop in the past two seasons.
5. Antonio Brown was tackled on the 1-yard line four times last season, twice as many as any other receiver or tight end. As a team, the Steelers were tackled on the 1-yard line seven times, the most of any team in the NFL. If you regress that to the league average (three times a year), those extra four touchdown passes for Ben Roethlisberger would have made him the fourth-highest-scoring QB in fantasy.
6. Since LeGarrette Blount entered the league in 2010, the only running back to average more yards after contact per rush than Blount is ... Adrian Peterson.
7. Last season, the only tight ends with more 100-yard games than Delanie Walker? Rob Gronkowski and Greg Olsen.
8. Last season, there were only three players who had an aDOT (average depth of target, hat tip to Mike Clay) of more than 15.5 yards: Calvin Johnson, Maclin and ... Brian Quick. During the past two seasons, Nick Foles has thrown more deep touchdown passes (21 games played) than Rodgers and Peyton Manning combined last season (32 games).
9. Over the past three years, in the 21 games where he was targeted at least nine times, Julio Jones has 2,463 yards and 15 touchdowns. Putting those numbers on a 16-game pace would yield 1,877 yards and 12 touchdowns. Those numbers would have made Jones the No. 1 WR in fantasy last season and would have been 36 points better than Demaryius Thomas.
10. In 2014, Cam Newton completed just 43.4 percent of his passes thrown more than 10 yards downfield, and 48 percent of those completions went to Kelvin Benjamin.
List 2: 10 players who keep winding up on my teams as I do drafts, mocks or for real
Read Love/Hate if you want my take on any of them.
1. Eddie Lacy, Green Bay Packers
2. A.J. Green, Cincinnati Bengals
3. Frank Gore, Indianapolis Colts
4. Andre Johnson, Indianapolis Colts
5. Jeremy Maclin, Kansas City Chiefs
6. LeGarrette Blount, New England Patriots
7. Charles Johnson, Minnesota Vikings
8. Delanie Walker, Tennessee Titans
9. Duke Johnson, Cleveland Browns
10. Tom Brady, New England Patriots
List 3: 10 mid-to-late-round running backs to target if you blow off the position early (or use a draft strategy that people call "Zero RB") and need to grab a lot of depth in hopes one pops
These are in no particular order (check my ranks if you want that).
1. Matt Jones, Washington: Looks awesome, will play on third down, Washington wants to run.
2. Khiry Robinson, New Orleans Saints: Better hands than he gets credit for, he's a handcuff to both Mark Ingram and C.J. Spiller (both of whom have had injury issues) on a team that also wants to run a lot.
3. Chris Ivory, New York Jets: Will be the starting running back on a decent offense and he's going in the ninth round in ESPN leagues.
4. Andre Williams, New York Giants: Could easily be the short-yardage back to start the season, and it's not as though Shane Vereen or Rashad Jennings are iron men.
5. Ryan Mathews, Philadelphia Eagles: Even if DeMarco Murray stays healthy all season, Mathews will have value on that offense behind that line. I expect 12 touches a game, and behind that line? That offense? Definitely worth flex consideration. They're gonna crush folks.
6. Cameron Artis-Payne, Carolina Panthers: Has looked good this preseason and Jonathan Stewart is another player who has struggled to stay on the field.
7. Danny Woodhead, San Diego Chargers: Even if Melvin Gordon figures it out, Woodhead will be involved on third down and the Chargers are not scared to give him the ball near the goal line, either.
8. Ronnie Hillman, Denver Broncos: Having a monster preseason, was good when he had the job last season and behind a guy with a small track record on a great offense.
9. David Cobb, Tennessee Titans: Someone has to run it in Tennessee. You could do worse than betting against Bishop Sankey.
10. Fred Jackson, Buffalo Bills: LeSean McCoy struggles with health as well and last season, McCoy got 23 carries inside an opponent's 10-yard line. He converted three of them. There's a chance Jackson is your goal-line back this year even if McCoy is healthy.
List 4: 10 best fantasy team names (that I can print!)
I asked my followers on Twitter and Facebook for their fantasy team names this year. Many suggestions this year around deflated balls, Jason Pierre-Paul's accident, the off-field issues of Ray Rice and Adrian Peterson, along with many uses for the names of NFL player Zach Ertz, Tyler Eifert, Isaiah Pead and Ha Ha Clinton-Dix. Among the most common names submitted were Turn Down For Watt and Teenage Mutant Ninja Bortles. Here are 10 that I thought were funny or at least I hadn't seen a billion times:
1. Eat, Drink and D. Murray (from @mattdiehl on Twitter)
2. Amari 2600 (@notbadmike)
3. Bunches of Funchess (@dfeasline)
4. Ghostface Spillah (@Shmata_Flocka)
5. Just Gurley Things (@bentoncampbell)
6. It's Always Murray in Philadelphia (@jononewton)
7. Guardians of the Gostkowski (@chadderfield)
8. Flowers for Agholor (Peter Conti on Facebook)
9. Dezervoir Dogs (@cwcapps22)
10. Jarvis, Tan, Landry (Ted Snellen on Facebook)
List 5: 10 downward trends
1. Mark Ingram's yards per carry decreased with each passing month last season.
2. In 2011, Matt Forte had 12 carries that went for 20 yards or more. In 2012, he had six 20-yard runs and bounced back with nine in 2013. But in 2014, he had just one 20-yard rush all season in 266 carries. If Forte's big plays are drying up and his passing game involvement is being cut back, you're hoping for a lot of short-yardage scores if you draft him.
3. Sammy Watkins recorded 53.4 percent of his receiving yards in four big games.
4. Before getting hurt last season, no player in the NFL had more drops than Victor Cruz.
5. During the past two seasons, Philip Rivers has the same number of games (14) with zero or one TD pass as Andy Dalton.
6. Last season, nine of Mike Wallace's 10 touchdowns came in the red zone. No team attempted fewer passes in the red zone in 2014 than the Minnesota Vikings. And they just got Adrian Peterson back. Wallace had 932 receiving yards in 2013, he had 860 last season ... and he played all 16 games in both seasons. He hasn't had 1,000 yards since 2012, so with Wallace you are really counting on his touchdown rate.
7. Larry Fitzgerald's targets have decreased each of the past four seasons. And despite the Cardinals throwing deep more than any team the past two seasons, Fitz's average target depth has gone down for three straight seasons.
8. Since 2001, only four wide receivers have caught at least eight touchdowns in a season despite fewer than 40 receptions. Last season, it happened twice, as Martavis Bryant and Terrance Williams turned the trick. The other two -- Chris Henry (2006 Bengals) and Reggie Williams (2007 Jaguars) -- each caught three or fewer touchdowns the following season.
9. In Kyle Shanahan's past six seasons as an offensive coordinator, the No. 2 wideout in his offense has never ranked higher than 38th in fantasy points among wide receivers.
10. Matthew Stafford has thrown 169 more passes than Dalton the past two seasons ... and one fewer touchdown.
List 6: 10 rookies I would draft, in order, in dynasty leagues
1. Amari Cooper, Oakland Raiders
2. Todd Gurley, St. Louis Rams
3. Ameer Abdullah, Detroit Lions
4. Melvin Gordon, San Diego Chargers
5. DeVante Parker, Miami Dolphins
6. Nelson Agholor, Philadelphia Eagles
7. Jameis Winston, Tampa Bay Buccaneers
8. T.J. Yeldon, Jacksonville Jaguars
9. Marcus Mariota, Tennessee Titans
10. Matt Jones, Washington
List 7: 10 more fantasy team names
1. For you Howard Stern fans ... "My Gronk is Gone!" (@siriusjay on Twitter)
2. Dez Nuts (many)
3. Yippee Ki Yay Justin Tucker (Chris Black on Facebook)
4. Abdullah Matata (Perry Streby on Facebook)
5. You Snooze You Sanu (Chun Lam on Facebook)
6. SUH-icide Squad (Gerardo Gonzalez on Facebook)
7. 3 Sheets to the Win (Brad Crouch on Facebook)
8. Commissioner Gordon (Gregory S. Gonzalez on Facebook)
9. Use the Forsett, Luke (@jonathangoad)
10. The Curse of Stephania Bell (Wife of Billy Rozay on Facebook)
List 8: 10 players I don't have on any teams
These are guys who I have avoided so far, that when it's around the time to take them, I always find a player I like better.
1. LeSean McCoy, Buffalo Bills
2. Sammy Watkins, Buffalo Bills
3. Mike Wallace, Minnesota Vikings
4. DeSean Jackson, Washington
5. Giovani Bernard, Cincinnati Bengals
6. Jason Witten, Dallas Cowboys
7. Roddy White, Atlanta Falcons
8. Matthew Stafford, Detroit Lions
9. Larry Fitzgerald and Michael Floyd, Arizona Cardinals
10. Golden Tate, Detroit Lions
List 9: 10 deep flyers
These are not guys who will contribute right away. These are guys to stash at the end of your bench as they have talent, they just need opportunity.
1. Zach Zenner, Lions: Not convinced they think Abdullah can handle a workhorse role and Joique Bell is still banged up.
2. Brandon Coleman, Saints: Like Marques Colston, just, you know, a lot younger.
3. Tyler Lockett, Seattle Seahawks: Targets ... they can't all go to Jimmy Graham.
4. James White, Patriots: Keep watching the Patriots. Either White or Dion Lewis will get the "Shane Vereen" role. Right now I have White in the lead, but obviously it can change.
5. Jeff Janis, Packers: Best deep threat the Packers have now.
6. Cole Beasley, Cowboys: Especially in deep PPR leagues.
7. Leonard Hankerson, Falcons: Gonna play the slot in Atlanta and you know (or should) that I think Roddy White, sadly, is basically done.
8. Michael Crabtree, Raiders: He's the No. 2 wideout in Oakland and they are going to throw. Maybe not as deep a name as some others, but he's basically going undrafted.
9. Ryan Grant, Washington: If anything happens to DeSean Jackson or Pierre Garcon, Grant has a ton of talent.
10. Richard Rodgers, Packers: With Jordy Nelson gone, Rodgers will have to find more targets to help.
List 10: One last list of team names
1. Scoring in Funchess (@seanmccarthy48)
2. Naked and a trade (@therealadam_H)
3. Jamaal About That Bass (@MrMikeyW)
4. Jamaal That and Then Some (@EarthMantleRap)
5. Pour Some Le'Veon Me (@rise_b_axelrod)
6. Can't Randle the Truth! (@swaterbu)
7. Too Many Cooks (many)
8. Let the Wookiee Win (@sgtkabukiDan)
9. Straight Outta Gronkton (multiple)
10. Fear the Fro (@matthewberryTMR)
Bonus List: 10 movies I can't wait to play this fall
Did I say play? Yes, I did. As you may know, I play Fantasy Movie League, which is exactly what it sounds like. Every week you program your fantasy movie theater with real-life movies while staying under the salary cap (it's basically DFS style). However much the movies make at the box office in real life is how much your fantasy movie theater makes. A new season starts Sept. 4 and it's free to play. If you'd like to play me, go to FantasyMovieLeague.com and look for the group "TMR vs The World." The password is: TMR. Or just click this link. Here are the movies coming soon that I'm most looking forward to:
1. "Maze Runner: The Scorch Trials" (Sept. 18): I saw the first one. Enjoyed it. Kids loved it. Based on a series of young-adult novels.
2. "Everest" (Sept. 18): Based on a true story, this is a big ol' disaster movie on a mountain in a storm.
3. "The Martian" (Oct. 2): It's "Cast Away" on a planet. Trailer looks awesome.
4. "Steve Jobs" (Oct. 9): Aaron Sorkin about Steve Jobs? In.
5. "Spectre" (Nov. 6): My Dad took me to James Bond movies as a kid. Love 'em. Haven't missed one in 35 years.
6. "The Hunger Games: Mockingjay Part 2" (Nov. 20): Oh, Katniss ...
7. "The Good Dinosaur" (Nov. 25): It's Pixar. I have kids and I'm a company man. Pick a reason.
8. "Sisters" (Dec. 18): Tina Fey and Amy Poehler can do no wrong.
9. "Star Wars: The Force Awakens" (Dec. 18): If someone starts lining up now, is that weird? Asking for a friend.
10. "The Hateful Eight" (Dec. 25): You either dig Quentin or you do not. I do.
Matthew Berry -- The Talented Mr. Roto -- thinks lists are harder to do than you think. He is the creator of RotoPass.com, a website that combines a bunch of well-known fantasy sites, including ESPN Insider, for one low price. You also may have heard: He has written a book.