105th Grey Cup seen by 4.3 million on TSN, RDS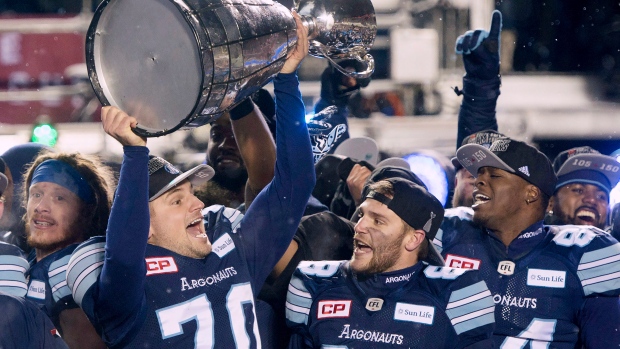 – The most-watched GREY CUP since 2013, nearly 30% of Canadians watched some or all of the Toronto Argonauts' thrilling win over the Calgary Stampeders –

– Nearly 6 million viewers watched Matt Black's interception, sealing the Argos victory –

– Argos fans rallied around the winning team, with audiences in the Toronto/Hamilton market growing +58% year-over-year –

– TSN was the most-watched network in Canada yesterday –
TORONTO – Annually one of the biggest events in Canadian television, last night's snow-covered 105th GREY CUP presented by Shaw captivated viewers nationwide, becoming the most-watched since 2013 and growing 10% over 2016, according to overnight data from Numeris. An average audience of 4.3 million Canadians tuned in to TSN (4.1 million) and RDS (220,000) to watch the Toronto Argonauts dramatic come-from-behind victory over the Calgary Stampeders in the instant-classic championship game.
Overall, nearly 10 million unique viewers, or almost 30% of Canadians, watched some or all of the Argo's dramatic 27-24 victory over the Stampeders. The game achieved a 34% share, meaning more one in three Canadians watching television across Canada on Sunday were tuned into the game.
The audience for the 105th GREY CUP presented by Shaw peaked at nearly 6 million viewers late in the fourth quarter as Stampeders' quarter-back Bo Levi Mitchell's Hail Mary pass was intercepted by Argo's defensive back Matt Black, sealing the Argo's GREY CUP victory.
Fans of the winning team rallied around televisions, with audiences in the Toronto/Hamilton market up +58% on TSN compared to last year's championship game.
The 105th GREY CUP presented by Shaw finished as the most-watched program of the day, with TSN becoming the most-watched channel in Canada on Sunday.
Additional ratings highlights:
- Livestreaming audiences for the championship game on TSN Digital platforms marked an increase of 22% compared to last year's GREY CUP
- The magical halftime performance by CTV's THE LAUNCH mentor Shania Twain during the Shaw Halftime Show attracted an average audience of 4.3 million viewers
- A total of 10.6 million Canadians watched some part of TSN's expansive GREY CUP coverage on TSN and RDS throughout Sunday
- Nearly 2 million viewers tuned in to TSN's COUNTDOWN TO KICKOFF pre-game show, and an average audience of 1.9 million viewers stayed to watch TSN's extensive post-game coverage