2016 World Cup of Hockey: Need to Know
The 2016 World Cup of Hockey gets underway in just over a year's time as Toronto's Air Canada Centre will play host to eight teams and more than 150 NHL players. TSN Senior Hockey reporter Frank Seravalli gives you an update on everything you need to know.
Frank Seravalli, TSN Senior Hockey Reporter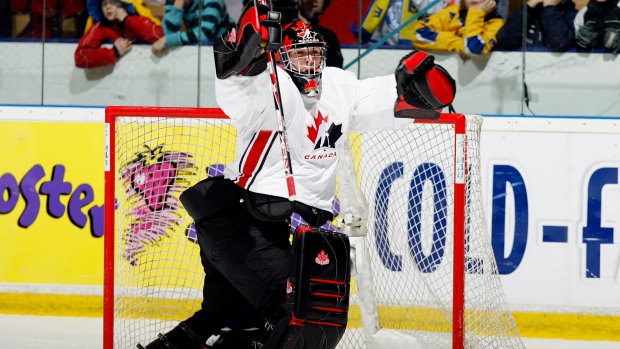 The NHL and NHL Players' Association held a joint press conference at Air Canada Centre on Wednesday to announce new details ahead of the 2016 World Cup of Hockey.
Here's what you need to know:
1. Originally labeled the Young Stars, the tournament entry comprised of players ages 23 and under from the United States and Canada will officially be called Team North America. Not so inventive.
Ages are determined by Oct. 1, 2016. Any American or Canadian player younger than 24 on that date (e.g. born on Oct. 2, 1992 or later) will be available for selection exclusively for Team North America.
In other words, Connor McDavid will only be allowed to play for Team North America. Oilers general manager Peter Chiarelli, a Canadian, and Blackhawks general manager Stan Bowman, born in Canada but has identified and worked with USA Hockey, will manage the team.
2. The other "all-star" type entry will be called Team Europe, or more appropriately Team (rest of) Europe.
Former NHL player Miroslav Satan, a Slovakian, will be the general manager of Team Europe. German hockey federation president Franz Reindl will serve as team president.
Satan will be able to select players from any country not named Finland, Sweden, Czech Republic or Russia. Those include, but are not limited to, Germany, Slovakia, Switzerland, Belarus, Norway, France, Latvia and Slovenia. Slovakia's Zdeno Chara and Slovenia's Anze Kopitar were on hand for the press conference.
3. Group A will be comprised of Team Canada, Team Czech Republic, Team Europe and Team USA.
Group B will consist of Team Finland, Team North America, Team Russia and Team Sweden.
4. All four teams in each grouping will face each other in a round-robin format at the Air Canada Centre in Toronto. After that concludes on Sept. 22, 2016, the top two teams from each group will face each other in a single elimination (A1 vs. B2, B1 vs. A2) semi-final round.
The 2016 World Cup of Hockey champion will be decided in a best-of-three final, beginning Sept. 27, 2016.
5. So far, coaching staffs have not been named for Team Canada, Team USA, or Team North America - only management positions.
Former Edmonton Oilers coach Ralph Krueger will coach Team Europe. Satan will also be able to select players who aren't in the NHL, according to team president Reindl.
Jere Lehtinen was also announced as the GM for Team Finland; he will be assisted by Columbus Blue Jackets GM Jarmo Kekalainen.
6. Team Canada will reportedly conduct their training camp in Ottawa. They are the reigning World Cup of Hockey champions, dating back to the 2004 when the tournament was last played, when they beat Team Finland 3-2 at the Air Canada Centre.
World Cup of Hockey training camps will open Sept. 4-5 ahead of the tournament. Exhibition games are likely to be played.
Training camps for NHL teams will open as regularly scheduled, but without the players participating in the tournament. In all, approximately 184 NHL players will participate in the tournament (nearly a quarter of the league), but 138 of those players will knocked out of the tournament by Sept. 27, or 10 days after their NHL training camp would regularly open.
7. Rosters for the 2016 World Cup of Hockey will consist of 23 players, including three goaltenders.
A preliminary roster of 16 players (and at least two goaltenders) must be announced by March 1, 2016. The balance of the roster (six skaters and one goaltender) must be announced by June 1, 2016.
8. Steven Stamkos asked the best question during the press conference: "If Team Europe wins, which anthem will they play?"
9. The World Cup of Hockey will be played using NHL rules and games will be officiated by NHL referees.
10. Tickets for the 2016 World Cup of Hockey will go on sale on Oct. 14.
Frank Seravalli can be reached at frank.seravalli@bellmedia.ca.