A big win...and a big loss for Leafs
Auston Matthews' shoulder injury put a cloud of uncertainty over what was an exhilarating third period resurgence on Saturday night - with goals scored 26 seconds apart by Jake Gardiner and Kasperi Kapanen to secure Toronto's second-straight win in a home-and-home.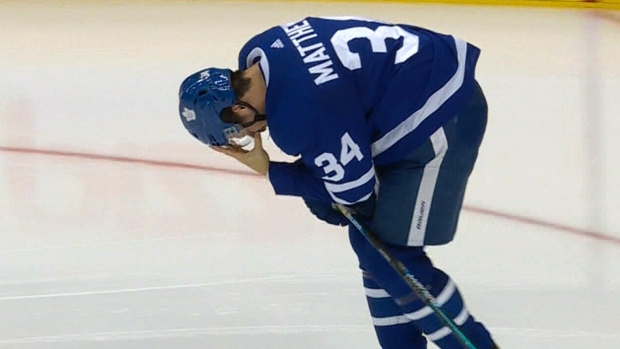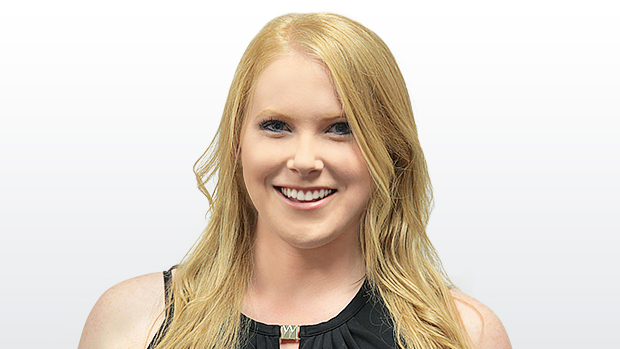 TORONTO – The Maple Leafs beat the Winnipeg Jets 3-2 on Saturday night in a thrilling come-from-behind performance.
But with the win, the Leafs also lost top-line centre Auston Matthews to a shoulder injury - putting a cloud of uncertainty over what was an exhilarating third period resurgence with goals scored 26 seconds apart by Jake Gardiner and Kasperi Kapanen to secure Toronto's second-straight win in a home-and-home.

It was less than two minutes into the second period when Matthews collided with defenceman Jacob Trouba in front of the Jets' net and immediately began favouring his left shoulder. Matthews was clearly in pain skating to the Leafs' bench and retired directly from there to the dressing room. He did not return to the game and his status going forward is still unknown.

"They'll look at it on Monday and we'll know more on Monday," Mike Babcock said after the game. "He's not practicing tomorrow and won't play on Monday [against Calgary], and then we'll know more at that time.
We'll give you an update on Monday, but he's not ready right away for sure."
The Leafs already know what it's like to get by without Matthews. They did it for 20 games last season when the 21-year-old missed time with three different injuries, including a separated shoulder that cost him ten games from February to March. But Babcock confirmed on Saturday that it isn't the same shoulder Matthews hurt from a collision last season with the New York Islanders' Cal Clutterbuck and Adam Pelech.
"He did his work this summer, got way stronger, built muscle around his shoulder," Babcock explained. "Sometimes things happen."
And so the Leafs had to jump start their game without Matthews, who left the ice with Toronto trailing 1-0. It was a 2-0 hole by the end of the second period, as Babcock tried to find the right line combinations with the players remaining.
What mattered most in the comeback win, however, was the Leafs challenging each other to stick with the game plan.
"We came in [the dressing room] after the second knowing we hadn't been playing the game we wanted to," said Mitch Marner. "We knew we had to get the pucks in, be quicker on our feet.
"In the third we did that, made it easier for our D to break out again and that was our main focus. When we're doing that, it's when we're at our best."
Toronto was all over Winnipeg in the third period with good speed while also protecting the puck and making plays. Babcock rotated through remaining centres Nazem Kadri, John Tavares and Par Lindholm searching for offence, while fourth-line centre Frederik Gauthier saw only three significant shifts in the final frame.

In the shake-up, Babcock reunited Marner, Kadri and Patrick Marleau on a line and the three picked up where they left off as the Leafs' hottest unit through the second half of last season. Marner teed up Kadri early in the period, and then set up Gardiner with less than four left in regulation to tie the game 2-2. That cleared the way for Kapanen to continue his penchant for scoring big-time goals, 26 seconds later to secure the win for Toronto. It was Kapanen's second goal in as many games.
"Playing with those two guys last year, we had good chemistry," Marner said. "I knew throughout the second and third period, I was telling everyone that was the play there, [going] to that post, look out front, get a guy going to the net, told Naz that, and luckily it worked out."
"Feels like we didn't skip a beat, it was nice," added Kadri. "As soon as that line was put together [with Patrick Marleau and Marner], we came every shift. They're great guys to play with."
Without knowing when Matthews will be back, the Leafs are prepared to test their vaunted depth and see what they can accomplish without him. Toronto went 11-7-1 without Matthews last season and using Saturday's win as a guide, one of the keys to establishing a winning record without him again will be playing better collectively.
"He's just a one of a kind player; it's hard to fill that void," said Kadri. "But I don't think you rely on one specific guy, [we've been talking] about depth for 10 months with this group here.
"This is a time where it really showed down the stretch of this win. Everyone did a good job picking up the slack, and that was one of the best wins I've ever seen."
Takeaways
Mr. 500

Not only did Gardiner score his first goal of the season on Saturday, he did it in his 500th career NHL game, all of them played with the Leafs. While the goal came late in the tilt, Gardiner was among Toronto's most noticeable players early in the game, playing hard at both ends of the ice and being heavily involved offensively trying to generate chances in front of the Jets' net. Especially in the third period when the Leafs needed to keep the pressure on Winnipeg, Gardiner was strong in his own end and was breaking the puck out well.

Credited with two takeaways, no giveaways, three blocked shots and two shots on net to go with his goal and plus-two rating, Gardiner had one of his most consistent games of the season. It's exactly the type of performance the Leafs need more often from him, particularly if Matthews' injury keeps him out long term and Toronto has to adjust with a tighter defensive effort and requires more offence from their backend.

Andersen locks it down

When the Leafs beat Winnipeg on Wednesday, it was in large part because of Frederik Andersen's terrific 38-save performance. His first two periods against the Jets on Saturday weren't at that same level, but Andersen came through again when it mattered most in the third. Early on, the Leafs were more careless with the puck through the neutral zone and that left Andersen out to dry on a couple opportunities. He turned away a breakaway chance for Nikolaj Ehlers in the second period, but couldn't do the same when Mark Scheifele got all alone later in the frame and buried it to put the Leafs up 2-0. Instead of being rattled, Andersen rose to the occasion. With an improved defensive effort by the Leafs (limiting the Jets to only seven shots in the final period), Andersen locked down his crease when Winnipeg started pressing. The goaltender got a little overeager with the Jets' net was empty in the final minute, sending a shot down the ice that skirted past the net and set up a faceoff in Toronto's end with 26 seconds to play. In the end, the miss didn't burn him as he finished the night with 22 saves and a .917 save percentage.

Special teams keeps faltering

The Leafs found early success on the power play this season, going 9-for-19 through their first seven games. Maintaining that torrid pace was unrealistic, but the man advantage has gone silent as of late. After going 0-for-3 with the extra man on Saturday, they're now 0-for-9 in their last four games.

With Matthews out for most of the second and third periods, Marleau and Kapanen both saw time on the top unit, which hasn't scored a goal since Oct. 11.

The Leafs' penalty kill has been the stronger of the two special teams groups, but also more inconsistent lately. They've given up a goal in three of Toronto's last four games, including Scheifele's on Saturday. That unit finished 1-for-2 on the night and is 11-for-14 in the Leafs' last five games.

Blue and White Trending
Tracking Leafs' trends all season long
The Leafs have given up the first goal in eight of 11 games so far this season, including Saturday, posting a 5-3 record when that happens. Toronto is a perfect 3-0-0 when scoring first. But Babcock said he doesn't "spend too much time thinking about" the disparity, or what it says about his team that they so often play from behind.
Next up
The Leafs welcome in the Calgary Flames on Monday.
Last word
"I'm sure my dad was throwing some F bombs and stuff. He gets pretty into the game. I'm sure he's pretty excited right now."
- Jake Gardiner on how his father, who was in town for the defenceman's 500th game, would have been reacting to the Leafs' third period comeback against Winnipeg.