A long-term outlook on Kyle Okposo
Minutes after the official open of the signing period, the Buffalo Sabres and Kyle Okposo agreed on a seven-year, $42-million dollar contract. Travis Yost on how his offensive numbers might translate to his new club.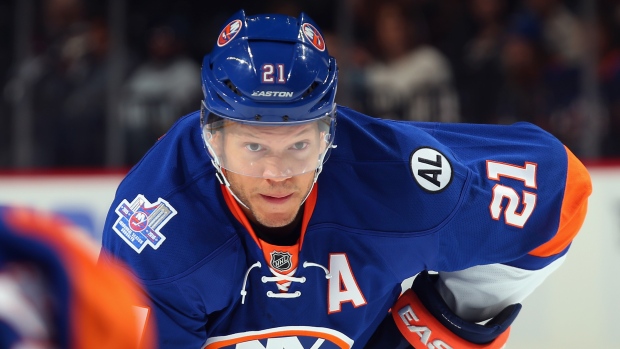 One of the biggest contracts signed on day one of unrestricted free agency was given to former New York Islanders winger Kyle Okposo. Mere minutes after the official open of the signing period, the Buffalo Sabres and Okposo agreed on a seven-year, $42-million dollar contract.
The deal is not without risk. There are the usual cautionary flags with this UFA contract – the player is already 28 years old with a lot of miles on his body, and the contract is laced with $25 million (60 per cent of the total contract) in signing bonuses, rendering the deal essentially buyout proof.
This has, for all intents and purposes, become the cost of doing business in NHL unrestricted free agency. If you want to land one of the best players available, you need to take on a sizable serving of financial risk.
The biggest argument in support of the Okposo deal is the fact that he has developed into one of the league's better scoring wingers. In fact, over the past four years, his 2.08 points-per-60 is 28th in the league – equivalent to that of Pittsburgh's Phil Kessel, and better than the likes of Patrice Bergeron, Jason Spezza, Andrew Ladd (who signed a similar deal with the Islanders), and Milan Lucic (who signed a similar deal with Edmonton).
Because scoring generally does such a great job of capturing individual forward talent, it's very reasonable to assume that Okposo should have pretty significant carry-over with Buffalo.
I would point out though that there may even be a cautionary flag with his scoring rates in New York. Allow me to explain.
Over that same four-year interval, Okposo played a bunch of his minutes with the exceptional John Tavares. As we would expect with any sniper playing alongside a high-level playmaker, Okposo benefitted from the relationship.
However, Okposo has played plenty of minutes away from Tavares, too — close to 2,000 at 5-on-5. Many of those minutes were played with guys like Frans Nielsen and Josh Bailey — competent playmakers in their own right, but obviously not to the degree of Tavares.
This allows us to measure whether environmental changes had real and significant impacts on Okposo's output. If Okposo was reasonably productive regardless of his centre or linemates in general, we can assume that his performance will continue in Buffalo. If there are clear disparities and drop-offs when he's moved away from a player like Tavares, well, now there's a bit of room for concern. (Unless the Sabres can clone Tavares!)
Here's what those splits look like:

I highlighted Okposo's shooting percentage and goal-scoring rates because they are far and away the most pronounced. Such significant dips there are almost certainly being driven by poorer quality of centre and, to a lesser extent, tougher assignments, including more defensive zone starts. Regardless, this is the type of thing you should be at least mildly concerned about if you are a Sabres fan. When Okposo wasn't with the team's best pivot, his shooting numbers didn't just decline, they did so in rapid fashion.
The other offensive metrics are more encouraging. You'll notice that Okposo's assist rates and shot-generation rates actually increased in the minutes away from Tavares, which is a separately significant finding. To me, this sort of speaks to a role shift for Okposo. When he was with Tavares, he could lean on him to generate most of the offence and finish on his brilliance. When he was with Tavares, he assumed more offensive burden – both in terms of getting his teammates involved in the offensive zone, as well as trying to generate offence on his own.
Now, I don't see Tavares on Buffalo's roster. Not yet anyway. The team does have a stable of competent playmakers down the middle though, headlined by the young Jack Eichel. Eichel's developmental arc looks incredibly promising, and he's of a very small group of players who could join a Tavares-level group of talent. Ryan O'Reilly, though more defence-oriented, is also very skilled.
I don't think we should be overly concerned with Okposo's long-term outlook, but do not be surprised if his goal-scoring numbers are a bit sluggish in year one of his new contract. There's going to be an adjustment period stepping down from playing with a talent like Tavares, and if prior performance is any indication, Okposo's shooting capabilities might not flourish again until a player like Eichel reaches his full potential.