A look at the Maple Leafs' 2018 draft class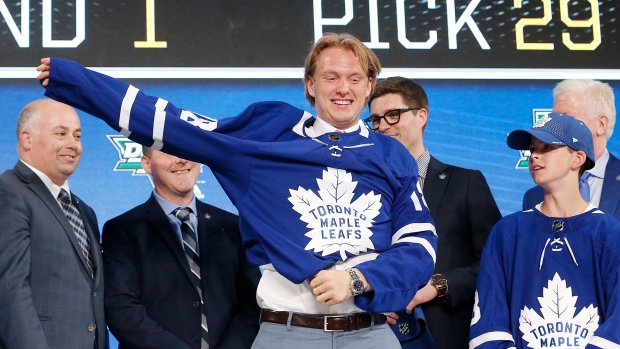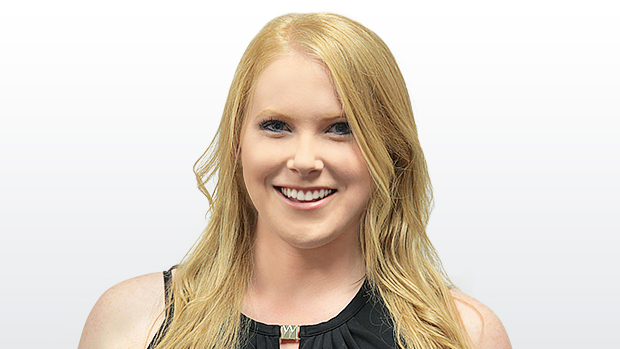 DALLAS – When it was all said and done, Kyle Dubas got his men.
At least that was the basic overture from the Toronto Maple Leafs general manager when the 2018 NHL Entry Draft came to an end early Saturday afternoon. Toronto entered the event with seven picks but a pair of trades turned that into nine players selected – four defencemen, two centres, two wingers and a goalie.
With their first pick coming all the way at 29, and harbouring no false illusions about the faintest NHL preparedness in any of their selections, this draft was an easy one for Dubas to put under his belt one month after taking over Toronto's GM post.
"It's so hard to predict what are needs are going to be in four years when these guys are getting close to ready," Dubas said after the final round. "We went down our list and took the players that were at the top; it just happened to work out that way. Mike [Babcock's] wish list is both private and public, he wants centres and D. He's happy, and that's all that matters today."
Of course, being drafted to an NHL team made a few young hockey players fairly elated as well, but there's a long road from draftee to NHLer. That's the path Toronto's nine new additions begin travelling now, starting with the team's development camp next week and continuing into what should be an inspired summer of preparation for their coming minor league seasons.
Maple Leafs 2018 draft class
Round 1, Pick 29: Rasmus Sandin, D, Sault Ste. Marie Greyhounds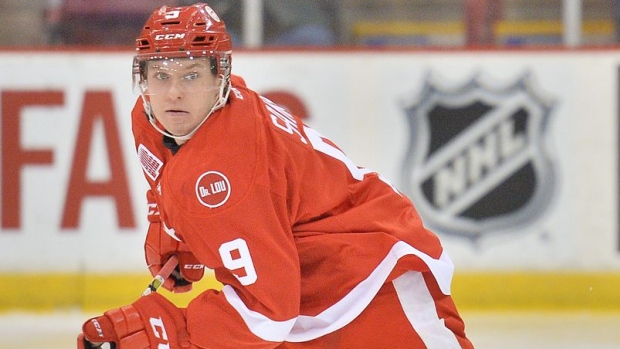 There was plenty to glean from Dubas about Sandin's game and his immediate future when he was drafted on Friday night. But Sandin also has a unique history with the number one overall pick in this year's draft, his countryman Rasmus Dahlin. Both are defencemen by trade, but played a few shifts together at forward as 10 year olds for Team Sweden at the World Selects Under-13 Invitational in 2012-13. Dahlin was at centre, with Sandin acting as his right wing. By age 11, Sandin had committed to the blueline and never looked back. And should he return to Rogle BK in Sweden, which Sandin stated on Friday was his intention next season, he'll have an opportunity to skate once again beside his brother Linus, also a Rogle product.
Sandin may not be flashy, but boasts a high-end hockey IQ with good mobility and a playmaker's flare for putting the puck in just the right spot to make something happen offensively. All that makes Sandin a natural quarterback on the power play, and as he adds strength and weight to his 5-foot-11 frame, Sandin's skill set will continue to shine through.
Round 2, Pick 52: Sean Durzi, D, Owen Sound Attack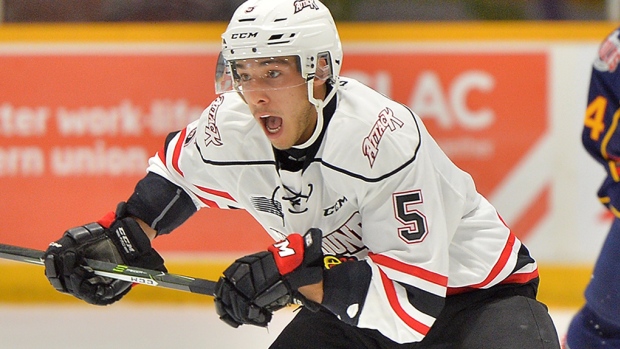 An overager in the OHL last season after he was passed over by all 31 teams in the 2017 draft, Durzi said on Saturday that rejection ended up being a blessing in disguise. He was at United Center in Chicago last June, one year removed from an ankle surgery that slowed his production during that first draft season to 38 points (two goals, 36 assists) in 60 games. Still, at least one scout said on Saturday he had been a little surprised when Durzi went undrafted, and thought the Leafs were smart to jump on him early in the second round.
When his previous draft plans didn't pan out, the right-shot defenceman attended Leafs' development camp last spring and made a big enough impact on management they considered giving him a contract, but were maxed out at 50 deals. So Durzi took what lessons the Leafs offered and returned to the Attack for a third season, his best to date. In 40 games, Durzi put up 49 points (15 goals, 34 assists) while re-vamping his entire lifestyle off the ice.
"He has really transformed the way he lives day in and day out," said Dubas. "Not that there was anything wrong with how he was living before, but he was a teenager before and now he monitors everything that goes into his body, he's meticulous with his habits, and he's become a pro in that last year."
Dubas cited Durzi's improved foot speed, play making ability and how well he defended against the OHL's best forwards last season as reasons they took him off the board. The Leafs also appreciated Durzi sense of what he needs to work on going forward. It was an added bonus for Durzi that the Leafs were so interested and also happened to be his favourite team growing up. Born and raised in Mississauga, Durzi loved watching Brian McCabe and hopes to make a mark of his own on the organization one day.
"[I was] one of the biggest Leafs fans I'd say," he remarked. "It's been a thing in my family for generations. This is a dream come true."
Round 3, Pick 76: Semyon Der-Arguchintsev, C, Peterborough Petes
The youngest player in the 2018 draft (his birthday is September 15, 2000, the cut off to be eligible for the 2018 draft), Der-Arguchintsev looks the part of a 17-year-old with plenty of room to develop. At 5-foot-10, 159 pounds, it's not surprising Der-Arguchintsev cites Mitch Marner, also undersized when he was drafted, as a player he admires. But all that being said, the Leafs like his potential. Over two seasons with the Petes, Der-Arguchintsev was more playmaker than scorer, putting up 80 points in 131 games. Like Marner, Der-Arguchintsev (known as "Sammy" to his teammates) has a tendency to pass up open shots to make a pass, even after ably shifting through traffic and creating prime chances. As Der-Arguchintsev progresses through his junior career, adding the strength and size (he's hoping to still grow a little taller, too) needed to play against men is near the top of his to-do list.
Round 3, Pick 83: Riley Stotts, C, Calgary Hitmen
A trade doesn't always end up being the best possible outcome for a young hockey player. But for Stotts, being dealt from the Swift Current Broncos to the Hitmen last season helped shine a light right on him. After a successful rookie campaign with the Broncos in 2016-17, Stotts saw his playing time slip the following year when Swift Current loaded up on talent to chase a championship. Posting just three points in his first 22 games of 2017-18, Stotts was traded to the younger, less experience Hitmen, and carved out a big role and tallied 41 points in the season's remaining 47 games.
Like many mid-round players, Stotts doesn't show a high aptitude in one aspect of his game just yet, but is proficient in size, mobility and stickhandling. But Stotts also comes with a reputation for being hard working, dependable and smart with the puck. It all makes him potentially easy to mold into the Leafs system down the road.
Round 4, Pick 118: Mac Hollowell, D, Sault Ste. Marie Greyhounds
An overager like Durzi, Hollowell was passed over in the 2017 draft. But also like Durzi, the snub motivated him to produce the best season of his career the following year. Hollowell amassed 56 points in 63 games last season, finishing fifth in scoring among OHL defencemen. A smooth skater, with good hockey IQ and playmaking tendencies, Hollowell still has strides to make in adding size to his 5-foot-9, 170 pound frame and on the defensive side of the puck, but adding to the common theme of the Leafs' draft, he's a noted worker who's easily coachable.
Round 5, Pick 149: Filip Kral, D, Spokane Chiefs
Kral played his first season of professional hockey as a 17-year-old in his native Czech Republic, and adapted quickly to the North American game when he joined the Chiefs last year in a 35-point campaign (which led all WHL rookie defencemen). A strong skater already with good acceleration, Kral is a mobile defenceman with solid awareness through the neutral zone to make plays offensively. One scout cites Kral's lack of physicality as an area to improve on, as well as his tendency to throw pucks into the wrong place when he's pressured. His limited experience in North America may have hurt Kral's draft stock with some teams, but if his development continues on its current trajectory he could be a great value pick for Toronto.
Round 6, Pick 156: Pontus Holmberg, LW, Vajxo HC
The Leafs entered Saturday with no picks in the sixth round, but they wanted Holmberg enough to swap a 2019 sixth round pick for Buffalo's selection in 2018. He's another in Toronto's draft haul who was on his second tour through the draft, having been passed over entirely in 2017. Holmberg had a fine season last year for VIK Vasteras HK, producing 20 points in 36 games, and is described as a speedy player with creativity to spare. He has yet to play in North America to date, so that will be a major test of whether he can develop into a true player in the Leafs' organization.
Round 7, Pick 209: Zachary Bouthillier, G, Chicoutimi Sagueneens
Bouthillier was one of only four Leafs' draft picks (along with Sandin, Durzi and Der-Arguchintsev) to make the trek to Dallas for the draft, and his presence didn't go unnoticed by the youngest member of the Leafs' draft table. Assistant general manager Brandon Pridham brought his son to be Toronto's runner, and he noticed Bouthillier sitting in the stands with his family late on Saturday morning, and mentioned the Leafs should probably draft him since he was there. Funny enough, Bouthillier was the next player on Toronto's draft board, and they were able to make his trip especially worthwhile. Bouthillier spent the last two seasons in the QMJHL with the Shawinigan Cataractes and Chicoutimi Sagueneens, but his regular season save percentage never cracked .900. At 6-foot-2, the 18-year-old has the size to be effective eventually if his skill set continues to grow.
Round 7, Pick 211: Semyon Kizimov, RW, Ladia Togliatti
Kizimov has bounced around the Russian Jr. league for the last two years and posted solid numbers with the U-16 and U-17 teams. He also appeared in three games for Russia at the 2018 World Junior Championships, posting two goals and one assist.