Leafs trade down, select blueliner Sandin in first round
New Leafs GM Kyle Dubas returned to his roots Friday, drafting Sault Ste. Marie Greyhounds defenceman Rasmus Sandin in the first round of the NHL Entry Draft, TSN Maple Leafs Reporter Kristen Shilton reports from Dallas.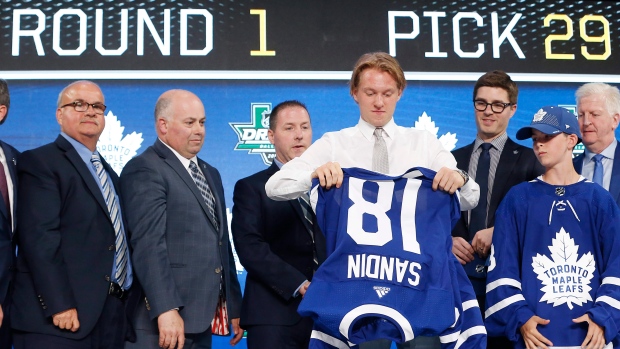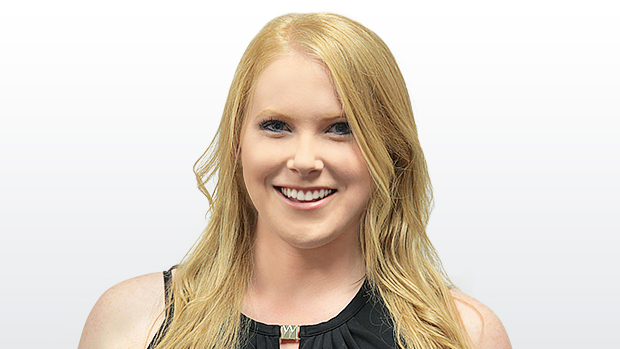 DALLAS – In the first round of his first NHL Entry Draft as Toronto Maple Leafs general manager, Kyle Dubas returned to his roots.
After executing one of Friday night's few trades, swapping the 25th overall pick for St. Louis' 29th and 76th picks, Dubas and the Leafs selected Sault Ste. Marie Greyhounds defenceman Rasmus Sandin.
The pick hit home for Dubas, who started out with the Greyhounds as an 11-year-old stick boy and climbed the ranks to general manager from 2011-14, but he insisted the connection was more fortuitous than premeditated.
"We took the player that our scouts had as the best player on our board," Dubas said. "And they're the ones that do the work all year in the rink every single day from September to the end of May. Of course, playing in the Soo allows me some greater familiarity and greater insights into people and we're fortunate in that regard. But we're just happy we got a guy we wanted, regardless of where he played."
Last season was Sandin's first in the Ontario Hockey League, and he got better as the campaign went on. The Swedish import, 18, was still under contract to Rogle BK of the Swedish Hockey League when he made the decision to test junior hockey waters after appearing in just five games for Rogle.
Sandin began to excel once he got rolling in North America. Citing the "European style" Sault Ste. Marie played – less dump and chase, more puck possession – Sandin was confident the OHL was where his game would grow best.
He went on to tally 45 points (12 goals, 33 assists) in 51 regular-season games with a plus-35 rating, a solid foundation for what would be a major spike in playing time when the Greyhounds roster was decimated by injury come playoffs. Sandin added 13 points in 24 postseason games, a stretch that was impressive to Dubas.
"I think he plays the position the way we want it to be played," Dubas said. "He defends very, very well, and he had to defend some difficult minutes, especially [during playoffs], but he did that the whole season. He moves the puck extremely well and as the season went on his level of competitiveness showed better and better. He was just an all-around defenceman we were very happy with."
As enamoured as Toronto was with Sandin before plucking him off the board, he was equally smitten with the franchise and town he dreams of skating for one day.
"I had a good feeling about being drafted to [the Leafs]. I talked to them a couple times this year," Sandin said. "The questions [they asked me] were pretty deep. It felt like they actually cared and they wanted to know about me. I think that was a positive feeling. And obviously to get drafted there with all the fans and how the city is, it's all about hockey, which I really love. It's an unreal feeling."
There's still a long road ahead for Sandin before he'll suit up for the Leafs, a fact he readily acknowledged to the Leafs in pre-draft interviews.
That awareness on Sandin's part about his own development pulled Dubas in even further. He predicts Sandin has "at least two years of runway left in junior," either in the OHL (where Dubas insinuated he'd like to see Sandin stay) or back in the SHL, where Sandin remains under contract for one more season with Rogle.
Claiming he's more ready to play against men now, Sandin stated his plan is to honour the final year of his Swedish deal, but the Leafs have a recent history of holding draftees back from Rogle. After drafting Timothy Liljegren in the first round of the 2017 draft, the Leafs (then guided by Lou Lamoriello) slotted Liljegren into the American Hockey League rather than see him return to Rogle. While Sandin may not be ready for AHL action right away, Toronto could opt once again to keep their budding blueliner close.
"You see him when he walks onto the stage, he's still a skinny defenceman," Dubas said of the 5-foot-11 Sandin. "We're excited that he can add to his frame. He's 190 pounds; we think he can continue to get stronger…and continue to work on and develop his speed will be positive. He was very open and honest about [it]. That always makes you content when you're drafting a player that they have an idea of what they need to work on. That puts you a little bit more at ease."
Given how strongly Toronto seemed to feel about Sandin, they rolled the dice in moving down four picks and potentially losing out on him entirely. Less than a week ago, Dubas bristled at the assertion his past draft history (namely with the Leafs in 2015, before Lamoriello was hired) proved him to be a "trade down" general manager. But Dubas didn't let the court of public opinion sway Toronto from turning its seven draft choices this weekend into eight, while still landing a top guy on their board.
"We took into account our staff and the players we had and consulted with [the area scouts] and said, 'Here's what we can do: We can gain another asset, St. Louis wants to move up,'" Dubas said. "Doug [Armstrong] called back and said they would do the deal and we were confident that one of the players we wanted would still be there. So we were content with that."
Dubas and company are scheduled to be back on the clock with pick number 52 in Saturday morning's second round, while Sandin heads north to be the centre of attention at Leafs development camp next week.
But not even the biggest night of his career to date could distract Sandin from a pair of fellow Leafs' first-round selections – Auston Matthews and Mitch Marner – and how he is suddenly, gleefully, sharing a similar orbit.
"It's crazy. Those guys, I've been watching them a lot this year," said Sandin. "Just to be able to maybe meet them and maybe play with them soon, that's a really special feeling."​