A look at Manziel's journey to his first CFL start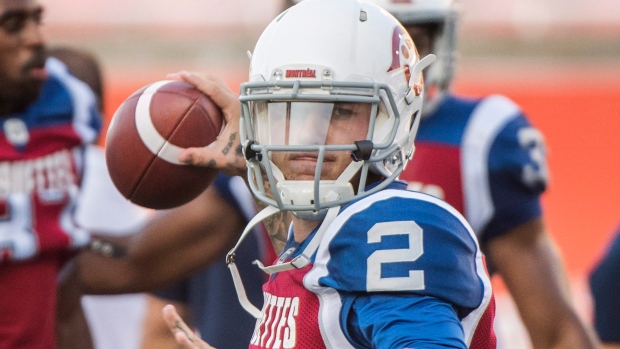 With Johnny Manziel slated to make his first CFL start Friday night against his former team in the Hamilton Tiger-Cats, TSN.ca takes a look at Johnny Football's path to be the main man in Montreal.
How it came to be
March 31, 2017: The CFL's Hamilton Tiger-Cats confirmed they have added Manziel to their negotiation list, meaning they own exclusive bargaining rights with the former Heisman Trophy winner.
Aug. 30, 2017: TSN's Farhan Lalji and Dave Naylor reported that the Tiger-Cats staged a workout for Manziel in Buffalo on Aug. 23 and 24.
Sept. 13, 2017: TSN Football Insider Dave Naylor reported Manziel activated the 10-day window for the Tiger-Cats to offer him a contract, trade his rights to another CFL team, or release him from their negotiation list, a clause all players on negotiation lists can exercise.
Sept. 15, 2017: The CFL announced they have extended the 10-day window for the Tiger-Cats to sign, trade, or release Manziel so that the league can evaluate the former NFL QB and determine whether they would approve him joining the league.
Dec. 28, 2017: The CFL released a statement saying commissioner Randy Ambrosie would approve an agreement between the Tiger-Cats and Manziel should one be reached, paving the way for Manziel to resume his football career north of the border.
"I think [Manziel] would be the best player to ever play up here," Tiger-Cats head coach June Jones told CFL.ca's The Waggle podcast.
The full statement from the league can be found here.
Jan. 7, 2018: The Ticats announce they have offered Manziel a contract to retain his rights on the team's negotiation list while discussions with his agent continue.
Jan. 8, 2018: Manziel's representatives give the Tiger-Cats a January 31 "deadline" to sign the QB to a "fair deal" that would pay him "on par with what Hamilton has paid their QB in recent years." The quarterback Manziel's representatives were referring to was the since traded Zach Collaros, who at the time was one of the highest paid QBs in the league.
The full statement from Manziel's representatives can be seen here.
April 7, 2018: Manziel passes for 82 yards in his debut in the Spring League, a four-team showcase of practices and games designed as an audition for pro scouts. In another game on April 12, Manziel threw for 188 yards and had two rushing touchdowns.
May 19, 2018: Manziel announces on Twitter that he has signed with the Tiger-Cats.
June 1, 2018: Manziel makes his pre-season debut for the Ticats, going 9-12 for 80 yards in a loss to the Toronto Argonauts. Manziel would take the field once again the week after, going 12-20 for 88 yards and his first CFL touchdown as Hamilton scored 30 unanswered points in a win over the Alouettes.
July 22, 2018: After failing to see the field through five regular season games, Manziel is traded from the Hamilton Tiger-Cats to the Montreal Alouettes in a multi-player deal, setting the stage for Manziel to begin the next chapter in his football career.
July 26, 2018: In his first game in an Alouettes uniform, Manziel didn't see any on field action as he watched Vernon Adams Jr. and his new team get slammed by the Edmonton Eskimos, 44-23, from the sidelines at Percival Molson Memorial Stadium.
July 31, 2018: Following two days of getting first-team reps at practice, head coach Mike Sherman announced Manziel would get his first career CFL start on Aug. 3 against his former team in the Ticats.
And an in-depth look at Manziel's up-and-down career prior to signing in the CFL
Manziel commits to Texas A&M
Sept. 21, 2010: Manziel made the decision to switch his commitment from Oregon to Texas A&M, citing location as the biggest factor.
"My parents want to see me play, and I wasn't going to put them in a bind," Manziel said. "You probably have to say that was the biggest factor."
Before his commitment to the Aggies, Manziel torched defences during his final season at Tivy High School in Kerrville, Texas, throwing for over 3,000 yards with 45 touchdowns and just five interceptions over the course of 12 games.
Freshman year in College Station
Aug. 15, 2012: Quarterback Ryan Tannehill was drafted No. 8 overall in the NFL Draft by the Miami Dolphins, opening a four-way battle for the Aggies' starting quarterback job. Manziel beat out Jameill Showers, Matt Joeckel and Matt Davis to earn the starting spot.
Nov. 10, 2012: Manziel was having a freshman season for the ages and the nickname "Johnny Football" became known across the country. With the Aggies sitting at 7-2, they went on the road to face the 9-0 Alabama Crimson Tide. Coming off a 25-point win over No. 15 Mississippi State the week before, Manziel already had 2,527 yards passing to go along with 922 rushing and 31 total touchdowns.
Manziel led the Aggies past No. 1 Alabama 29-24 to propel the freshman into the Heisman Trophy conversation.
"[Manziel] had a great season to that point and then he pretty much solidified his Heisman Trophy by going to Alabama and beating us in our house. It was crazy. And then we continued to win throughout the year and it made his performance even greater that day," Alabama linebacker Nico Johnson said.
Making history
Dec. 8, 2012: Either way, history would be made with the 2012 Heisman Trophy. The three finalists were Manziel, Kansas State linebacker Collin Klein and Notre Dame linebacker Manti Te'o. Neither a freshman nor a linebacker had ever won college football's most prestigious award.
But everybody knew it was Manziel's year.
The 20-year-old took home the honours with 474 first-place votes compared to Te'o's 321 and Klein's 60.
During his historic season, Manziel finished with 3,706 yards passing to go along with 1,410 rushing and 47 total touchdowns while leading Texas A&M to a Cotton Bowl victory over Oklahoma.
Following up
Sept. 14, 2013: Facing Alabama once again, Manziel put up one of the best games of his college career, throwing for 464 yards and five touchdowns.
Despite his heroic effort, the Aggies' defence struggled and they fell 49-42.
Nov. 9, 2013: A&M came into their matchup against Mississippi State at 7-2 in what could be Manziel's final home game of his college career. He didn't disappoint, leading the Aggies to a victory while throwing for 446 yards as fans chanted "One more year!" as the final seconds ticked off the clock.
Dec. 31, 2013: A&M did not receive a BCS Bowl invite, but beat the Duke Blue Devils 52-48 in the Chick-Fil-A Bowl on New Year's Eve. Manziel had 455 total yards and five touchdowns in what was the final game of his college career.
Taking the next step
Jan. 8, 2014: Manziel forfeited his junior season and declared for the NFL Draft, ending one of the most impressive two-year college careers in history.
"The decision was not an easy one. Anyone who has ever watched a football game at Kyle Field knows that leaving that atmosphere, those Saturdays with excitement, color, and noise, will be hard for me," Manziel said.
"I promise you I will always be an Aggie. I will always try to make you as proud of me in the NFL as I did at Texas A&M."
May 8, 2014: The Cleveland Browns didn't get much production from the quarterback position in 2013, juggling between Jason Campbell, Brandon Weeden and Brian Hoyer en route to a 4-12 season. On draft day, the Browns traded the No. 26 selection and a third-round pick at No. 83 to the Philadelphia Eagles in exchange for the 22nd pick which they used to take Manziel.
The pick was seen as a lofty risk given Manziel's affinity for partying and play-style many thought was better suited for the college game.
Rookie season
Aug. 18, 2014: Manziel was fined approximately $12,000 by the NFL for making an obscene gesture toward the Washington Redskins' bench during a pre-season game.
Manziel called the incident a slip-up, while Browns coach Mike Pettine said that it "did not sit well."
Dec. 28, 2014: The Browns closed out the season with a 20-10 loss to the Baltimore Ravens, ending Manziel's rookie year. He started only two games, throwing for a total of 175 yards and two interceptions.
Sophomore year
Sept. 20, 2015: Manziel filled in for an injured Josh McCown to lead the Browns to a 28-14 victory over the Tennessee Titans, throwing for 172 yards and two touchdowns.
Dec. 27, 2015: Manziel and the Browns were beaten 17-13 by the Kansas City Chiefs to end their season. Manziel followed up his rookie season with 1,500 passing yards to go along with seven passing touchdowns and a completion percentage of 57.8. His career NFL quarterback rating of 74.4 sat well below his college rating of 164.1. The Browns finished at 3-13, last in the AFC North for the fifth season in a row.
March 3, 2016: Following a disappointing season on the field and a tumultuous one off it, the Browns released the former first-round pick.