A statistical look at the Predators vs. Coyotes play-in series
The National Hockey League's redesigned playoff format is official, and assuming all goes to plan, we are closing in on watching hockey once again.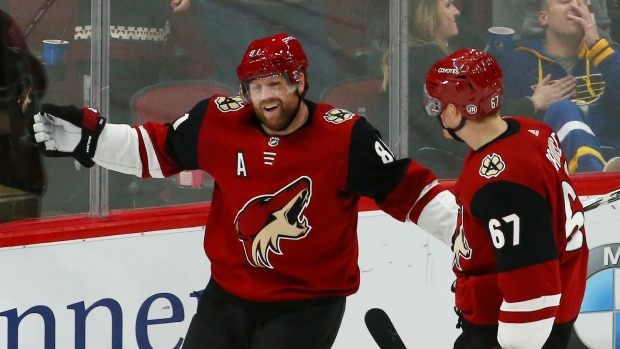 The National Hockey League's redesigned playoff format is official, and assuming all goes to plan, we are closing in on watching hockey once again.
The new playoff format will feature 24 teams in total, and will open up with a 16-team qualifying round. The opening best-of-five series offers new life to eight teams that were below the original playoff cutline, and should create waves of excitement for eager sports fans.
Over the next few weeks, we will be previewing each qualifying round series in detail. An archive of previews can be found here:
Eastern Conference
(5) Pittsburgh Penguins vs. (12) Montreal Canadiens
(6) Carolina Hurricanes vs. (11) New York Rangers
(7) New York Islanders vs. (10) Florida Panthers
(8) Toronto Maple Leafs vs. (9) Columbus Blue Jackets
Western Conference
(8) Calgary Flames vs. (9) Winnipeg Jets
Today, we look at a second Western Conference matchup, this one featuring the sixth-seeded Nashville Predators against the 11th-seeded Arizona Coyotes.
Regular Season Performance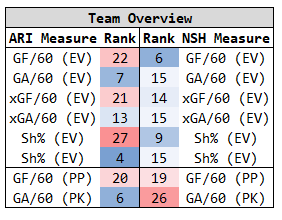 It's odd to talk about a team pacing for a 93-point season as something of a disappointment, but that's what happens when performance does not meet expectations.
This Nashville Predators team has been a bastion of success for some time – they came within two games of winning the Stanley Cup back in 2016-17 – but this season's drop-off was palpable.
The low point of the Nashville season probably came in early January, when the Predators decided to turf head coach Peter Laviolette. It's worth noting that Laviolette's teams had never missed the playoffs over his five-year tenure, but the higher powers saw the team's slippage in the standings and poor underlying numbers starting to creep in.
Consider their trended numbers at even strength as a brief example: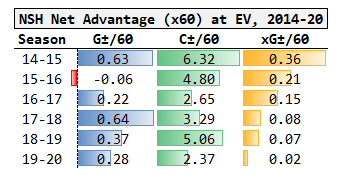 There are obviously a couple of saving graces, so to speak, with this Nashville team. The first is that despite a team-level downward trend, the Preds were still better than their average opponent in 2019-20. Juuse Saros has solidified himself as a long-term option for this team, just as the mileage on Pekka Rinne appears to be catching up.
Nashville's play-in series opponent also had a curious season. The first 30 games were rather encouraging for head coach Rick Tocchet. The Coyotes amassed 38 points over those 30 games and raced out to a division lead, making the most of San Jose's collapse and Vegas' slow start. It certainly gave Arizona a degree of confidence that they had put the finishing touches on a roster capable of reaching the postseason, having fallen just short one season ago.
Close to that peak, the Coyotes made one of the biggest trades of the season, sending three prospects and two conditional draft picks to the New Jersey Devils for star winger Taylor Hall and Blake Speers. Hall specifically gave Arizona the type of speed and scoring threat they were missing offensively, especially with early signs indicating Phil Kessel – another winger acquired via trade – was showing less effective than his Pittsburgh years.
What followed in the next 40 games was a different story. The Coyotes totaled 36 points over that stretch, just one point better than the lottery-bound Ottawa Senators. The struggles remained on the offensive side of the ice – Arizona's all situations shooting percentage (8.5 per cent) was ranked 26th over the course of the regular season, with Nick Schmaltz (11 goals and 34 assists) ending as their most productive scorer.
Skater Overview (Goals Above Replacement)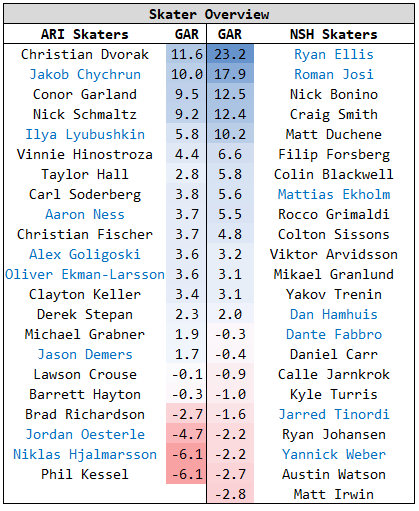 Kessel's collapse as an offensive threat this season surely stings, but it is worth noting that part of that deal for Arizona was about taking advantage of Pittsburgh's beleaguered cap situation. Kessel may have provided little value this season, but he also didn't cost much.
The bigger area of concern for the Coyotes was the play of 33-year-old blueliner Niklas Hjalmarsson. Arguably one of the league's best defenders in the defensive third over the last decade, Hjalmarsson finally saw his performance slip.
The cause? Age certainly doesn't help things, but Hjalmarsson only played 27 games this season, forced to spend months on the sidelines due to a cracked fibula suffered early in the season. Such a significant injury would be difficult to return from for any player, but there are certainly more miles on Hjalmarsson's body than the average NHL defender.
When he came back, the numbers were gruesome: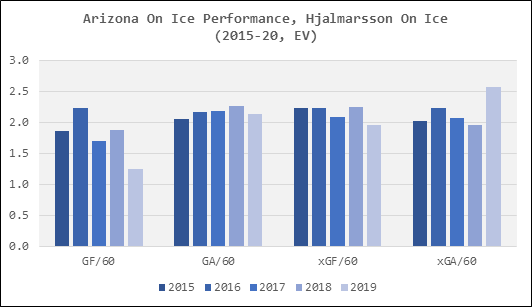 It's not as if Arizona is devoid of defenders coming through the ranks to eventually displace those Hjalmarsson minutes. Jakob Chychrun had an outstanding year and is just starting the first of a six-year contract, a bet by general manager John Chayka that looks like it will pay off handsomely.
But in the playoffs, it's always nice to have a pairing that can choke the life out of game, particularly with a lead. Few players are better suited than a healthy Hjalmarsson. The three-month layoff may have done him wonders, but if the conditioning and health are still a question, Arizona's upset chances take a hit.
Speaking of defencemen, Nashville remain loaded. In a league where star forwards tend to drive performance, the Predators have zagged, with Ryan Ellis and Roman Josi continuing to excel.
Since Ellis and Josi play a substantial amount of time together – true previously with Laviolette, and true today under John Hynes' watch – the Predators really have to squeeze as many goals out of their minutes as they can. And boy, did they ever: the Predators outshot their opponents 877 to 743 with this duo on the ice, parlaying that 54 per cent Corsi into a ridiculous goal differential. At just even strength, the Predators were +24 goals (52 for; 28 against).
This was the best pairing in the league, full stop. The only question: How do you pick a Norris candidate between the two?
Goalie Overview (Goals Saved Above Average)

I am fascinated to see if Hynes gives the keys to Rinne for Game 1. The Finnish goaltender has been a staple of Nashville Predators hockey for more than a decade, but his 2019-20 season was something of a disaster – his stop rate of 89.5 per cent was one of the worst amongst regular starters, and comfortably the worst of his career.
Rinne and Saros were in a true rotation this season, but Saros – stopping 91.5 per cent of shots, or six goals above league average – was definitively better. By the numbers, the starter is an easy decision. If Hynes goes with the veteran, I would expect a very short leash, not dissimilar to what I expect to see with Henrik Lundqvist in New York or Marc-Andre Fleury in Vegas.
There is a similarly tough decision for Tocchet, but that's only because Darcy Kuemper (92.8 per cent stop rate) and Antti Raanta (92.1 per cent stop rate) were both fantastic this year. There was very little daylight between the two goaltenders in terms of usage this season, but last year Kuemper saw a lion's share of the starts.
Regardless of the choice for game one or the series, Arizona has much bigger fish to fry than the goaltending position – they'll be in good hands with either choice.
Prediction
Arizona remains a scrappy team with very competent goaltending, and that alone can be enough to steal a series.
But I think about the core strengths of Nashville – an elite defensive pairing that will probably play 40 per cent of all even strength minutes, an offence that didn't have much trouble scoring this season, and a goaltender in Juuse Saros who has been dependable his entire career – and I wonder how the Coyotes can come out ahead. This, of course, assumes Saros starts.
But if he does, I like Nashville in this series. The pick is the Predators in four.
Data via Natural Stat Trick, HockeyViz, Evolving Hockey, NHL.com