Addition of Tavares allows Babcock to get creative
Star centre has fit in seamlessly in Toronto, providing the Maple Leafs enviable lineup depth and flexibility, Travis Yost writes.
Earlier this week I took a look at how the addition of Erik Karlsson on the San Jose blueline impacted Sharks coach Peter DeBoer's usage and deployment.
Karlsson is one skater on a 23-man roster, but superstars tend to have a pretty dramatic effect on how coaching staffs envision the allocation of their roster. There's the immediate impact Karlsson has on the lineup – he immediately assumed command of the team's top pairing and surely enhances the quality of play of the forwards in front of him. But there's also the indirect effect of the players he ends up displacing. The addition of Karlsson means Brent Burns sliding into a second-pairing role to terrorize tougher competition, and San Jose's top two pairs being able to play spot minutes with the team's third and fourth line. (Results, not surprisingly, are terrifying there.)
After I posted the San Jose piece, I had a number of readers inquire as to what was happening in Toronto. There, the Maple Leafs added a superstar of their own in centre John Tavares. Tavares has fit in seamlessly – he has six goals through the first four games, just one back of Auston Matthews for the team lead.
Adding a player of Tavares' calibre has had a similar impact as Karlsson in San Jose. It's certainly allowed head coach Mike Babcock to get a bit creative. To illustrate some of these changes, I went and pulled ice time for every Leafs skater at 5-on-5, and then queried it against all possible teammates over the first four games.
Based on Babcock's setup, you can see commonalities – which forwards are playing together, which defencemen are playing together and which forward lines are playing with which defensive pairings.
Here, 0 per cent would indicate the two players have spent zero seconds of ice time together this season; 100 per cent would indicate that all minutes have been shared.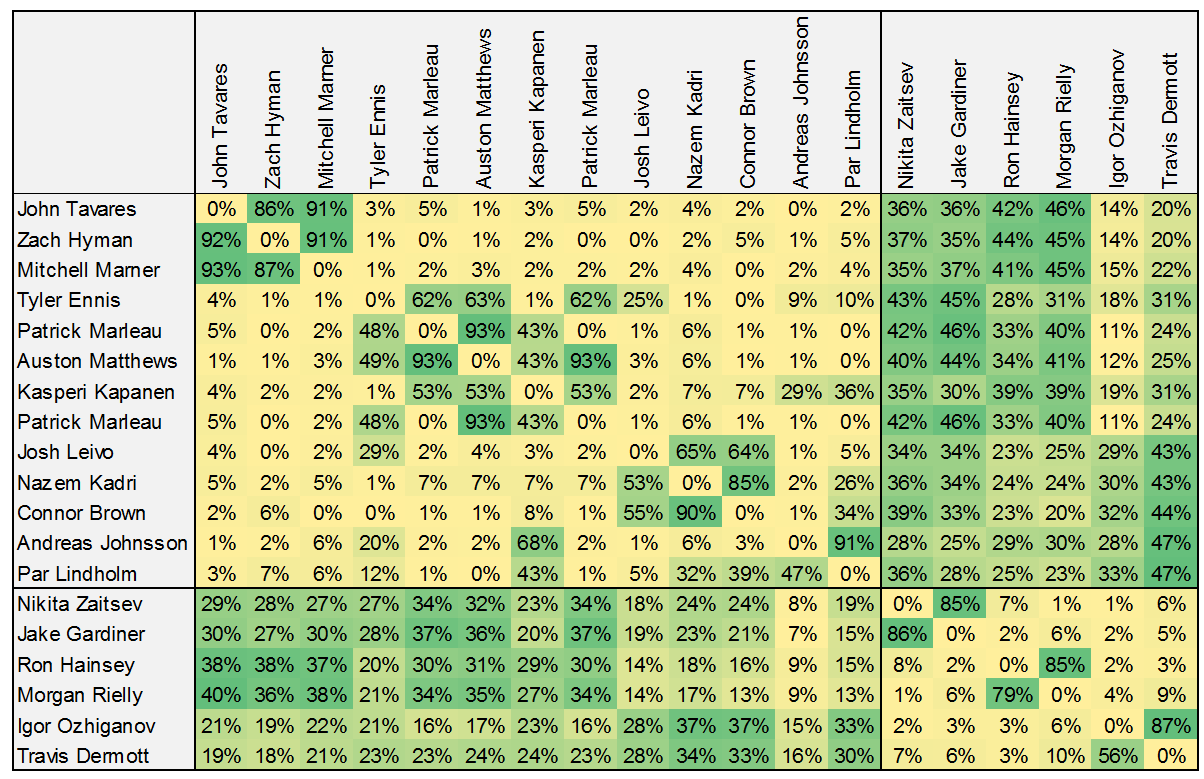 The forward clusters have been pretty consistent through the first four games. Tavares' line (featuring wingers Zach Hyman and Mitch Marner) has played together almost exclusively. Matthews' line has consistently featured Patrick Marleau, and has juggled between Tyler Ennis and Kasperi Kapanen as the third forward. Nazem Kadri and Connor Brown have been a staple on the third line and Andreas Johnsson and Par Lindholm on the fourth line. Babcock has intermittently flexed wingers around within the bottom six, including utilizing Frederik Gauthier during a road game in Dallas.
Consequently, I think the biggest positional fight we will see for the time being is on Toronto's second line. William Nylander is a natural fit there, but there's no knowing how long his contract negotiations will last. In the meantime, Babcock will likely continue playing with different skaters – Ennis has been a pleasant surprise on a bargain contract, and Kapanen has shown flashes of brilliance in his young career. They may not be long-term answers but for the time being, they'll plug in just fine.
Year-over-year, there are a couple of notable changes. The biggest one is probably the splitting of Kadri and Marleau, who played about 71 per cent of 5-on-5 minutes together last season. Season-to-date, they have only seen a couple of shifts together, and that's generally been the result of line changes more than anything else. The other notable item would be Marner, who was moved all around the lineup in 2017-18. If the early start is any indication, he's going to be a firm fixture on the Tavares line.
Defensively, Toronto has stuck with three pairings and they generally feature someone more defensively capable partnered with someone more offensively capable. Puck movers Morgan Rielly, Jake Gardiner and Travis Dermott have respectively been synced with Nikita Zaitsev, Ron Hainsey, and Igor Ozhiganov. Outside of Martin Marincin stealing spot minutes (as he did versus Chicago) or one of Toronto's younger defencemen taking a big step forward, I ultimately don't see this changing very much.
Babcock likely has a multitude of reasons for pairing his defencemen up in this manner but one reason is that he really doesn't have to overthink how his lines and pairings fit together. If you look in the top right quadrant, you'll see that Toronto's top-six forwards almost always play with one of the Rielly or Gardiner pairings. And, as Toronto's depth forwards take shifts, ice time smooths out a bit more – they'll get spot minutes with both of Toronto's top-two pairings, but generally will play with the Dermott pairing against weaker competition.
Either way, these are interesting times in Toronto. One injury (or in Toronto's case, one contract signing) can change the complexion of the Leafs in 2018-19. But for now, Babcock seems to have settled on a plan he feels works well for this version of the Leafs. Based on their hot start to the season, it's hard to take much issue right now.