After Wild Card win, Giants open NLDS against Nationals
The Washington Nationals are back in the postseason for the second time in three years. This time, though, the Nats hope to stay a little longer. They'll get that chance when they welcome the San Francisco Giants to Nationals Park for the start of the best-of-five National League Division Series.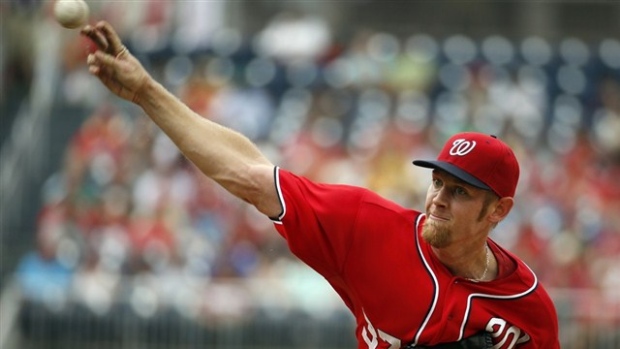 The Washington Nationals are back in the postseason for the second time in three years. This time, though, the Nats hope to stay a little longer.
They'll get that chance when they welcome the San Francisco Giants to Nationals Park for the start of the best-of-five National League Division Series.
Washington gave the District of Columbia its first taste of postseason baseball since 1933 in 2012, as the Nationals returned to the playoffs for the first time since 1981 when they were known as the Montreal Expos.
Despite having the best record in the league, the Nats bowed out in five games to the St. Louis Cardinals in the NLDS.
A year after missing the playoffs, Washington enters this year's playoffs under similar circumstances, as it was an NL-best 96-66 this year and cruised to an NL East title, 17 games in front of both the Atlanta Braves and New York Mets.
The Nats also enter the playoffs as hot as anyone, as they won nine of their final 11, 13 of their final 16 games and were 19-8 over the final month of the season.
"I've maintained the whole season that I like where we are," outfielder Jayson Werth said. "We are a second-half team. We are built for this time of the year. We continue to show it year in and year out that we are going to make a run at the end. We played well up to this point. We got this first step out of the way."
San Francisco, meanwhile, advanced to the Division Series with a matter of fact wild card win in Pittsburgh on Wednesday, as Madison Bumgarner pitched a four-hit shutout, Brandon Crawford hit the fourth playoff grand slam in team history and the Giants rolled, 8-0.
The Giants have won seven straight playoff elimination games, including five on the road.
"I think that experience really came into play today," said Giants manager Bruce Bochy. "The guys threw out some good at bats. They looked very quiet up there. You want to create those chances and get guys on base, and they were relentless doing that until we got, of course, a big hit from Crawford."
Bumgarner (1-0) kept them out of trouble in this one, scattering four hits and a walk while striking out 10.
Bumgarner, making his seventh postseason start at the age of 25, was perfect in four of his nine innings. The four hits he gave up were all singles, including two to Josh Harrison. He threw 109 pitches, including 79 strikes.
"He had it all working tonight," Pittsburgh manager Clint Hurdle said. "Absolutely a very professional and well-pitched game by him tonight."
Now, the downside to playing in the wild card means that Bumgarner won't be available until Game 3 when the series shifts to San Francisco.
The Nats had their way with the Giants in 2014, taking five out of seven games.
Below we take a look at three keys for each team to move on.
WASHINGTON
1. NASTY ROTATION
Never mind the Detroit Tigers starting staff, the best rotation in these playoffs resides in the District.
Stephen Strasburg, Jordan Zimmermann, Doug Fister and Gio Gonzalez. You can throw rookie Tanner Roark into that mix, but he'll be used out of the bullpen in the first round.
The first four are as good as anyone left pitching and like their team they are getting hot at the right moment. Especially Zimmermann, who, of course, threw a no-hitter on the final day of the regular season.
Dating back to last Tuesday, and not including starts involving Blake Treinen and Taylor Hill, the rotation allowed a combined two runs in 37 1/3 innings, with 39 strikeouts and four walks.
The Nationals' rotation also finished the year with the best ERA (3.04) in baseball.
2. SECOND CHANCE FOR STOREN
Nobody has a worse taste in their mouths given the way the 2012 postseason went for the Nationals than closer Drew Storen, who allowed the clinching runs to score for the Cardinals in Game 5 of that series.
Then, he not only lost his job as the team's closer to Rafael Soriano in 2013, he also had to endure a stint in the minors.
This year Storen thrived as a seventh-inning reliever for the Nats until early September, when he replaced the struggling Soriano as the closer and has been terrific.
"I don't look at it as this big, emotional scar or anything. It's baseball, you know? You're going to have bad outings. ... It's a matter of moving on," Storen said.
"I'm a different person, and I'm a different pitcher."
Since that point, Storen saved 10 games without allowing a run in 10 1/3 innings, with 10 strikeouts.
"It's been fun. I think a lot of it comes down to command," Storen said. "It's so crucial to work ahead of the hitters. In the ninth inning, that's really big, especially with some of the one-run leads I've come into. You really have to work ahead of guys and keep the ball down in the zone, manipulate and make them move and try to miss some barrels."
3. BRYCE'S TIME TO SHINE
A lot is being made of Mike Trout's postseason debut. Well, this might not be Harper's first time in the playoffs, but it might as well be. The 20-year-old megastar managed just three hits in 23 at-bats in that 2012 NLDS.
Harper endured an injury-plagued season this year and it showed as he hit just 13 home runs and drove in a mere 32 runs in 100 games. And despite getting over 100 less at bats than he did in 2013, Harper struck out 104 times, 10 more than he did a year ago.
Plus he was benched in April by Matt Williams for not running out a ground ball.
All that is in the past, though, and all will likely be forgotten if he delivers in October.
Trout has certainly passed Harper in terms of being the best young player in the game, but a strong showing here in the postseason could go a long way to making it a two-man race once again.
And doesn't baseball need a new face now that Derek Jeter is gone?
SAN FRANCISCO
1. VETERAN ARMS
The San Francisco Giants have won two of the last four World Series titles thanks to their starting pitching.
This time around, though, there is no Matt Cain or Tim Lincecum leading the way. Cain is lost for the season with an elbow injury, while Lincecum, well, he's no longer the pitcher who won a pair of NL Cy Young Awards.
The Giants are now led by the 25-year-old Bumgarner, but as we stated earlier he won't be around until Game 3.
Luckily, San Francisco has a pair of veteran arms to turn to in Games 1 and 2 in Jake Peavy and Tim Hudson.
Peavy has been fantastic (2.17 ERA, 1.04 WHIP) since joining the Giants in a July trade from Boston, but he has not had much success in the postseason, pitching to a ghastly 9.27 ERA in five starts.
Hudson, meanwhile, has gotten worse as the season has wore on and was terrible in the second half, going just 2-7 with a 4.73 ERA and 1.45 WHIP. He's pitched to a 3.46 ERA in 10 games (9 starts) in the playoffs, but hasn't been there since 2010.
If they can get a split in D.C., though ... watch out.
2. MICHAEL MORSE'S HEALTH
San Francisco doesn't have a whole lot of power in its lineup and it's had a lot less since Mike Morse went down with an oblique injury that caused him to miss all but one game in September.
Morse, whose 16 home runs were the second most behind Buster Posey's 22, wasn't on the wild card roster and probably won't be on the NLDS squad either.
Not having Morse is even more magnified considering Pablo Sandoval hit a mere .218 with 12 strikeouts and just one homer in 24 September games.
That's not good news for a Giants team that won 40 of their last 43 games in which they have scored at least four runs. San Francisco is going to have to score runs if it wants to win this series.
So ...
3. CAN BRANDON CRAWFORD CONTINUE TO MASH?
Other than Bumgarner, Crawford stole the show on Wednesday in Pittsburgh, as he became the first shortstop in the history of the postseason to hit a grand slam.
With Morse out and Sandoval struggling the Giants may need Crawford to step up his game. He only hit .246 on the season, but entered the playoffs on the strength of a .365 performance (27-for-74) in September, with five doubles, two home runs and 16 RBI.
And in case you were wondering, Crawford was a .346 hitter in seven games against the Nats this season.
San Francisco is going to have to score runs to win this series.