Agent: No KHL decision for Valiev, Soshnikov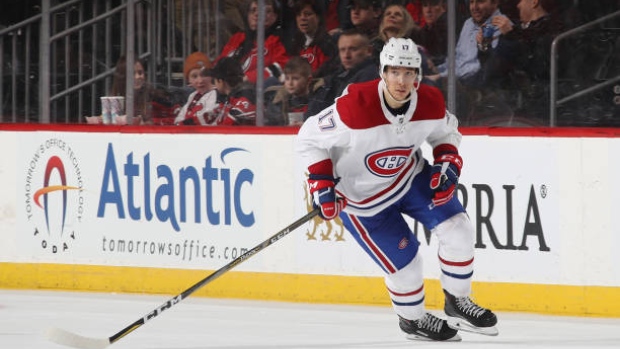 A report from Russia's Sport.Business-Gazeta last month included Rinat Valiev and Nikita Soshnikov on a list of NHL players who were planning to sign in the KHL this summer.
The agent for both players, Dan Milstein, told the Russian news outlet Championat on Wednesday, however, that neither player has made their final decision for next season.
Milstein said Valiev, who was traded from the Toronto Maple Leafs to the Montreal Canadiens in the Tomas Plekanec deal, was happy to get a look from the NHL club late in the season after playing in the AHL for three years. The 22-year-old is scheduled to become a restricted free agent on July 1 and Milstein said that negotiations with the Canadiens will begin in early June.
Valiev appeared in just two games with the Canadiens before suffering a lower-body injury in March. He had six goals and 18 points in 45 AHL games with the Toronto Marlies and Laval Rocket. Milstein noted that Ak Bars Kazan, who former Canadiens defenceman Andrei Markov plays for, made a qualifying offer for Valiev's KHL rights, but he was not a part of that process.
Soshnikov was also traded from the Toronto Maple Leafs this season, moving to the St. Louis Blues in February for a 2019 fourth-round pick. He scored one goal and added an assist in 12 games upon joining the Blues after failing to post a point in three games with the Maple Leafs.
Milstein said the 24-year-old has an offer from the Blues, but is considering returning to the KHL, where he spent two seasons from 2013-15. Soshnikov, also a restricted free agent, had an out clause this year to return to Russia if he was not recalled by the Maple Leafs from the AHL by late November. He was called up, but only appeared in three games and had an extended stay on injured reserve despite completing a five-game AHL conditioning stint.
Soshnikov appeared in a career-high 56 games with the Maple Leafs during the 2016-17 season, scoring five goals and posting nine points. Milstein said he will make his decision after the World Hockey Championship.