Eichel and agents deny pushing Sabres for coaching change
If Buffalo Sabres coach Dan Bylsma's job is in jeopardy, star forward Jack Eichel and his representatives insist he's not the one pushing for a change.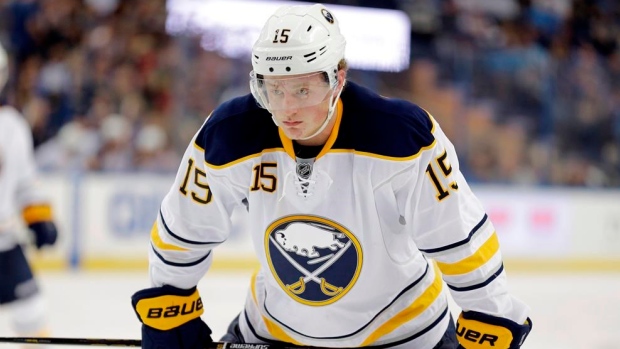 BUFFALO, N.Y. - If Buffalo Sabres coach Dan Bylsma's job is in jeopardy, star forward Jack Eichel and his representatives insist he's not the one pushing for a change.
Local reports on Wednesday indicated that Eichel wasn't willing to commit his future to the Buffalo Sabres as long as Bylsma remained the team's coach.
Eichel, who just completed the second season of his three-year, entry-level contract, vehemently denied the story later in the day.
"A lot of things have been written today about me and about things that are not true, to be honest with you," he told John Vogl of The Buffalo News.
"Reading some of these things, I was a bit bombarded this morning with a lot of articles that I think are pretty inaccurate."
Paul Hamilton of Buffalo's WGR 550 reported that the Sabres centre had an end-of-the-season exit meeting with general manager Tim Murray last week and was candid in his assessment of a disappointing season in which the rebuilding Sabres finished dead last in the Atlantic Division with 33-37-12 record. They finished 17 points adrift of the Toronto Maple Leafs for the final playoff spot in the Eastern Conference.
Whether Bylsma returns for a third season won't have any effect on Eichel negotiating a contract extension this summer, Peter Fish and Peter Donatelli told The Associated Press by phone on Wednesday.
"He loves the Pegulas and wants to be a longtime Sabre, and he loves Tim," Donatelli said, referring to team owners Terry and Kim Pegula and general manager Tim Murray. "(A coaching change) is not even on his radar screen."
And any suggestion the second-year player is threatening to balk at negotiating a contract extension if Bylsma is still coach is "1,000-per cent false," Donatelli said.
"It couldn't be further from the truth," said Fish.
Fish said Eichel "was genuinely excited" following end of season meetings with both Murray and Bylsma last week, and "felt very positive with the plans for next year's team."
The two spoke at a time when Murray is meeting with Terry Pegula.
Last week, Murray backed Byslma returning for a third season as Sabres coach despite the team missing the playoffs for a sixth straight year. Murray, however, noted the ultimate decision on Bylsma and his own future rests with Pegula.
Murray's rebuilding plan took a step back this season. With a 33-37-12 record, the Sabres finished last in the Atlantic Division standings with two fewer wins than the previous year.
The 20-year-old is Buffalo's franchise player after being selected with the No. 2 pick in the 2015 draft, one spot behind Edmonton's Connor McDavid.
Eichel has one year left on his entry-level contract. Under NHL rules, the two sides can begin negotiating an extension starting on July 1.
Eichel led Buffalo with 57 points (24 goals, 33 assists) in 61 games, despite missing the first two months of the season with a sprained left ankle. He was 11th in the NHL in averaging 0.934 points a game, missing out on finishing among the top 10 by a fraction of a percentage and collecting a $2 million bonus .
Murray referred to Eichel as "our guy," and expects to open talks as soon as rules allow.
Eichel's season isn't over: USA Hockey said the Massachusetts-born player has been added to the national team's roster to compete at the world championships next month. Eichel was a member of the U.S. team that won bronze at the 2015 championships.
___
More AP NHL hockey at https://apnews.com/tag/NHLhockey