Alderson: Tebow will reach MLB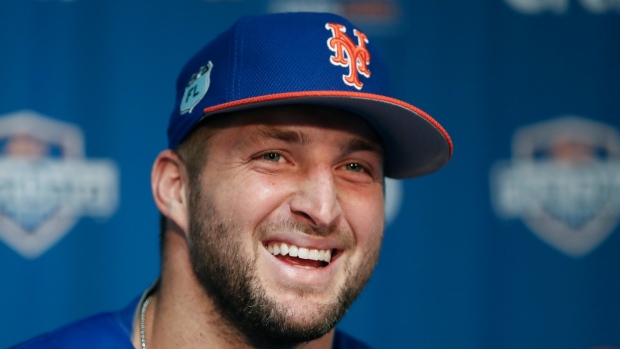 Sandy Alderson believes in Tim Tebow.
The New York Mets general manager said on Sunday that he believes that the former Heisman Trophy winner will reach the major leagues one day.
"This experiment, if you will, is not gonna last forever," Alderson said during a media availability the day that Tebow reported for his second spring training with the team. "But he's made meaningful progress. We thought he would best benefit from being in major-league camp, that that would accelerate his development, rather than falling back on protocol. So I'm very comfortable that he's here. He's gonna be a great addition over the next six weeks. Somebody asked me whether I think he'll be a major-league player at some point. I think he will play in the major leagues. That's my guess, that's my hope, and to some extent now after a year and a half, a modest expectation."
Tebow, 30, split 2017, his first full year in the Mets' system, between A and High A-ball with the Columbia Fireflies and St. Lucie Mets. With both clubs, he batted .226 in a combined 126 games with eight home runs and 52 runs batted in. He posted an OPS of .656 and struck out 126 times in 486 at-bats.
Alderson also acknowledged that Tebow was good for drumming up interest in the Mets.
"I think he's great for the team," Alderson said. "I think he's great for baseball. He was phenomenal for minor-league baseball last year. And the notion that he should have been excluded from the game because he's not coming through the traditional sources I think is crazy. This is entertainment. And he quietly entertains us."
The Mets kick off their Grapefruit League schedule on Friday when they host the Atlanta Braves.