Americans on the verge of a rout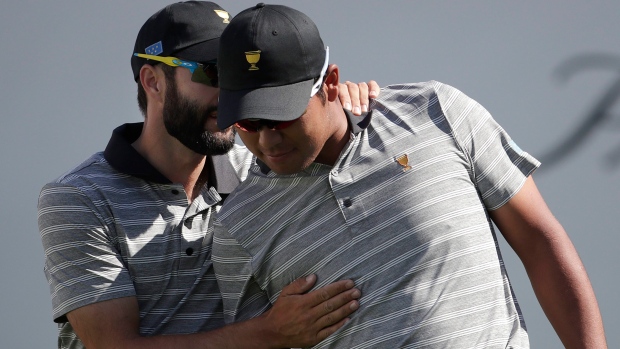 JERSEY CITY, NJ – Perhaps the only thing the Americans didn't do well on Friday was celebrate.
After building a two-point lead on Thursday, the U.S. side took 4.5 of a possible 5 points in the fourball session to jump out to an 8-2 after two days of the Presidents Cup. It's the largest two-session lead in the history of the event and the Americans can technically clinch the cup before Sunday's singles start.
While there are still 20 points to play for, this event is on the verge of being a rout. Ten of the 12 Americans haven't lost a match while Adam Hadwin is the only International player not to lose.
So decisive were the Americans that the talk after the round seemed to centre on the dancing abilities of Phil Mickelson and Kevin Kisner rather than any shot that was played.
After Mickelson rolled in a 20-footer to take a 1-up victory for he and Kisner over the Internationals' Jason Day and Marc Leishman, the American duo celebrated by performing a little dance inspired by the movie Three Amigos. It didn't get high marks from anyone who saw it.
"I get that I can't dance. I get that I can't take selfies," Mickelson stated, referring to his botched attempt at a photo with the last three U.S. presidents – Obama, Bush and Clinton, "but I can putt, and it was nice to roll that last one in."
"I saw him practising it at one point," said U.S. captain Steve Stricker. "I said, 'I don't know if that's such a good idea.' "
There wasn't much celebrating on the International side where, once again, the team finds itself in a deep hole without a ladder. Nick Price's squad could only eke out a half point, that coming from the duo of Hideki Matsuyama and Hadwin, who squandered a 2-up lead with four to play to settle for a tie against Jordan Spieth and Patrick Reed.
"It's not the best of moods going through [the team room] right now," said a sombre Hadwin after his Presidents Cup debut. "We're pretty fresh off a disappointing day where they stole most of our points."
"It was just a tough day," lamented Price. "You know, the guys are trying. That's all I can say. They are trying their tails off. They are just not making enough putts. Maybe not enough birdies."
Maybe? Charl Schwartzel and Anirban Lahiri were two-over par on their best ball on the front nine of their match against Charley Hoffman and Kevin Chappell, which they eventually lost 6-and-5. That's almost unheard of from players of this calibre.
Matsuyama, who is the highest-ranked player for the Internationals, more or less begged off playing on Saturday morning in the foursomes, feeling his game simply isn't up to the demands after a long, tiring year of golf.
Despite the huge lead for the Americans, Price pointed out that there is still a long way to go and he was trying to keep the atmosphere in the team room optimistic. But against a powerhouse such as the U.S. side, that will be difficult.
"These guys are going to come out fighting over the next two days," Price said, "and especially tomorrow (Saturday)."
Stricker didn't reveal what was going on with his team, but it's possible they could be practising their dance moves for more – and better – celebrations, which are sure to come.