Andersen looking forward to shot at Ducks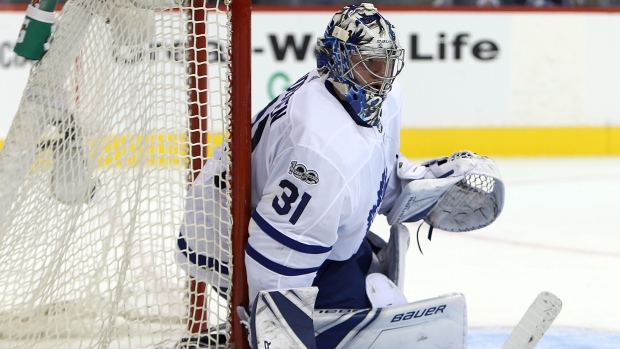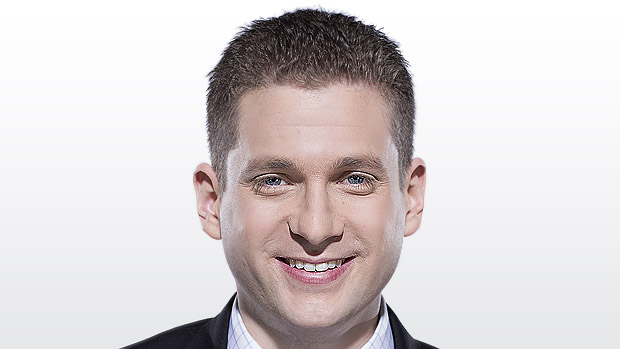 ANAHEIM - This is a big night for Frederik Andersen in a couple ways. It will be his first start back in Anaheim since the trade to Toronto. Last year, he served as the back-up to Curtis McElhinney when the Leafs lost at the Honda Center. Andersen is still looking for his first win against his old team after dropping a 3-2 decision at the Air Canada Centre last November. And after a rocky start to the season, he's also looking to build some momentum.
"To me, that's key for him ... that's the No. 1 priority," said Leafs head coach Mike Babcock. "It's hard to believe an NHL player wouldn't have confidence, because they're that good, but it's true. It's fleeting."
"You definitely want to try and get the ball rolling," Andersen said. "It will be a little different than what I'm used to in this building. Yeah, obviously, always good to see some old friends."
"I think it's something he's looking forward to," said Ducks forward Andrew Cogliano. "Coming back and playing, he didn't get the chance last year so I think he wants to beat us. It's as simple as that."
Andersen stopped 36 of 38 shots on Monday in San Jose in what may have been his finest performance of the season. And yet his save percentage remains an ugly .896 on the year.
Now, Andersen bounced back from a disappointing October last season with an incredible November. He tends to be a bit streaky, but when he's on, he's on.
"I notice when he starts playing well it seems like his confidence gets to another level in terms of how he controls the puck and his rebounds," said Cogliano, who was Andersen's teammate from 2013-16.
Cogliano believes the soft-spoken Andersen has the necessary demeanour to ride the ups and downs in a market like Toronto. Has Babcock noticed that?
"Well, I haven't seen it in Octobers," the coach quipped, "but I've seen it after that so, I mean, we're through October, right.
"Obviously, he's got buddies on that team, he did a good job for them so it'll be special for him for sure. He has played real well in California before so it shouldn't be any different tonight."
---
One of those buddies is Cogliano with whom Andersen became quite close with in Anaheim. The pair caught up on Tuesday night by grabbing a bite at the trendy Nobu restaurant.
"It should be interesting tonight," Cogliano said with a big grin. "I bought him dinner so hopefully good karma comes my way tonight against him. He didn't even reach for his wallet last night."
Is that true? "It was his turn so, yeah," Andersen said with a chuckle. "His treat."
Andersen shot back at his buddy when asked about Cogliano's iron man streak, which will hit 798 straight games on Wednesday.
"He took care of his body and that's something you can learn a lot from," Andersen said before breaking into a smile. "Also, maybe it's because he doesn't go in the corners too much."
---
While Andersen and Cogliano were all smiles on Wednesday morning, Ducks coach Randy Carlyle wasn't in a joking mood. His injury-ravaged team was dealt another blow when captain Ryan Getzlaf was placed on the injured reserve after getting hit in the face by a puck on Sunday.
"They're still a good team," Babcock insisted. "I saw them play real well here the other night. I think they've built a real good program here. They've got big, heavy guys, they've got unbelievable mobile D, they've got good goaltending ... Obviously, any time you're missing Getzlaf it's a huge factor for your team. You can't be as good without a player like that. In saying that, we're not worried about that too much. We've got to get our own game going and play right."
Babcock believes Toronto's turnover-prone play has been the main culprit in the team's slide. And the Ducks will be looking to force the young Leafs into similar mistakes. Here's Carlyle's scouting report:
"They like to stretch the neutral ice out," the former Leafs coach said. "They make as many long passes as any team in the league. I would say they're similar to what Pittsburgh's done over the last little while in stretching out that neutral zone with one pass. They have their centre low, but they'll fly their wingers.
"They'll play an up-tempo style and we have to prepare to have our checking hats on versus turning the puck over and allowing them to have that rush game."
---
Ron Hainsey and Patrick Marleau missed the morning skate, but will play tonight.
"I just figured anyone over 35, unless you're not playing, could have the (morning) off," Babcock said with a smile.
Other than the absence of the two veterans, the lines and pairings remained unchanged from Tuesday's practice.
---
The only forward line that has remained together throughout the recent skid has been Auston Matthews between Zach Hyman and William Nylander. The smooth-skating Swede helped set up Toronto's first goal on Monday, maintaining possession of the puck in the offensive zone as he wheeled around some Sharks defenders.
"He's really elusive and really shifty and good laterally so you add that with his strength, which I think is a little underrated, he's really strong, and it's hard to knock him off the puck," Hyman said. "People think he's just a skill guy and skill guys aren't strong, but him and Auston are both strong, both have strong legs and it's hard to knock them off the puck, because they're using their strength as well as their skill and that goes unnoticed sometimes."
---
Projected Leafs lineup for tonight's game:
Hyman-Matthews-Nylander
Komarov-Kadri-Leivo
van Riemsdyk-Marleau-Brown
Martin-Bozak-Marner
Moore, Kapanen

Rielly-Hainsey
Gardiner-Carrick
Borgman-Zaitsev
Polak
Andersen starts
McElhinney