Annual spring Stro Show reveals rocky relationship with Blue Jays front office
Marcus Stroman has repeatedly made it clear that he loves the city of Toronto.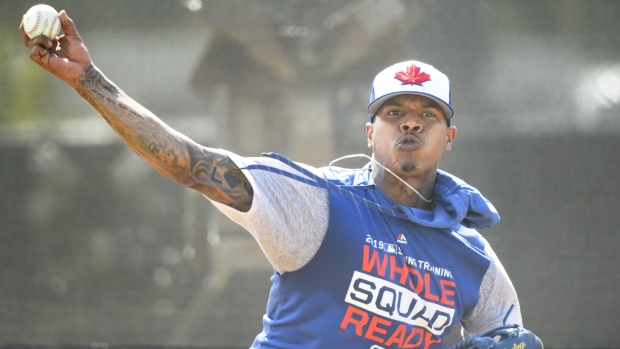 DUNEDIN, Fla. — Marcus Stroman has repeatedly made it clear that he loves the city of Toronto.
At the same time, has also made it abundantly clear — sometimes tactfully, sometimes obviously — that he does not love the present-day Toronto Blue Jays or the direction in which the ship is heading.
Sunday morning, one day after declining to speak to the media like every other pitcher does when requested following their first bullpen session, it was another spring Stro Show.
Wide-ranging it was.
Stroman touched on how out-of-work veterans should have jobs. He talked about how his shoulder was never right last season, an assessment confirmed later by pitching coach Pete Walker. Stroman name-dropped. And then name-dropped some more.
Mark Buehrle, LaTroy Hawkins, Casey Janssen, Josh Donaldson, Troy Tulowitzki, Jose Bautista, Edwin Encarnacion, Melky Cabrera. They all came up. So did out-of-work outfielder Carlos Gomez. Vladimir Guerrero Jr. at one point, too. A Young Jeezy album has fewer ad-libs and shout-outs. And, of course, Stroman talked about Stroman, which is where things took a turn.
Asked about a winter of trade rumours and his current relationship with the front office, Stroman starting launching cutters.
"The trade rumours, it's a business," Stroman said. "It is what it is. I could care less. I'm at a point in my career where there's going to be trade rumours. I can tell you one thing, there's no one who embodies or loves pitching for the city of Toronto or country of Canada more than me, nor will you ever find them. I can promise you that."
Note the fact "pitching for the Blue Jays" was not in there. Stroman is a brand. He wants the people that buy into that brand on his side.
It's no secret the current Mark Shapiro/Ross Atkins regime isn't the most popular duo in town, and Stroman is simply fuelling that fire. He knows that.
One year after being unhappy about losing his arbitration case, almost to the day, Stroman expressed frustration over not hearing from the Jays regarding a potential contract extension.
"It's a business, man," Stroman said. "It is what it is. Mentally, I'm ready to perform. Wherever it may be. Like I said, I want to play here. I've been wanting to play here for a long time. I've been waiting for to sign a long-term deal. I've been offered nothing."
Quickly asked whether that bothered him, Stroman didn't back down.
"I mean, would it bother you? I play year to year pretty much," said Stroman, who is slated to become a free agent following the 2020 season. "It's a business. Like I said, it doesn't affect my relationship with the country of Canada. I'm able to disconnect the two now, between business and people. Just as long as the people know how I feel, that's all I care about."
As Stroman was talking at Dunedin Stadium in the morning, Atkins was on his way to West Palm Beach for an MLB-mandated media day.
A hastily arranged conference call gave the GM a chance to share his side of the story.
Atkins seemed to indicate they have approached Stroman's camp about a potential extension. But the line between due diligence and an actual offer is murky.
"Just like any negotiation, you guys know that we have a pretty strong stance on that because of the impact it could have on the potential of getting something done, we'd like to keep that completely private," Atkins said. "Any negotiation, any discussion I'm not going to comment on. We've had lengthy discussions with Marcus' representation."
Atkins didn't offer much more, steering clear of having a real opinion on Stroman's comments that the front office may not be doing all it can to improve the on-field product.
"My reaction was my reaction," Atkins said. "I just gave it to you. I'm excited to have Marcus Stroman as a Toronto Blue Jay and extremely excited about his health, the way he has performed thus far, the way he looks, his energy. He's been awesome in the clubhouse."
Awesome in the clubhouse would elicit eye rolls from a few of his own teammates. Stroman, approaching the age of 28 and entering his sixth season, called for more leadership.
"Those young guys want to pick those guys brains more than anybody, but they're nowhere to be seen," Stroman said. "So whose brain are they supposed to pick?"
It's become quite clear the front office doesn't want the kids picking Stroman's, and all of the evidence says they're not wrong.