Are the Blackhawks vulnerable?
A closer look at the Chicago Blackhawks' performance metrics at 5-on-5 provide a sliver of good news for the other Central Division hopefuls. As Travis Yost writes, this is far from the best team Chicago has iced, and that alone is a satisfying change of pace for their competition.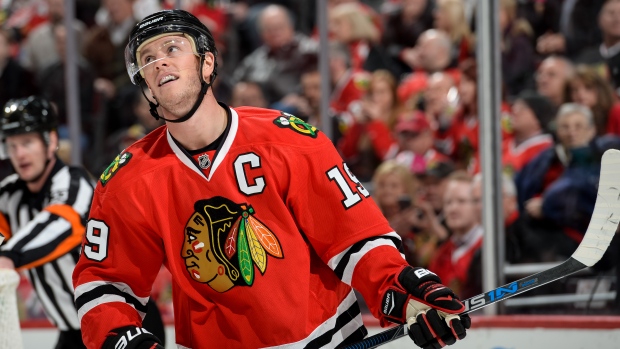 One of the most intriguing races heading into the final days of the regular season concerns the Central Division, and the jockeying between some of the league's most dominant teams as they vie for home-ice advantage in the playoffs.
The Central has provided some of the most entertaining and high-quality hockey since the NHL decided to go to the four-division format, but it's really hit a peak of late. Until they're topped, the Chicago Blackhawks are always going to be recognized as the cream of the crop. But the talent pool outside of Joel Quenneville's club is impressive. Dallas and St. Louis boast exceptionally deep and skilled rosters. Nashville continues to look like a team on the rise, and even teams like Minnesota and Colorado have enough interesting parts to get into the larger playoff discussion.
Despite the talent explosion in the rest of the division, the Stanley Cup discussion – at least as it pertains to the new playoff format and, by extension, the Central – will always start with Chicago. The Blackhawks boast three of the league's most talented players in Jonathan Toews, Patrick Kane, and Duncan Keith (It should be noted that goaltender Corey Crawford has been exceptional this year, too.). They play for one of the most revered coaching staffs in the league and have the necessary experience. Since 2009 alone, this group has won a pair of division championships, a pair of conference championships and three Stanley Cups. They have, for all intents and purposes, carried the baton from those vaunted mid-2000s Detroit Red Wings as a true legacy team.
But, there's a sliver of good news for other Central Division hopefuls. I think this is the best chance a group of teams has reasonably had at dethroning the Blackhawks. The justification for that argument is reasonably simple. This Chicago team is still pretty damn good and will be an absolute animal to overtake. But when held up against some of the ultra-dynamic teams of the Chicago championship era, this Blackhawks squad sort of pales in comparison.
Let's use some rolling averages to analyze the trends of myriad performance metrics at 5-on-5 since the run really started back in 2009. We'll look at Goal%, Corsi%, and ScoringChance% to see if they still look like world beaters, or if their performance may be tailing off a touch.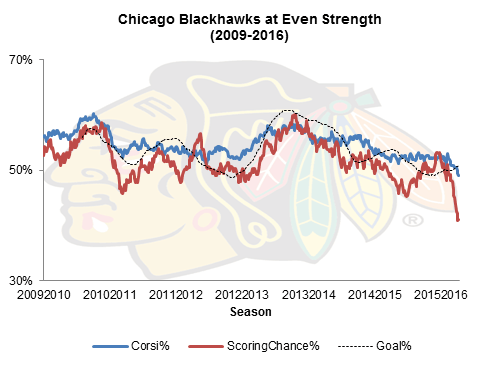 So, yes – this should raise your eyebrow a fair bit. Since 50 per cent is break-even for any of these stats (essentially you are trading goals, or scoring chances, or shots with your opposition), that's our baseline for an average team.
For more or less seven years, the Blackhawks have just been dominant in every facet. In two of their three Stanley Cup years (2009-10 and 2012-13), their 5-on-5 performance screamed elite status. Even last year the Blackhawks looked pretty great – maybe not to the degree of years past, but certainly good enough to compete for the big prize.
This year, though – there's something that seems a bit off. The team's scoring chance numbers have really flatlined in the last couple of months, and the shot differentials they have grown accustom to purely dominating have sunk below break-even for the first time ever. (If that doesn't put into perspective how great this team has been for almost a decade, I'm not sure what will.)
The goal aspect of this is curious too. If you knew that the Blackhawks were currently playing at a 105-point regular season pace, you'd likely guess that they'd be breaking pretty favourable in pure 5-on-5 goal differential. But that's actually not the case. At evens, the Blackhawks have scored 109 and conceded 109. If you're curious about who sits right behind them, it's Ottawa (+124/-127).
So, if the Blackhawks are slipping a bit, how are they still very much in competition for another division title? There are a couple of starting points to answer that question. First, their goaltending has been absolutely mint – Crawford has been Vezina worthy, and considering how much winning is historically about winning the netminding battle, that's a crucial new advantage to the club. Second, their power play has just been clicking at an insane rate. Only Washington is scoring more goals per-60 minutes there.
Would average 5-on-5 play with elite goaltending and special teams get Chicago back to the promised land? It's certainly possible. But, it'd be a different path than the one they – and most of the other recent Stanley Cup winners – have travelled. For the first time in what feels like forever, you sense that there's maybe an ounce of vulnerability with this team.
Maybe that's not enough for a team like a Nashville to pull off a first-round upset. But an Anaheim or Los Angeles? That's a different story, I would say.
The Takeaway
This Blackhawks team is still very good and going to be a tough out come playoff time. But, it does feel like there should be a sliver of optimism across the rest of the Western Conference. This is far from the best team Chicago has iced, and that alone is a satisfying change of pace for their competition.