As sell-off begins, Atkins willing to listen on Jays' controllable assets
Just weeks away from the July 31 trade deadline, Blue Jays GM Ross Atkins has let it be known that his team's dreams of contending in 2018 are long gone and they're open for business, TSN Blue Jays Reporter Scott Mitchell writes.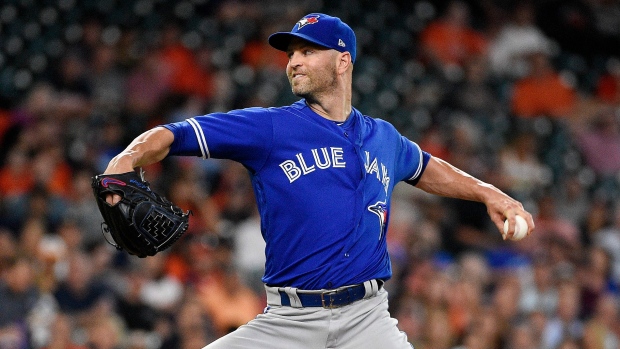 TORONTO — With about a month to go before the July 31 trade deadline, Ross Atkins has let it be known that his team's dreams of contending in 2018 are long gone and they're open for business.
The immediate blueprint for where things go from here isn't much of a secret.
The numerous expiring contracts on the roster are available to the highest bidder, a process that started late Thursday night when Atkins shipped 35-year-old utility piece Steve Pearce and cash to the Boston Red Sox in exchange for Santiago Espinal, a 23-year-old shortstop who was sent to High-A Dunedin.
It's just the start.
J.A. Happ is the prize, and the New York Yankees and Seattle Mariners have already checked in on the lefty who's carrying a 3.62 ERA and a 10-3 record.
Josh Donaldson is the wild card, and that's a conversation that might not end at the July 31 trade deadline, as a potential waiver trade in August could loom if he's not able to show contenders he's healthy by the end of next month.
Marco Estrada has also pitched his way back into the trade chip conversation, compiling a 2.35 ERA over his last five starts, and a team or two might take notice of his history of post-season success, as well.
There are also intriguing bullpen pieces — Tyler Clippard, John Axford, Aaron Loup — on expiring contracts, as well as veteran outfielder Curtis Granderson, who's still found a way to post an .866 OPS and a 139 wRC+ against right-handers at the age of 37.
Once you get past those names, that's where the intrigue begins.
A sell-off of veterans and free-agents-to-be isn't exactly tearing it down.
Franchises do it every summer, at the same time keeping the core intact.
But is Atkins interested in trading controllable assets like Marcus Stroman, Aaron Sanchez, Justin Smoak, Ryan Tepera and Yangervis Solarte?
Those five names move the needle in a different way, and an appetite to move a couple of them could turn a retool into a rebuild.
Atkins says they're at least listening.
"Here's how we're articulating that to other teams," Atkins said Friday evening as the Jays kicked off a nine-game homestand. "Essentially, we have what we feel is a very good team and a lot of attractive pieces. We have a lot of players that are on expiring contracts and we have a lot of really talented players that are under control. So to say that we won't have discussions on players that are under control is not a stance we ever take, but for them to frame the value for us and do the homework on their end is the thought process we have and how we've communicated that to other teams. That's not any different from how we think about that in the off-season. That's not any different from how we think about it when we're not a month away from a deadline. It's very similar. There's obviously a heightened focus on players that are expiring, for obvious reasons. We never want to paint ourselves into a box."
Translated: We're listening, but we'll have to be blown away by an offer.
It makes sense in the cases of Stroman and Sanchez, but maybe not so much when you look at Smoak and Solarte, both of whom may not be around long enough to be a real part of the solution and are only going to lose value as time goes on.
At least publicly, Atkins wasn't ready to throw in the towel on 2019, even if you believe the conversations are different behind closed doors, but there's no realistic way to envision that happening in the AL East.
With an impressive group of position players already in Double-A and a couple of arms at the Triple-A level that will be realistic options next season, there's a non-zero chance the retool could be less painful than people are currently imaging.
But it's similar to believing the Jays could contend in 2018. A lot of things have to go right. Like, almost all of them.
Maximizing tradable assets now and finding a way to accelerate things is key.
"I think that we'll look up in a year and feel as though we have more depth and more talent and more young, controllable talent than we've had in some time," Atkins said.
"Whether we're contending in 2019, let's see how the rest of this season and next off-season goes, but really what we're thinking about is continuing to get better in every possible way and not put concrete timelines on things."
Another trade chip — a contentious one — is closer Roberto Osuna.
Atkins remarked Friday he doesn't see any reason why his closer won't be on a mound in Toronto once he's eligible to return from his 75-game suspension on Aug. 5.
It's the first time the Jays have said Osuna will be welcomed back with open arms once the MLB-levied suspension is done.
Reading between the lines, that comment could be seen as an effort to maintain what semblance of trade value is left when it comes to Osuna, whose domestic violence case is due back in court July 9.
From a strictly business perspective, it makes sense, and Atkins made note of the fact that they're "running a baseball team."
If 29 other clubs know the Jays are done with Osuna and ready to move on, the lowball offers are sure to roll in for a 23-year-old with a career 2.87 ERA.
Without his legal problems, Osuna would have been high on the list of aforementioned controllable assets that they'd have to be blown away to deal, even if trading relievers should be atop every GM's to-do list when there are other glaring needs on the roster and in the pipeline.
Aside from Happ, most of the players Atkins will be trying to peddle this summer come with warts — performance, health, legal, or otherwise — but at least a direction has been set.
"We're in a situation where the needle is pointing more towards the future for us, given where we sit and how far we are out in the wild card," Atkins said.
The next four weeks will provide evidence of how deep the front office believes this rebuild needs to go.
The off-season will provide even more, as many of the controllable trade chips that Atkins isn't overly interested in dealing now could be more attractive when 29 teams are trying to improve their clubs, rather than just a handful of contenders at the deadline.
The wave of talent on the horizon provides hope, but finding a way to turn short-term assets into future contributors in the coming weeks and months will go a long way in determining what kind of roster surrounds Vladimir Guerrero Jr.​