Avs sidestep talk on apparent Subban punch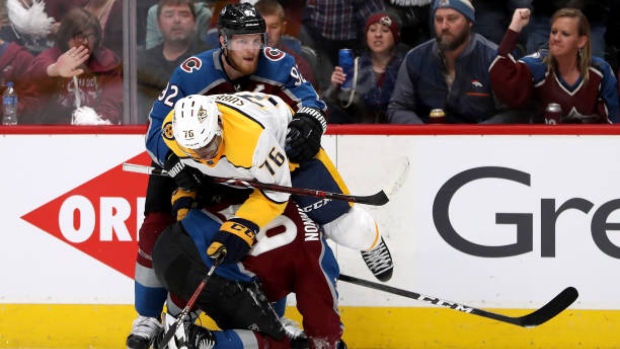 Nashville Predators defenceman P.K. Subban appeared to throw a blindside punch to the head of Colorado Avalanche star Nathan MacKinnon in the second period of Game 3.
The incident occurred along the side boards in the Predators zone while Nashville was down 4-1. MacKinnon was in control of the puck when Subban used his open hand to hit the Avalanche forward in the head and knock him to the ice.
MacKinnon grabbed Subban's leg as he attempted to skate away and both players then received a minor penalty for holding.
Avalanche head coach Jared Bednar did not address the play directly, but said he thought the officials did a good job overall on the night with some exceptions.
"I think you got to deal with some of that, there's certain things that I don't like that's happened there," Bednar said after his team's 5-3 win. "I'd like to see them call it but I thought they did a good job of calling the original penalties and taking one guy instead of letting it get out of hand and always taking two. They wanted to stop the scrums and they started taking one guy off the ice and you have no choice as players to play through some of that stuff if they miss it."
Bednar also cautioned that his team must avoid being drawn into taking penalties after the whistle. The Avalanche said he believes his team, who are down 2-1 in the series, have been the better team at even strength through three games.
"I think both teams are under each other's skin, that's what happens when you play a seven-game series and you're in Game 3 of it," Bednar said. "The emotions are high. You get both teams that believe the way they believe and you have to fight for every inch of ice, we have to be smart.
"In my opinion, we've been the better team 5-on-5. I think we have to make sure that we play that way as much as possible and stay out of all the ticky-tack stuff after the whistle. It doesn't do us any good, it hasn't been us all year, but I like our push back. We want to make sure that we're competing and not getting pushed around when the puck is on the ice, but after the whistle blows, I don't think that stuff does us any good."
Avalanche captain Gabriel Landeskog said he believes the Predators are trying to push the Avalanche into taking penalties and said his team's strategy is not engage them.
"It felt like in the second period it was a little too much after the whistle and things like that and we ended up in the penalty box a little too much, whether it was 4-on-4 or what not, but we know that's the way some of their guys want to play. They want to play after the whistle and not in between, and we're kind of the opposite. We're going to try to stay out of that and just kind of keep working hard and whether that gets under their skin or not, it doesn't really matter to us. We're going to keep playing hard and keep playing the way we are."