Babcock: Leafs have no time for 'wasting any energy'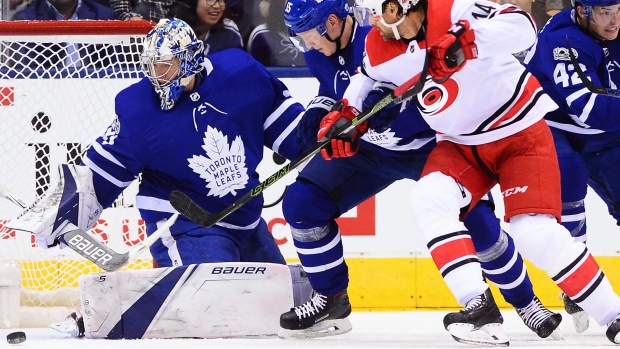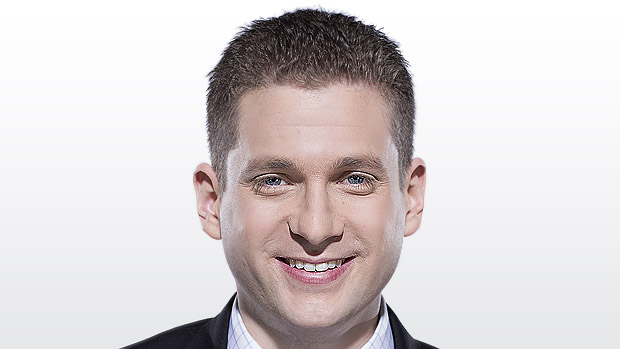 TSN Toronto reporter Mark Masters checks in daily with news and notes from Maple Leafs practices and game-day skates. The Maple Leafs practised at the MasterCard Centre in Toronto on Friday.
Despite being annoyed by his team's performance against the Carolina Hurricanes on Thursday night, Maple Leafs head coach Mike Babcock decided not to skate the players for a long time at Friday's practice. In fact, the coach sort of went the other way. The session lasted just over 20 minutes and was abruptly cut short. ​Usually players will stay out after the main session and work on some skills and have some fun, but on Friday Babcock and his assistants collected the pucks and ordered the group off the ice.
"I honestly have no idea," said Tyler Bozak when asked why players had to leave so soon. "I honestly think we were done and they may not want us to do anything extra out there today, because it was a pretty hard practice and we got a game tomorrow (Saturday)."
"Yeah, I'm not going to talk too much about any message from that," said Frederik Andersen. "I'll let you guys speculate. But I think we just want to get ready for tomorrow."
While Babcock didn't offer a specific explanation to his players, he was happy to enlighten the media.
"I didn't want anybody out there wasting any energy fooling around," he said. "I want it at game time."
And while the practice was short, Babcock pushed the pace and included several battle drills. "I set it up to go 30 minutes," he noted, "we were able to get what I wanted done in 24."
On Saturday, the Leafs will start a stretch that will see them play nine games in 15 days across three time zones, so putting the players through a lengthy conditioning/punishment skate on Friday didn't make much sense.
"That's what we got our Sport Science team for, they tell me what I'm allowed to do and how far we're allowed to go," said Babcock. "So we should be fresh as can be tomorrow."
Babcock won't let Leafs be average
Babcock noted the team had a "chat" about what transpired in a lacklustre 6-3 home loss to the Hurricanes on Thursday night. The record looks good at 7-3-0, but the standard for this group is being set even higher.
"The level of commitment to doing it right every single day for a championship team is that you got to do it every single day," Babcock said. "You got to do it at practice and you got to do it when you don't feel good and you got to do it when you travel and you got to do it when you're tired and you just do it every single day and that becomes the norm and the expectation and that's what we have to set here."
Babcock was quick to point out that this is already the second time this season the Leafs have suffered a loss like this. Coming off a big 4-3 overtime win against the Chicago Blackhawks on Oct. 9, the Leafs let their guard down and lost 6-3 at home to the New Jersey Devils two days later.
"If you want to be a real good team, you can't let this stuff happen so, to me, that's up to us deciding and not accepting being average."
Babcock bristled when asked if it's tough for a coach to analyze poor efforts when there doesn't appear to be any specific reason for it. The coach paused before saying, "Yeah, I'm not going there." How come? Babcock shook his head, "Just not."
However, Babcock is confident the message has been received by the group.
"They were at the game last night," he said. "They saw all those people at the game and they saw how they played. I think that message is pretty clear. You're sitting on that bench and that clock won't run out, it just won't move, it just keeps there, it won't move. I think that's pretty good torture for you to understand how you're not playing how you should."
Van Riemsdyk misses session; lines juggled
James van Riemsdyk missed Friday's practice and Babcock was asked if he'd be available for Saturday's game against the Flyers. "I don't know. I mean, (Josh Leivo) is dying to play anyway," he said.
Leivo, who has been a healthy scratch in each game this season, would draw in and play on the fourth line should van Riemsdyk be unable to go.
Van Riemsdyk sustained a lower-body injury on Monday against the Los Angeles Kings and then missed Wednesday's practice, but he was able to play on Thursday. In van Riemsdyk's absence, Babcock juggled his lines. Most notably, Patrick Marleau skated alongside Bozak and Mitch Marner.
Can Marleau stabilize Bozak-Marner?
"We're obviously looking for something there," Babcock said. "We got to get that group going ... we need more balance. Don't get me wrong, I liked a lot of things about us, but I haven't liked a couple of our efforts and we just got to fix it, that's all."​
The van Riemsdyk-Bozak line has struggled defensively at times this season and the addition of a veteran like Marleau, someone Babcock said is a role model for the entire room, could help.
"I don't know what's going to happen tomorrow, but obviously that'd be a pretty cool thing," said Bozak when asked about possibly playing alongside Marleau. "A very talented player, a very special player that does every little thing right on the ice. Even things that a lot of people wouldn't notice, he's doing them right. He's always in the right spot at the right time and knows how to play on both ends of the ice. It'd be fun to play with him."
Bozak was asked for some examples of the little things Marleau does well.
"I mean, just little picks here and there, creating a little space for you when you need it," he said. "Obviously, still superfast and can get in on the forecheck, super strong, wins a ton of battles and knows how to put the puck in the net."
Andersen admits he can be better
Andersen's save percentage cratered to .893 after he allowed six goals on 38 shots against the Hurricanes.
"I thought Freddie fit in good with us last night," Babcock said.
But the coach also came to his goalie's defence.
"The more organized we are, the better he's going to be. Last night, if you look at their first three goals, they're ridiculous on our part. I mean, if he's giving up terrible goals we'd do something about that. He would've got pulled or something like that, but that wasn't the case at all. Would he have liked to have a couple back? Maybe, but it was on us, not on Freddie."
Andersen sounded frustrated after the 6-3 loss to the Senators in Ottawa last Saturday and then again on Thursday night as he called on his teammates to play with more "pride." After Friday's practice, Andersen was asked how he's coping.
"It is what it is," he said. "As a goalie, you always have a chance to win the game and I think it's a fun challenge. I'm not too worried about anything except trying to make the next save."
And while he's consistently said he's content with his personal performance so far this season, on Friday Andersen acknowledged there is room for him to improve.
"We have stuff to do defensively, but everyone, myself included, can be better," he said. "It's a challenge. As a goalie, you want to be able to try to win the games for your team and it doesn't matter what kind of shots you get against, you always want to battle for your teammates and try to give them a chance to win the game."
Is he at all worried about the state of his game?
"I'm always worried about getting better," he said. "I'm not going to sag just because some games went a different way than you want it to be."​
Lines at Friday's practice:
Forwards
Hyman-Matthews-Nylander
Marleau-Bozak-Marner
Komarov-Kadri-Brown
Martin-Moore-Leivo
Fehr
Defencemen
Gardiner-Zaitsev
Rielly-Hainsey
Borgman-Polak
Carrick
Goaltenders
Andersen
McElhinney