Babcock urges stifled Marner to 'just breathe'
Maple Leafs head coach Mike Babcock says star forward Mitch Marner, who was held without a shot on net in Games 5 and 6 against the Bruins, needs to 'just breathe and play hard' in Tuesday's Game 7 showdown to get back into his groove, Mark Masters writes.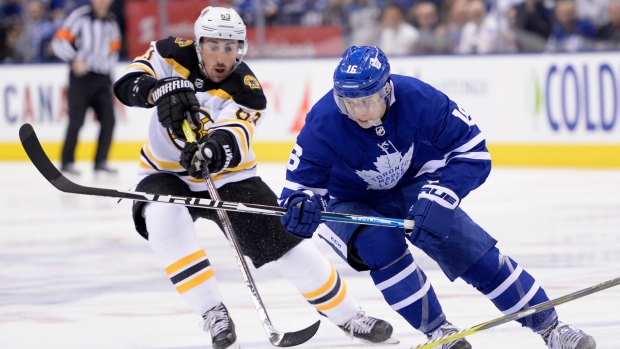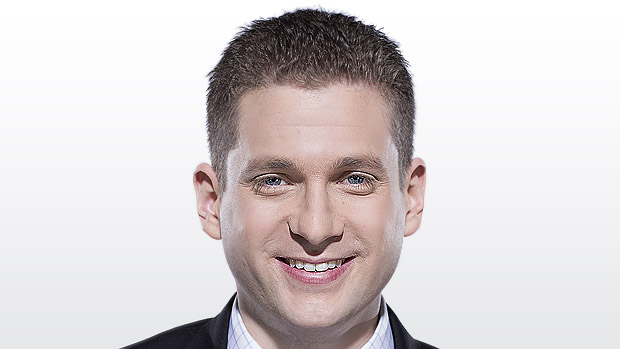 TSN Toronto reporter Mark Masters checks in daily with news and notes on the Maple Leafs, who held a team meeting at the MasterCard Centre before flying to Boston for Game 7. The Bruins practised at Warrior Ice​.
Mitch Marner struck for two goals in Game 1, but since then has produced just a pair of assists, both on the power play, in this series against the Boston Bruins. In Game 5 and Game 6 he was held without a shot, the first time all season he's been held without a shot in consecutive games.
"The biggest thing for Mitch is you're playing against real good players and just breathe," Leafs head coach Mike Babcock said. "Don't spend a whole lot of time worrying about what everyone else thinks, just breathe and play hard and enjoy yourself. When he was a kid he probably played road hockey and at this time (of year) he was probably (pretending to be) whoever scored the winning goal the night before, be the same, just get out there and play."
Babcock has matched Marner against the Patrice Bergeron line while Boston coach Bruce Cassidy is doing his best to ensure his top defence pairing of Zdeno Chara and Charlie McAvoy has been on against Toronto's top line. It's not an easy matchup for anyone let alone a 21-year-old in his third NHL season. Marner has just one even-strength point in the series while linemate John Tavares has three. Bergeron has one while Brad Marchand has posted four.
Has the defensive assignment drained Marner's energy at all?
"I don't think much," he said. "I mean, I got a lot of energy, which is nice. For me, personally, it's about trying to make sure I'm always above people, not trying to cheat for offence or anything like that. Our line, we're always thinking about the defensive side of the puck."
And despite failing to hit the scoresheet on Sunday, Marner did see some improvements for him, Tavares and Zach Hyman.
"I thought last game we created more space for each other than we have recently," he said. "We got to create more space for each other ... but we're going to need everyone tomorrow."
"We probably didn't do a good enough job coming out of our end at times," Tavares observed after Sunday's loss. "They really defend with all five guys in the interior. We've just got to continue to be patient."
Tavares has not scored since Game 1 when his empty netter sealed things. For Babcock, the message to the 47-goal centre is the same as to Marner.
"Be out there loose and driving," the coach instructed, "do what you do, compete hard, you're playing against good players that are competing hard against you and something's going to give. Make sure it's your way."
---
Toronto's penalty kill continues to be an issue, surrendering two more goals Sunday bringing the series total to seven on 16 chances.
"The biggest thing when it goes bad on you is you get passive instead of just gas," Babcock said. "Let's go! Let's put some pressure on them. The one goal is off a faceoff right away, it bounced to him, but it gets you on your heels. Then we were passive on the next one and they've got good players. Let's not be passive, let's go after them. I thought we had a real good game on the penalty kill last time we were in Boston, we plan on doing the same."
"Just pressure," Marner said when asked what has to change. "I think we gave them too much time and space last game on the power play. We got to make sure we bring the pressure."
​The Leafs have tried to take away Bergeron in the bumper spot and David Pastrnak on the flank, but even that hasn't been enough to slow Boston's power play, which ranked third in the regular season at 25.9 per cent.
"Keeping them out of the zone is the best way to stop them," said defenceman Ron Hainsey. "We did a great job limiting some of the stuff they were looking for yesterday and they still scored two in the first period. One off a broken play, backdoor off a rebound, another one right off the draw, but you're in your own zone for long enough against great players like this sometimes they go in. We're at our best when we're winning the draw, getting the puck out and keeping them from getting set up."
That said, Marner insists Game 6 wasn't as bad as it seemed.
"That one goal, I think it hit off Ron in front so kind of got an unlucky bounce there and the other one went through Hyman's legs twice so that's something that will happen in a game."
---
As Babcock pointed out, the Leafs did kill off all three penalties in Friday's Game 5 win in Boston, although they may have received an assist from the poor conditions at TD Garden.
"They've played really well in our building so far this series," Brad Marchand told reporters on Sunday, "and the ice has been terrible there so we might as well play with a tennis ball, skate around and see who can bounce one in the net."
Toronto players have joined their opponents in openly criticized the conditions inside the building, which also houses the Boston Celtics. Kasperi Kapanen indicated the ice played a role in why he misfired on a short-handed breakaway in Game 5 while Tavares suggested it was an impediment to Toronto's power play attack in Game 2. Even Babcock, the master of focusing on what he can control, brought the issue up post-game on Friday.
"It's been pretty bad," defenceman Jake Muzzin agreed on Monday. "But they have to play on the same sheet. So, we got to manage the puck and focus a little bit more on the puck itself, which is tough sometimes in certain situations where you're panicking a little bit or under some stress, you really have to focus on trying to make sure the puck is flat. It's tough out there, but both teams have to deal with it."
Muzzin was part of three Game 7 wins during the Los Angeles Kings' championship run in 2014. Overall, he's 4-0 in Game 7s. What's his advice to his young teammates, many of whom have never been part of an NHL series win of any kind?
"Enjoy it, have fun," he said. "Go in there with the same attitude we've gone in there before. We know we've got to win one game, that's what we plan on doing ... We've got to stick to our game plan. We got away from it a little bit the other night. We started well and they had two power play goals and it kind of took us a while to get back. I think we've got to stick with our plan the whole 60, not get away from it like we did the other night."
Only three Leafs have been part of a Game 7 win with Patrick Marleau and Hainsey joining Muzzin on the list. So, how do find a way to enjoy being in the pressure cooker of the ultimate elimination showdown?
"There's a lot of teams and a lot of people who would want to be in our position: Game 7, playoffs, NHL, I mean, it's just a great experience," the 30-year-old Muzzin said. "It's a great time, this is what you want, you want to be in these situations so you want to succeed in them as well and I think to do that is to not get too nervous, but enjoy it, have fun with it and I think we play our best when we're having fun so I think we'll do that tomorrow."
Hainsey, the other Stanley Cup champion on Toronto's roster, pointed out that the feeling around the team is a bit different than last year when they also had to venture to Boston for an elimination game.
"We got some new players," the veteran defenceman noted. "We had an opportunity to put the series away last night, which we didn't do, but we weren't in that position last year, we trailed the whole way. We feel good about our game overall."
"The only way to gain knowledge or any experience is just to go through it," Muzzin said, "and I've been fortunate enough to go through a couple of these situations before so I'll look to lead where I can and help the guys."
---
Will Babcock to make any huge adjustments for Game 7?
"No," he said flatly before breaking into a smile. "One hundred per cent the opposite of that piece of advice. I know how it works here, I appreciate the help though."
The issue in Game 6 was less tactical and more about managing emotions.
"We have to respond and be better," Babcock said. "I thought we started real good and then, for whatever reason, whether we got tight or frustrated there, for about 30 minutes there we didn't skate like we could or execute like we could and got ourselves in trouble. The bottom line is we've got to be better tomorrow and it's an opportunity for our hockey club. We're looking forward to it."
---
Bruins lines at Monday's practice:
Marchand-Bergeron-Heinen
DeBrusk-Wagner-Pastrnak
Johansson-Coyle-Kuhlman/Backes
Nordstrom-Kuraly-Acciari
Chara-McAvoy
Krug-Carlo
Moore-Grzelcyk
Clifton-Kampfer
Rask
Halak