Bednar must fix Avalanche's disproportionately poor defence
A look at the Colorado Avalanche's performance in different score states shows just how big a job new coach Jared Bednar is facing, Travis Yost writes.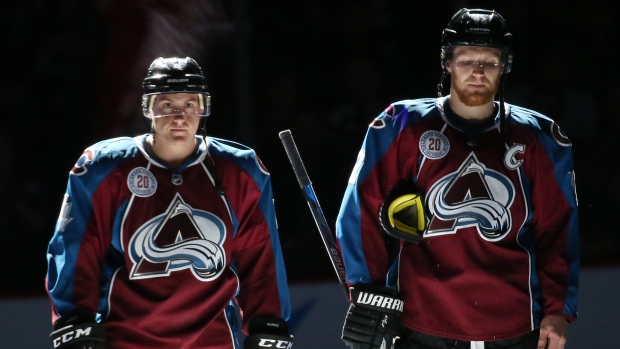 A couple of weeks ago, I wrote about Patrick Roy's exodus from Colorado, and why I thought we'd likely see the team improve purely from a coaching switch.
We now know the second-half of that coaching switch – the Avalanche recently announcing the hiring of Jared Bednar, who led the American Hockey League's Lake Erie Monsters to a Calder Cup championship last season.
Bednar recently spoke about the changes that would be coming to the team as early as next season, promising a "fast, aggressive" style of play. It's hard to know if we'll actually see that translate or if this is purely coach speak, but it is interesting that Bednar thought the Avs would need to dial up tempo in order to succeed.
There was another quote that was sort of buried in the interview, but not unrelated to the tempo comment. Bednar, when asked about the utilization of hockey analytics, added this (via Altitude): "The information that's out there, you have to look at it. It's information that can help your team build on its strengths, and improve its weaknesses. So I think you have to pay attention to it. It can help decipher some of the areas you can improve on but also build the strengths of your team. So I like to have that information, and look at it, and apply it to our system and how we play."
If you watched the Avs at any point in the last three years, you know that owning the puck was a massive issue. It suppressed their individual scoring talent and enhanced some of the lack-of-skill issues, particularly in the defensive zone.
While we have talked exhaustively about the possession piece of the Avs, I want to call attention to a specific subset of data that I think is important. More specifically, how the team would play to the score state and, in both instances, open up a defensive can of worms.
The theory on their issues when playing with the lead is pretty concrete. The Avs were frequently victimized by multi-shot shifts against – instances where teams would generate a shot and possibly a scoring opportunity, recollect the puck, then fire away once more. When the Avs were able to recover the puck, they would chip the puck off of the boards to alleviate pressure. Of course, all this did was allow the opposition to recollect the puck and enter back into their third of the ice with possession once more.
The Avalanche also had defensive issues when playing from behind, which is a bit more perplexing. The logical connect-the-dots theory here would be that they became, in some ways, too aggressive in chasing equalizing opportunities.
But in both instances, the rate at which Colorado allowed shots – either with a lead or when trailing – was startlingly disparate.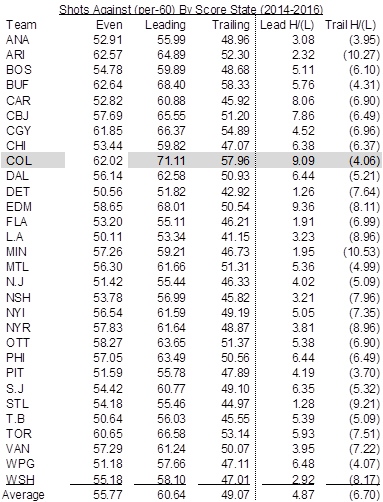 The Avalanche were not good in score-tied situations, but their disparities in score-lead or score-trail states were actually worse. In both cases, they were more than two standard deviations from league norms. When they held a lead, they gave up more than 71 shots against per 60 minutes – a nine-shot disparity from their score-tied talent. It's a number that really was only matched by Edmonton in futility.
But look at the variance in their score-trail numbers. The team had the same issues. The Avalanche were only plus four shots against per 60 minutes better when chasing the game than playing in a score-tied state, and still conceding almost 58 shots per 60 minutes. Twenty-three teams gave up fewer shots per 60 with the score tied than the Avalanche did with the lead. And 10 teams actually gave up fewer shots per 60 when leading than the Avalanche did when trailing.
This is the sort of data you should be looking at if you are a new hire to the team. No one is disputing the fact that the Avalanche were a poor defensive unit. But, they are disproportionately poor defensively in basically any other game state – when chasing the game, when protecting a lead, and so on. If even a piece of this can be fixed with systemic changes, you can start really chipping away at defensive risk and adding wins.