Beloved prodigal sons Jay Onrait and Dan O'Toole return to TSN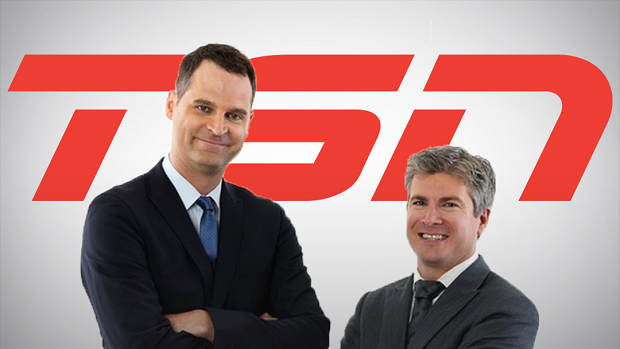 – As revealed live during TSN's TRADECENTRE, the iconic sports anchor team will make their triumphant return to Canada as hosts of SC WITH JAY AND DAN beginning this fall –

– Helmed by Onrait and O'Toole, the show will feature fan-favourite segments, highlights, and trending stories, as the duo takes a refreshing look at the world of sports –

– Onrait and O'Toole to also provide original digital and social media content across TSN platforms –
TORONTO – After days of speculation, Hockey Insider Bob McKenzie broke the news during TSN's live TRADECENTRE coverage today that the iconic sports anchor team of Jay Onrait and Dan O'Toole will return to Canadian television and Canada's Sports Leader this fall. Appearing live via satellite from Los Angeles, Onrait and O'Toole spoke to host James Duthie about their homecoming, which sees them returning from Hollywood back to home soil. The pair will bring their trademark charisma to SC WITH JAY AND DAN, airing weeknights at 12 midnight ET and looping the following morning, as they deliver a new and decidedly humorous approach.
With content created for multi-platform consumption to reach fans across the country and millennial audiences in particular, Onrait and O'Toole will also contribute original content throughout the day across TSN's digital and social media platforms, providing Canadian fans a refreshing look at the world of sports.
Their incarnation of SPORTSCENTRE, SC WITH JAY AND DAN will be driven by the duo's strong personalities, and will include highlights, trending stories, the return of fan-favourite segments like "Ya Blew It!!!", as well as other new surprises from this unpredictable team. The pair's unique brand of hijinks will also permeate across Bell Media's various programs and platforms.
"I'm excited to be coming home to TSN," said Onrait. "Also, I was about to be deported, so the timing couldn't be better."
"I can't tell you how many people have told me and Jay they grew up watching us on SPORTSCENTRE," said O'Toole. "It's what makes returning to the SC brand so special. It's what we love doing. It's what we have the most fun doing, and honestly, it's the only job we know how to do. We have no other skills."
"Jay and Dan are not only two of Canada's all-time fan-favourite broadcasters, they are part of the TSN team, and we're delighted to have them back on the network," said Stewart Johnston, President, TSN. "TSN has always been committed to delivering an unparalleled experience for our viewers and partners, and with content that's primed for digital and social media platforms, this new incarnation of SPORTSCENTRE will provide engagement and opportunities for consumers and advertisers alike throughout the day."
"All of us at the network are extremely excited to welcome Jay and Dan back home to TSN," said Mark Milliere, Senior Vice-President of Production, TSN. "With their relentlessly entertaining style, Jay and Dan have always connected with viewers in a very unique way. As they make their return, SC WITH JAY AND DAN will be must-watch viewing for fans across the country."