Bettman urges new arena in Calgary
NHL commissioner Gary Bettman is urging Calgary to move ahead on a new arena. Bettman says work needs to begin on a new rink for the Calgary Flames immediately.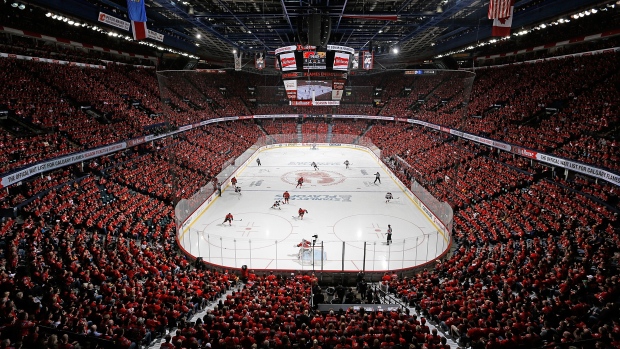 CALGARY - NHL commissioner Gary Bettman has told Calgary to get moving on a new arena for the Flames, but Mayor Naheed Nenshi says the city will not be hurried into a multi-million-dollar project.
Bettman told the city's business community at a chamber of commerce event Monday there should be more urgency to get the project underway, particularly from city council.
The 20,000-seat arena and 30,000-seat football stadium, part of the proposed CalgaryNEXT project, will cost an estimated $890 million.
"I'm having trouble understanding why there hasn't been further progress on CalgaryNEXT," Bettman said. "No matter what anyone thinks of the proposed CalgaryNEXT project or the cost of the project, the cost is never going to be lower than it is today.
"The longer it takes, the harder the task becomes. CalgaryNEXT needs to happen and as part of the broader project, the Flames need a new arena."
The Scotiabank Saddledome, built in 1983, will be the oldest NHL arena when Canada celebrates its 150th birthday in 2017, he said. Bettman played the Edmonton card by comparing the Saddledome to the Alberta capital's new Rogers Place.
"When Canada celebrates the 150th anniversary of its confederation, the Battle of Alberta hockey will still be legendary, but the Battle of Alberta arenas won't be close and that's no joke," he said.
"The Oilers will have enjoyed their first full season at a transformational new arena."
Bettman's concern is the Calgary project's timeline. It will take between one and two years to decontaminate the proposed site on the downtown's west side as it was once a creosote wood-treatment plant.
Add another three years for construction and the Flames won't be in a new arena before 2021, Bettman said.
Bettman and Flames president Ken King are scheduled to meet Tuesday with Calgary's city manager and a few city councillors, but not Nenshi.
"I believe that if this project is going to happen, the mayor needs to embrace it, the city needs to embrace it," Bettman said. "If he's not prepared to embrace it, then people will have to deal with that."
The city approved a multi-phase analysis of the proposed project in November. A report isn't expected until later this spring. If Bettman was trying to light a fire under him, Nenshi wasn't feeling the heat.
"Perhaps in other cities that he has come to, the city councils have just written cheques based on back-of-a-napkin proposals without any consultation to the public or without any analysis," Nenshi said.
"That's not how we operate here. We have a comprehensive framework in place. We'll see what the numbers look like come spring and have a very big public discussion about it."
Nenshi understands it is Bettman's job to lobby for new facilities for NHL teams. The NHL commissioner's contention that the project is important for the future vibrancy of Calgary drew sarcasm from the city's major.
"I know that Calgarians require very wealthy people from New York to come and tell us what we need to do in our community because they understand vibrancy better than we do," Nenshi said
The project is to be funded through a $250-million ticket tax, a $240-million community revitalization levy, $200 million from Calgary Flames Sports and Entertainment and $200 million from city taxpayers for a fieldhouse component.
Bettman insists the low Canadian dollar and Alberta's slumping economy battered by low oil prices shouldn't be an impediment to the project.
"You don't do major legacy projects for a city based on one year," he said. "You have to look out 10, 20, 30 years to envision what you want the city to be like.
"Over time, we've seen the dollar rise and fall, we've seen the price of oil rise and fall just to name two factors. You don't do this based on what's happening in 2016. There has to be a vision for the future."
NHL markets with new buildings will get priority over Calgary when it comes to choosing sites for the draft, all-star game and World Cup of Hockey, the commissioner said.